Manchester United and Michael Knighton: his side of the story
In August 1989, the businessman who hoped to buy the club trotted out onto the Old Trafford pitch and juggled a ball at the Stretford End. Michael Knighton never took over at Manchester United, and in the intervening years has been ridiculed for the deal that never was. He contacted FFT to put forward his case...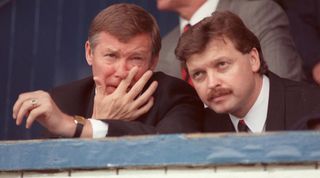 It's 25 years ago this year since I launched my bid to buy the best-known football club in the world, Manchester United. A lot of water has passed under the bridge since then. But, even today, I'm still asked about the events of that momentous time.
Oddly, still hardly a day goes by without some reference to that time on social media. Little did I know then that it would be an event that would, at least for many, come to define my life.
Looking back on that wonderfully sunny afternoon, August 19, 1989 – a day that saw "a small tubby bloke with a moustache; the sort of chap you might mistake for a (door) commissionaire" (at least that is how one journalist likes to describe me) brazenly trot out onto the sacred turf at Old Trafford fully kitted up for a spot of ball juggling light entertainment – I could never have known that it would be a day to stay writ large in so many people's minds.
It is a day I can never forget. It is also a day that my wanton showmanship was enjoyed by some and loathed by others. But it is a day that I would, given half the chance, repeat again if I thought the situation warranted such an occasion.
Meet the juggler
It is the beginning of a new football season (1989/90), and just before kick-off in front of a crowd not far short of 50,000 eagerly awaiting the appearance of their respective teams, I raced onto the Old Trafford pitch to perform the now well-known juggling act. A short spell of sheer self-indulgence climaxed with me belting the ball into the goal in front of delirious fans at the Stretford End.
The fans thought the club had just signed a new player. One, I might add, not on £350k-per-week wages you understand, but, nevertheless, a man with a kit bag full of commercial tricks that would one day lead to the club being able to fob out such absurd weekly wages to attract the football cream of the world.
I have absolutely no regrets over my decision to perform that rather showy, and, I admit, somewhat egocentric entrance. No, none whatsoever. Why would I have? 
My bid to buy the club for £20m in 1989 (a lot of money in those days, and the biggest bid for a club in history at the time) was not only the bargain of the century (a fact that no one nowadays in their right mind could argue against) but, I also reasoned, that my unannounced pitch invasion was rather a novel method of introducing myself as the club's new chairman elect. 
It was an act that certainly captured everyone's attention. Indeed, I don't think it's too far-fetched to say that the event seemed to catch the imagination of everyone in football at the time.
For fans of a certain age they still have vivid memories of that day. Certainly, nothing like that had ever been seen before at Old Trafford, indeed, nor anywhere else for that matter.
Even the critics must admit that every schoolboy and every grown man on the planet who loves football would have wanted to do the same thing as I did given half the chance.
The difference is that I actually did it. And, I honestly believe that my going on to the pitch to juggle the ball before smashing it into the Stretford End net on that memorable day was, in fact, exactly the right thing to do at the time under the circumstances. 
I was determined to show the fans that I was not simply another cash-hunting businessman coming after their club. I needed to show them that I was a genuine football fan just like they were. I needed to show everyone that I was a man who loved the game for itself and that I was not just in it for the business side of the sport – as was the 'business' side in the football industry back in those dark 1980s days.
Of course, I can fully understand why the likes of Martin Edwards, the club's then chairman and owner and the man who had just agreed to sell me the club, would have been "horrified" at my somewhat unorthodox and indulgent actions on the day. And, yes, I agree, Martin must have thought, 'Good God, what have I done?'
I can forgive him if he might have thought that he sold the club to some kind of fantasist maverick and that he had made a massive mistake. I do empathise with Edwards in that respect. Such behaviour was all simply too much for his personal demeanour and conservative personality. 
Martin, Bobby and Busby
But Martin should not have panicked. We all know that for him, the whole episode worked out better than he could have anticipated. Little would he know then, as he slowly bowed his head and wished a hole in the ground could swallow him whole, that the episode would see him go on to reap the personal riches.
I'm sure that the near £100 million he clawed in for eventually selling his shares a few years later would rather sweeten any embarrassment that he may have suffered on that day that I wooed the fans of this great club back onside.
There were others at the club too who nearly died the day I waltzed onto the pitch. Indeed, poor old Bobby Charlton must have just about suffered a major heart attack.
Knowing Bobby as I do, he will have cringed back into his seat from the sheer embarrassment of it all. But that's just Bobby; he being ever the low-key, non-showy man if ever there was one. He was not one to engage in a bit of buffoonery that I myself might enjoy from time to time.
But what Martin, Bobby and everyone else involved needed to understand was this: it was an undeniable fact that, at the time, there was a massive gulf between the boardroom and the fans at Manchester United. This bitterness centred around a huge disconnect between the two groups; one which manifested itself in a gargantuan distrust between boardroom and the terraces.
This negative feeling of intense distrust was directed especially at Martin in particular and the boardroom in general. Martin had become the whipping boy of everyone at Manchester United.
Yet, on the whole, Edwards had performed not too badly as the club's chairman and therefore I believe that some of the criticism has been unfair against him in that one respect. For he to sell the club to me for a piffling £10m, of course, is a completely different story.
I liked Martin and I got on very well with him. To be fair, I liked virtually everyone at the club. Despite what has been said by some in the media it is a fact that I got on well with all my boardroom colleagues – obviously some better than others. It is true that I got on especially well with co-directors Martin, Maurice Watkins and the lovely Les Olive – the latter now sadly no longer with us.
The great Sir Matt Busby, too, was another wonderful colleague with whom I would spend many an hour. Sir Matt would often take me to one side to have a lovely, warm chat. Here, Matt would proffer his amazing football wisdom on all things to do with the game. My relationship with Alex Ferguson too was also an excellent one as far as it went.  
No one is more pleased than myself to see the great success that Sir Alex went on to achieve, and in the process, building for himself the reputation of being the greatest manager of all time together with becoming a multi-millionaire in the process.
Indeed – I never had a cross word with anyone at the club in all my time during the whole three years that I was there actively involved in the running of the club as a director. Well, almost.
It is true that there was just one individual that I really did have a blasting, fearful row with and it happened on one Saturday matchday morning. It was a row that would remain as sour for me to this day as the day that it took place. Clearly, I'm not going to reveal that person's name here.
For that one, lest you're interested at all, you're going to have read the account of that particular story in the forthcoming book. It is a book (written by others) that tells of the whole Manchester United-Michael Knighton story. I hope it will see the light of day quite soon. 
The blueprint
For all of Martin's claims that he was cringing with embarrassment on that day, he still invited me onto the United board of directors a few weeks later. I was a director at Old Trafford for three years, 1989-1992. 
For certain, and again despite Martin's claims, I know that he did very much welcome my football blueprint for the commercial development of the club. A document that set out how I saw the future development of everything connected with how it would be possible to push the club onto a new commercial plane. 
I had set out in my plans how best I saw fit to capitalise on the club's brand positioning and foster its future potential. This was to be achieved by employing a strategy that would exploit the commercial opportunities I knew would soon be exploding within the wider industry as a whole. To myself these future opportunities were as plain as a pikestaff. I had realised what the commercial future held for a club like Manchester United several years before I had even approached Martin to buy his shareholding. I also knew that once everyone else in the football business had seen the opportunities and potential that I had so readily identified myself in 1989 – everyone in the game would be making sure they joined in the pending gold rush, too. 
My intention was to make Manchester United the strongest team in the whole industry from every possible perspective, simply by exploiting those commercial opportunities.
My aim and goals were never to line my own pockets. My job was simply to make sure that Manchester United was the leader and at the very forefront of the sea change about to hit the industry.
I gifted this blueprint document to Martin Edwards once I joined the board on October 25, 1989. 
Self-defence
Martin Edwards should have been grateful for my timely intervention in 1989. The club was certainly failing both on and off the pitch within the context of its size and following.
And all observers must admit that for the next 25 years, from the day I trotted out in front of the Old Trafford faithful, the club has never looked back both on and off the pitch. Certainly, it has achieved stupendous success in both areas in the intervening decades. That is undeniable.
Even today, despite the recent playing disappointments in terms of results on the pitch under David Moyes and now even with new manager Louis van Gaal, the club is still hugely financially successful.
Manchester United can go out and spend staggering sums of money on any player in the world without it even really touching the sides. And I make no apology for being once again so bold as to claim that situation is the true legacy of one Michael Knighton's time at Manchester United.
If Martin Edwards (or anyone else for that matter) believes or wants to accept that as a fact, their views are irrelevant to me. I know the true facts, and that is the true reality.
Martin Edwards, or indeed everyone else involved with him at the time – not one of them convinced me that they could see or understand the true commercial potential of the Manchester United. Otherwise, why was I even allowed to set foot in the place?
To quote the much-respected Manchester businessman and my one-time club co-director, Michael Edelson, then Manchester United deputy chairman: "We (the directors of Manchester United) pretty much followed the plan that he (Michael Knighton) had laid down..." (Daily Telegraph, 2004)
The aim was to turn the club into a financial juggernaut – a fiscal powerhouse. A club that could one day have the funds generated by home-grown products and then go out and buy any world-class player on the planet that the manager wanted. That was the aim. 
The journalist Michael Crick, considered an expert on all things Manchester United and the current political editor of Channel 4 news, wrote: "There is a strong case for saying that Michael Knighton had a more influential role in the recent history of Manchester United than many of the club's managers, directors, or footballers." (The Boss, 2002)
Backed by the bank
In respect of my bid to actually buy the club, no, it is not true that Michael Knighton's "backers pulled away". The actual facts are these: the two initial interested parties that had wanted to be involved with my 1989 bid had long since been cast aside by myself well before the final phase of the bid process to buy the club was coming to a conclusion. These would-be "backers" had been discarded by myself, and not the other way around as Martin tends to believe.
Further, again in direct contrast to Edwards' claims, the funds that had been put together to purchase Manchester United in 1989 had been brought to the table solely by myself as an individual, together with bankers in support of my bid to buy the club. At least Martin Edwards nowadays does actually admit that he had been given proof by the bank itself that the funds were in place to complete the purchase. 
Therefore, the money to purchase Manchester United back in 1989 had absolutely nothing to do with Bob Thornton (the one-time CEO of Debenhams Plc) and Stanley Cohen (the former owner of Parker Pens and the Betterware Group) – the two "wealthy backers" to which Martin Edwards was referring to. 
Everyone who understands anything about the real story of my time at United can see that to be the case. 
I am very proud that I played my part in the rise and rise of the greatest football club on the planet. No one has been happier than myself to have watched Manchester United go on to plough its way from one success to another throughout the nineties and the first decade of the new millennium.  
As for my day on the pitch: no one can ever take those magnificent memories away from me. I was there, I did it and I absolutely loved every precious single second of it. The day will live with me forever. It is a day that started it all. It is and was the real rebirth of Manchester United. 
It was also day that absolutely triggered the fabulous commercial development of the club. And, once given all the facts, I will defy anyone not to see that that time was the day the 'new' Manchester United was born. It was the birth that delivered the club we all see today; a birth delivered by a "a small tubby bloke with a moustache, the sort of chap you might mistake for a (door) commissionaire".
Quizzes, features and footballing fun
Get the best features, fun and footballing frolics straight to your inbox every week.
Thank you for signing up to Four Four Two. You will receive a verification email shortly.
There was a problem. Please refresh the page and try again.