Ranked! Liverpool's top 10 strikers of the Premier League era
By Jack Lusby published
The Reds have boasted some fantastic forwards since 1992, from homegrown talents to South American superstars. Jack Lusby of This Is Anfield counts down the 10 best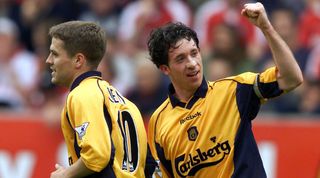 Liverpool's ever-present run in the Premier League has been bookended by a clear stylistic blueprint: formidable at the front, brittle at the back.
From the days of Roy Evans' Spice Boys to Jurgen Klopp's current incarnation, the Reds have been spoiled for choice up front, but clearly flawed in defence – and more often than not, their attacking quality has papered over the cracks.
That's not to say every centre-forward to walk through the Shankly Gates has been top-class, with Anthony Le Tallec, David N'Gog, Andriy Voronin, Iago Aspas, Fabio Borini, Andy Carroll and even Mario Balotelli working against type at Anfield.
But Liverpool have certainly been blessed with talent in front of goal since the new English top flight was given its rebranding in 1992. Here are the 10 best strikers to grace the red half of Merseyside in the Premier League era, including two goalscorers currently firing for Klopp.
10. Mohamed Salah
22 PL goals in 26 games for Liverpool
Salah may have only joined Liverpool from Roma in 2017, but the impact the winger-cum-striker has made since completing his £36.9m switch has been phenomenal, as well as record-breaking.
Just seven months after returning to England, Salah broke the 20-goal mark in the league, becoming the fastest Liverpool player to do so since Fred Pagnam in 1915 - eclipsing Daniel Sturridge and Fernando Torres, who both scored 20 in 27 Premier League games.
His pace, movement and relentless tenacity make him a devastating option in the final third, and while he is - paradoxically - far from the most clinical, few defences are able to quell his drive. The Egyptian King also has the best chant of any Liverpool player since Maxi Rodriguez.
9. Emile Heskey
39 PL goals in 150 games for Liverpool
A victim of a warped reputation, Heskey deserves to be considered one of the great strikers of the Premier League era, with his four-year stint with Liverpool seeing him continue the form that made the Reds shell out a then club-record £11m to bring him to Anfield from Leicester in 2000.
Heskey scored 60 goals in 223 appearances overall, making him the 40th highest goalscorer in the club's history, but it was the hulking centre-forward's all-round play that ensures his place in our top 10.
An archetypal target man, Heskey was the ideal foil for Michael Owen, and it was his selfless work that provided the backbone to his strike partner's surge to the Ballon d'Or in 2001. Liverpool won an FA Cup, League Cup and UEFA Cup treble under Gerard Houllier that season, and Heskey was a key weapon in the Frenchman's arsenal.
8. Dirk Kuyt
51 PL goals in 208 games for Liverpool
Kuyt was not always deployed as a striker for Liverpool, owing to the devastating presence of Fernando Torres, but his role as a goalscoring wide-forward earns him a place in our ranking.
A tireless threat on and off the ball, the Dutchman won the hearts of the Kop with his industrious displays on the right flank, and when he was called upon up front he invariably shone. Only 30 players have scored more goals for Liverpool in the club's history, with Kuyt netting 71 times in 285 games, while his contribution in big-game situations was near unparalleled.
Ushered out as Brendan Rodgers oversaw a changing of the guard in 2012, it can certainly be argued that Kuyt was allowed to leave Anfield too soon. His title-winning swan song with Feyenoord in 2016/17 secured his icon status with not one but two clubs.
7. Daniel Sturridge
48 PL goals in 98 games for Liverpool
It's unlikely Sturridge will ever be given the recognition he deserves for his performances for Liverpool, with his injury-plagued run at Anfield souring supporters' views.
But for his immediate impact on joining from Chelsea at the start of 2013, and his healthy scoring rivalry with Luis Suarez in the ill-fated title charge under Rodgers the following season, Sturridge deserves to be considered among the clubs' greatest strikers in the Premier League era.
Combining exceptional raw talent with a refined intelligence, Sturridge was starved of opportunities at Stamford Bridge. But given the freedom of the final third at Anfield, he thrived.
Sixty-three goals in 133 games is a phenomenal tally, and his strike in the Europa League final defeat to Sevilla in 2015 was one of pure, unadulterated genius.
6. Roberto Firmino
33 PL goals in 92 games for Liverpool
"Mo Salah, world class, but not every day. Sadio Mane, world class, but not every day. Roberto Firmino, world class, pretty much every day." Klopp's assessment of his sensational attacking trident highlights the enduring quality of one of the Reds' most continually underrated talents in the Premier League era.
Firmino arrived from Hoffenheim in 2015 something of an enigma, and his misuse by Rodgers threatened to derail the progress he had made since moving to Europe from Brazil. Yet under Klopp, the No.9 has shone.
Blending an undying work rate with supreme technical quality and an improved finishing ability, Firmino is the ideal striker for Klopp. As he nears the 50-goal total in his third season with the club, he should be considered among Liverpool's very best in recent years.
5. Ian Rush
45 PL goals in 130 games for Liverpool (excludes pre-1992/93 record)
Though far from the peak of his powers in the Premier League, Rush is Liverpool's greatest-ever goalscorer and was still finding the back of the net well into his 30s.
After enduring a difficult spell under Graeme Souness, Rush's experience soon shone through as he partnered both Nigel Clough and a young Robbie Fowler in turn. The Welsh striker scored at least 19 goals in all competitions in each of the 1992/93, 1993/94 and 1994/95 campaigns.
His Anfield tenure came to a muted end in 1996, but Rush was a genuine sharpshooter whose finishing ability and poacher's instinct made him a star of the Kop.
4. Michael Owen
118 PL goals in 216 games for Liverpool
Owen is not a popular man on Merseyside. His departure to Real Madrid in 2004 and eventual move to Man United in 2009 have ensured villain status in some sections of Anfield.
However there's no denying his achievements with his boyhood club, breaking through the academy ranks to establish himself as the leading striker for Liverpool and England, as well as a preeminent talent on the continent.
His game relied on searing pace and remarkable agility, springing through defences with ease and humiliating goalkeepers with his effortless finishing ability. Owen remains the only Englishman to win the Ballon d'Or since Kevin Keegan in 1979.
3. Fernando Torres
65 PL goals in 102 games for Liverpool
Torres's £20m move from Atletico Madrid in 2007 was a major statement of intent from Liverpool: the Spaniard was an established, top-level goalscorer poised to dominate Europe. He did not disappoint, settling in quickly under Rafa Benitez and forming a devastating partnership with Steven Gerrard.
The pace and movement of Torres made him a menace to defences in both Premier League and Champions League. Able to finish from all angles, he racked up 81 goals in just 142 games - before his ambitions outgrew the club and he pushed for a move to Chelsea.
If you need any more convincing of Torres's ability during his four years with Liverpool, just ask Nemanja Vidic.
2. Luis Suarez
69 PL goals in 110 games for Liverpool
If it weren't for a certain messianic presence, Suarez would be the undisputed No.1 in our ranking. That the Uruguayan is not in the top spot is simply testament to the attacking talent to turn out at Anfield in the Premier League.
Joining on the same day as Carroll, Suarez proved the antithesis to the lumbering Geordie. Where Carroll stuttered and stumbled his way through a season and a half with the Reds, Suarez hit the ground running.
His Merseyside zenith came in 2013/14, when he scored 31 goals in 37 games, providing Rodgers with an untouchable focal point in his rampaging, attack-heavy side. Suarez was a mesmeric forward, unable to pigeonhole. He could be poacher, creator, target man, wide outlet and Liverpool's key defensive presence all in the space of 90 minutes.
1. Robbie Fowler
128 PL goals in 266 games for Liverpool
Anfield's God. There's no debating Fowler's status as Liverpool's best striker since 1992.
The Toxteth Terror captured the essence of the Reds in the '90s, as a world-class centre-forward and a cultural cornerstone. He often toed the line of decency, but his talent made it worthwhile.
A natural finisher, Fowler could create something out of nothing, providing a natural successor to the ageing Rush. Along with Steve McManaman, he had an ability to back up the damaging "Spice Boys" image of Evans's young squad. At his youthful peak, he scored 30+ goals in each of three consecutive seasons (1994-95, 1995-6 and 1996-97).
Marginalised by Houllier, Fowler left Liverpool too early, and his heroic return in 2006 - even as a bit-part player - only further cemented his legendary standing at Anfield.
Thank you for reading 5 articles this month* Join now for unlimited access
Enjoy your first month for just £1 / $1 / €1
*Read 5 free articles per month without a subscription
Join now for unlimited access
Try first month for just £1 / $1 / €1
Jack Lusby writes for This Is Anfield, the independent Liverpool website, and has been a regular FourFourTwo contributor since 2018. He is an expert on Liverpool's youth academy players and has a keen eye on ensuring transfer stories are sourced correctly, which means he is a proficient user of Google Translate.
Quizzes, features and footballing fun
Get the best features, fun and footballing frolics straight to your inbox every week.
Thank you for signing up to Four Four Two. You will receive a verification email shortly.
There was a problem. Please refresh the page and try again.