Roberto Carlos, At The End Of The Day: "I've slept in the same room as Ronaldo more times than with my wife"
The thunder-thighed Brazilian will always love his best bud – but he's still baffled by Hodgson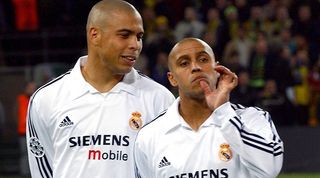 My hero was... Diego Maradona. He was a strong character, a great leader, who enjoyed being with a football. He has always been, and always will be, my reference. People ask if that's strange, but I've never seen Pele play – only pictures. I've played against Maradona, too, and he was incredible.
There was no specific moment when I thought I'd made it... because I never thought I'd be a professional, let alone play in Europe or for my country. I just played for enjoyment, did well and was scouted. Within five or six years I was one of the five best players in the world when all I wanted was to be the best possible left-back.
Football has never broken my heart... It's all I've ever wanted to do and I'm lucky that God gave me talent to play for 25 years of my life. I have a quarter of a century of great stories, plus defeats where I've learned a lot about myself. You can't look back and wonder.
The coach I most enjoyed playing for was... Vanderlei Luxemburgo when I moved to Palmeiras in 1993. He was the first to say: 'Listen, Roberto, I want you to attack from full-back. I don't care if you get caught up the pitch.' He liked to play with two defensive midfielders and knew we had to make use of the wings. 
For me, football is... Like another family. I was born to play this sport. After my proper family, football has always been the most important thing in my life. When I touch a ball, I feel complete.
Roy Hodgson was... An important person in my career, even if I thought he was damaging at the time. He played me as a centre-forward for Inter. It was impossible. I could understand if he played me as a winger because I was a very attacking full-back, but as one of two strikers? Come on, I'm 5ft 6in! The balls were flying well over my head.
Zinedine Zidane only scored that volley in the 2002 Champions League Final because... my pass was perfect! I sprinted up the left wing and stuck that ball perfectly on his left foot – it definitely wasn't just an aimless punt in the air! He saw spaces so few players could see.   
The best piece of advice I've ever received is... Simply 'enjoy yourself'. Now I'm a coach, that's what I say to every one of my players, especially in the attacking third. There are limits – you have to be more serious at the back – but the attacking five or six must have that freedom.
The winger I most hated playing against was... Luis Figo. When he signed for Real Madrid from Barcelona, I gave thanks to God, because it meant I didn't have to face him anymore. He was much better in training than in matches! He was fantastic: a leader, skilful, a craque who could do anything with the ball. He was a legend, and still is. A phenomenon.
My massive thighs are... A family thing. My dad's legs are exactly the same; in fact I've only ever been to the gym when recovering from injury. I'm pretty lazy when it comes to all that stuff. At their biggest, the left was 66cm in circumference and the right 68cm because that was the one with which I stopped myself and changed direction. I still go upstairs leading with my right. My left leg was more for speed when I shot at goal.
People don't have much to talk about... That's why a lot was made about me and my socks at the 2006 World Cup. Journalists invented stories from such a long way away about the reaction in the dressing room. I pulled up my socks and just because Thierry Henry scored from the following free-kick, all of a sudden I'm to blame. I laughed at them, just like I did when people said we were bought off in the final of France 98. Nonsense.
Ronaldo is not my friend... He's the brother I never had. I've always treated him with great love, care and respect and we've been best friends since we were 17. I've slept in the same room as Ronnie – in separate beds, obviously – more times in my life than with my wife!
This interview originally appeared in the August 2014 issue of FourFourTwo. Subscribe!
Quizzes, features and footballing fun
Get the best features, fun and footballing frolics straight to your inbox every week.
Thank you for signing up to Four Four Two. You will receive a verification email shortly.
There was a problem. Please refresh the page and try again.