Ruud Gullit, One-on-One: 'I wasn't wrong to drop Shearer – Newcastle needed changes then'
"England were better than the Dutch in Euro 96, and I can live with that – but they were too cocky"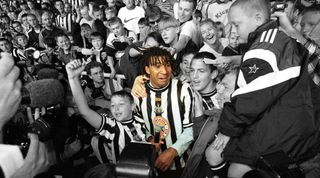 In an unremarkable corner of Sky TV's sprawling home on a west London industrial estate, Ruud Gullit shuffles the papers in front of him. It's an hour or so until he's live to the nation analysing several Champions League matches at once, but the smooth mover who glided affably into the interview room seems more concerned about the questions FourFourTwo readers have sent in.
He doesn't duck any; if he can't answer immediately, he pauses, looking around for inspiration. Occasionally his eye is drawn to the silenced TV in the corner showing last night's Rangers game, but he soon regains his focus...
Is your surname pronounced 'Gullit' or 'Hullit' or neither? What's the worst pronunciation of it you've heard?
Jon Batchelor, via e-mail
In Dutch it's 'cguh' [guttural sound not unlike the end of 'loch'], but in English it's more of a 'g' so 'Gullit'. 'Hullit'? 'Hoolit'? [pulls incredulous face] That's the worst attempt I've heard!
You, Edgar Davids, Aron Winter, Patrick Kluivert, Clarence Seedorf, Jimmy Floyd Hasselbaink and Frank Rijkaard are from Suriname. What is it about your upbringing that made you all such great footballers?
Ted Riley, Clapham
I don't know what the reason is, or if there is a particular reason – it just happened. [Considers it further] We are the second generation and there were many Surinamese players in Holland so it just happened. I don't think we had a point to prove. There's no particular reason for it.
Rumour has it you nearly signed for Ipswich Town when Bobby Robson was manager. What was that all about?
Barney, via e-mail
No, no. I know that Arsenal were interested in those days – at the beginning of the '80s – but I didn't hear anything about Ipswich.
When Marco van Basten scored that volley in the Euro '88 Final, did a small part of you think, "Bugger, that's going to overshadow my goal"? You'd have scored the winner...
Jeff Byrd, Coventry
We were just happy that Marco was in such great shape. I'd had a tough competition already: I was a little tired and had worked my bollocks off. Marco was in the right shape, he didn't play all season because of injury, so we were quite happy to give the ball to him. It was nice to get a two-goal cushion because we weren't playing so well in that final, and Marco could do what he wanted [broad smile] – everything he hit went in!
Did you get sick of being lumped in with Van Basten and Rijkaard? If you could have got Berlusconi to sign another Dutch player, who would it have been?
David Johnson, Stoke
'Lumped in'? [Smiles at the phrase] No, of course not. You're obviously going to get it when you are all playing so well. Nobody can say anything bad about the other two – I'd jump in immediately – and I think it's great to be one of the three, because we made such an impact. As for another Dutch player, that's difficult, because you would be saying the others weren't good enough. [Struggles] The others we were playing with were playing so well at the time. [Hans] Van Breukelen would have been good but we already had a good goalkeeper; we were OK as it was.
You seem a relaxed, liberal guy: how did it feel to be working for Silvio Berlusconi? Did he pop his head around the changing room door if things weren't going well?
Mark Lucas, via e-mail
Silvio was one of my best chairmen – he was the chairman you would wish for. He was there every week, even though he was a busy man. He was present when things were going well but also when they weren't as good; he told stories all the time, comparing situations with his own work, because he wanted success. He wanted Milan to play a certain way, which people would remind you of constantly. But it was also about what you did off the pitch, on TV, the whole package. Milan is always quiet, nothing ever comes out because he's trying to make it possible to win everything.
What's it like to win a European Cup final 4-0 [vs Steaua in 1989]? Something of an anti-climax after the tense build-up?
Simon Tolworth, Liverpool
No, not at all! We were entertaining. Maybe the neutral wanted more of a tense game... but the game we played was excellent. There were goals, and people don't want a final that ends 0-0. We'd already beaten Real Madrid 5-0 and we were on our very best form. And when Marco scored the second goal just before half-time, we felt like we had won it. When that went in, it was incredible.
Who was more important to Milan: you, Rijkaard or Van Basten? Who was best?
Steve Morton, Bournemouth
[Gasps] No! That's not a good question. You don't feel that any player is more important than any other; you are just a piece of a puzzle that fits together well. Maldini, Baresi... we needed everyone in that puzzle. If one person was out, it was a bit different but generally it still went well because the strength of our team was that no player felt more important than the others, even if some got more attention.
Football or sex? And what was your best position?
Sam Collins, via e-mail
Neither is better – I think you need both [smiles]. You need football to entertain, to get rid of the tension and to enjoy yourself. You need sex for the same reasons, and you need affection. Football is good because you have team spirit, you're doing things together, and sex is good because you're doing it with a partner that you love. My best position? Man-marking!
When Frank Rijkaard spat at Rudi Voller, what was said on the pitch? Did you know Rijkaard was guilty? And have you any idea why he did it?
Ian Philips, Sheffield
I didn't know much about it at the time, because I was a striker and he was a defender, so I didn't see what was happening. It was all a surprise. I didn't realise what had happened until I got to the locker room at half-time and it was, "Wah? Huh!?!" It was not the right moment to do it because we were playing well after a very difficult tournament, and it didn't help at all. Rijkaard and Voller have never spoken about it and still don't speak about it.
You played most of your career in Italy, where racism is rife. How do you feel when you see modern players suffering in the same way? What can be done?
Charlotte George, via e-mail
You already have things like [anti-racism movement] Kick It Out, so people are doing something about it. I always felt it was ignorant people, and if you have that feeling, it doesn't really affect you, unless it's a lot of people in the stadium. As players, we can be an example for the fans, but people must understand that it's not always easy. We are winning the battle, but when the economy gets worse people always want a scapegoat, there must be a reason – "people are taking our jobs" – but that's just ignorance.
Do you miss the moustache? Will you ever grow it back? If so, would you fancy a handlebar affair?
Leighton Jones, Cardiff
No, not at all! I don't regret it, I was happy with it. In my day it was normal – you were young and it made you look a little bit older. I remember the day it went, I was standing in front of the mirror at Milanello [Milan's training ground] and just thought, "C'mon, you know what'd be funny – let's take it off! Why not?" And it was funny: everybody was like "What's this?!" Will I grow it back? No, my wife won't allow it.
When you arrived in England, what did you think of the quality of the football? Was it as easy for you as it looked?
Kris Hobbs, via e-mail
It was great, exciting. The thing I enjoyed most was the appreciation of the fans, whatever you did: a nicely crossed ball, a good bit of technique or a tackle. Appreciation is very important for any player. At Milan we were spoilt a bit: it was almost like, "That's normal." In England, I could use all my skills and experience. Even opposition fans were very sporting. I enjoyed every game.
It was never easy to play with a different level of players – I had to adapt. But my English was OK and I went out with the guys to understand more about them and life in England. It was different, but as things got better with the club, everyone went with the new flow: get to bed, watch what you eat and drink. New players brought new ideas, and the others adapted to that new regime.
Two strange things did happen when I first came over though. Once I was in a hotel and I saw a woman in her late fifties who was so drunk she was being dragged by two guys. I was embarrassed! If that was my mother I'd go crazy! Another time, they took me to a discotheque and I saw these girls drinking from bottles. I thought, 'What?! Why are you drinking from bottles? Have a bit of class!' Later I understood it was because of what can be slipped into a glass, but for me it was a big shock. I had seen no drunkenness for eight years, and certainly no women drunk!
Was it hard to adjust to the physical side in England? Had you come up against hatchet men like Vinnie Jones before?
Billy Brown, Birmingham
I must say, I had a little something with him! I was in the corner and I could hear him coming to tackle me so as he came in, I jumped, just a little bit; he still caught me but it didn't hurt, and I fell anyway. He got a red card, and he was so mad, because he was off but he hadn't kicked me properly! Every time we played each other he was trying to give me an elbow or something. But off the pitch we saw each other a lot and became good friends. He'd say, "This is my game; this is what I'm good at." He was an agitator. And therefore we could find out where his weaknesses were.
Is it true you tried to get a patent on the Ruud Gullit wig?
Jermaine Campbell, via e-mail
On the what? [FFT explains] No!
Did you know about the 'Ruud Boy' Harley-Davidson that was produced?
Les Ferguson, Oldham
Yes, I knew about it, but it was Chelsea who did it, not me. I didn't get one – I didn't ask for one. I had a Harley once in Milan; I drove it for a couple of months but realised it was too dangerous – not because of the bike, but the people around don't see you. I got off and sold it immediately. I loved the bike but it wasn't worth it, it's too dangerous. I won't touch one again.
You became a BBC TV pundit for Euro 96, to widespread acclaim. What were your feelings as England tore the Dutch apart 4-1, probably the best display I've ever seen my country produce?
Joff, via e-mail
I think England played much better than the Dutch, fair and square. You have to put your hands up and say they were better, and I can live with that. The only thing was, the English were getting too cocky. Football had to 'come home', and that was the only worry that I had. What would happen if they won the championship? I would hear all about it!
What exactly is "sexy football"? Do you regret ever using the phrase?
Alan Matthews, via e-mail
Yes. It was a game between the Czech Republic and Portugal, and I found the way Portugal played sexy, smooth and nice, and I said so. After that, the phrase followed me everywhere. Journalists would ask. "Are you playing sexy football now?" – but at least one phrase by me is remembered!
As for what it is, sexy football is smooth, like the way Barcelona sometimes play. Easy, elegant. [FFT: Who's the 'sexiest' footballer?] For me, Rui Costa. I like his style. Also Zidane, he's smooth. Hoddle was also like that: easy, gliding, nice flowing football, making it look easy. It has nothing to do with the looks, just the style.
How the hell did you get Eddie Newton to believe he was a player of Premier League quality? Is that the biggest success of your managerial career?
Mike Adamson, via e-mail
Eddie could play. The goal he made, the second goal in the FA Cup final [in 1997], was my nicest moment as a coach, knowing he had been blamed for a goal when Chelsea lost a previous final. It was like, "I got my revenge." He was a great player in the holding role with Wisey. The only problem for him was his knee injuries because he ran so strangely.
Describe Ken Bates in five words...
Tom O'Hara, Fulham
Oh, five words, that's difficult! I really never had a good proper meeting with him. I didn't actually meet him that many times because he was always busy developing the ground. He never asked questions about the team. In the beginning I said, "Look, if you want to become one of the biggest clubs, you can work on the stadium, but if your team is shit, it's not going to work. If your team is good, everyone will notice and you'll get sponsors." That's what we did.
How do you think you'd have got on if you'd had Abramovich's money during your time at Chelsea?
George O'Reilly, Grimsby
I don't know. We got on very well with less money, but a good mix of players. It's like that question about Eddie Newton – everyone was learning from each other, and playing out of their skins. We played good, attractive football. You can't say what you would have done with all that money. It was a different era – you can't know.
On leaving Newcastle, you said your private life had been invaded "in a bad way". Was there one single incident that pushed you over the edge?
Dwain Albright, Leyton
No, it was a general invasion of your private life. It's never anyone else's concern what you do at home. It was one of the reasons why I left – the tip of iceberg. I don't know if people were out to get me, but they were out to get something.
With the benefit of hindsight, should you have played Alan Shearer in that game against Sunderland?
Anthony Moore, Newcastle
I still think I made the right decision. Look at the way things have developed. It's still the same situation. I spoke to fans on the radio recently and asked if it had improved since I left. They said no, so maybe I was right. The coaches since me have tried to do the same thing and they couldn't, because he [Shearer] is so beloved there. That's why I thought, "I cannot change this – it's better for me to go." I'm sitting here now, and I know I was right. It was six or seven years ago, and nothing has changed. Nobody can prove that I was wrong.
Why did you fall out with so many older players as a manager? Did you lack confidence? Surely as a Dutchman you can handle strong opinions?
Gary Sharp, Bracknell
It's always like that. People are unhappy if you don't play them. So what? It's not just older players, and it's not that you don't get along with them. For instance, who was the right-back? Warren Barton? Everybody hated him at Newcastle! I made him play, and I made him play well. It had nothing to do with who liked who. Sometimes there is a pattern at a club, and you have to have fresh blood.
The chairman didn't want me to leave because he knew I was right. I had an honest relationship with him; I said, "I can't change that, and you can't because you'd have a lot of problems. I don't need the money, I'll just go." It's not just about Alan Shearer; if you want to change things you need backing, but if that will hurt a lot of people it's better to go. I know I made the right choice, even though I didn't want to go. I had a good time there, the fans were great, everything was great.
Do you still play percussion? And if so, d'you ever have a bit of bongo fury when things don't quite go your way?
Martin Spinks, Leicester
Percussion? No, no, no. Why is he asking this?! Bongos? Why?! Ah... once I played the bongos on Lombardo's head for a TV promo? That's the only moment I ever played the bongos!
After leaving Newcastle you said, "Being a manager is a horrible job", yet you still had one more crack at Feyenoord. Why? Is that it for Ruud the manager?
Chris Allen, London
It's the nicest job, but horrible sometimes. At Feyenoord, the chairman wasn't there – he only communicated by e-mail. You need to be there, and he admitted that in the newspapers. When fans are throwing bombs and the chairman's not there, who's running the club? If something had to be done, who did I talk to? I regret that I took the job because I love the club, and I took the job with my heart rather than my head. It was OK, but I can't work like that.
You had a chat show on Dutch TV. Did Maradona nick the idea? Is it easier to ask questions than answer them?
Richard Arrowsmith, via e-mail
No, Maradona didn't steal it, but I had a good thing. I interviewed Victoria Beckham, Antonio Banderas, Nelson Mandela, Boris Becker, Kylie Minogue... it was a lot of fun, and it's easier to ask the questions. I have one big advantage over journalists: that I know what it is to be famous. I know where to go with my questions and where not to go. If you stay away from where they don't want to go, most of the time you get other good stories. Journalists ask you nice questions to get you mellow, then suddenly ask 'the big question'. Celebrities are aware of this. I know where to go, so guests feel safer and more comfortable; like with Boris Becker, the incident in the cupboard – I didn't ask, he just went there himself!
Do you ever have arguments with father-in-law Johan Cruyff over football?
Al Morgan, via e-mail
Heh! He's the brother of Estelle's father. And no, because he lives in Barcelona!
Are you surprised by the success Frank Rijkaard's had at Barça, or Marco van Basten with the national team? Does it make you jealous?
Pete James, via e-mail
No, not surprised, but surprised it has come so quick. If you have been a good player, it's easier to manage better players because you can understand what they do. Frank got relegated with Sparta Rotterdam, because it's more difficult to manage players who are maybe thinking two steps behind. At the highest level it's easier to make players do the things you have in your head. It's the same with Marco: good players surround him. I'm not jealous; I'm happy for them, and proud.
Ever met a Dutch footballer who doesn't have an opinion on everything?
Lisa Shaw, Brighton
No, I haven't! We are a small country, and we think we know everything. Sometimes that's charming, but it can be a pain in the arse. It can cause problems, but it also makes us globetrotters – the country's so small we had to go somewhere to make it! Sometimes it can be irritating, but at least we have clear opinions about things.
Would you be disappointed if God turned out to be a woman? Be honest.
Anthony Shaw, via e-mail
I don't think God is something physical; I think God is in your conscience. People in the past wanted to create a figure, otherwise it would have been too blurry. So they created God and the Devil. God is in your heart and conscience, what you do wrong or right. The world is full of problems, and problems have been caused by people. People are the problem!
Do you believe in the afterlife?
Nick O'Grady, Norwich
[Gazes into middle distance] I hope so. I don't know. I hope you get a different chance. It would be nice. What would you be?
From the March 2006 issue of FourFourTwo. Subscribe!
Quizzes, features and footballing fun
Get the best features, fun and footballing frolics straight to your inbox every week.
Thank you for signing up to Four Four Two. You will receive a verification email shortly.
There was a problem. Please refresh the page and try again.