Tottenham don't Tripp up: 5 talking points from Spurs 1-0 Watford
John Robertson was at White Hart Lane to analyse another vital win for Mauricio Pochettino's side using Stats Zone...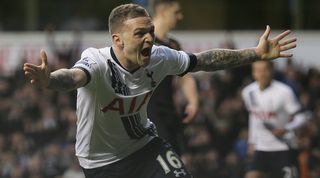 1. Spurs still missed too many chances
Only once in their last six league matches have Tottenham scored in the opening 30 minutes of play – that coming in the form of Dele Alli's second-minute strike against Norwich. That narrative didn't change against Watford, despite the creation of an incredible number of chances.
Up until Kieran Trippier's 64th-minute goal, Spurs had managed 17 shots – five of those on target. Not only that, but they'd completed over 100 successful passes in the final third. Mauricio Pochettino's team is quite clearly wonderfully skilled when it comes to getting the ball into dangerous positions, but that isn't resulting in the kind of goal haul you'd expect given how consistently they put the opposition defence under pressure.
Tottenham's shots on target, before their goal, originated from the edge of Watford's 18-yard box. Quite incredibly, the opportunities that fell to attackers in the middle of the box failed to hit the target every time.
Watford came to White Hart Lane with a tactical approach that suggested they would have been very happy with a draw, and it was that lack of attacking thrust which meant Spurs were able to comfortably keep the game level despite their wastefulness in attack. Against a more progressive side more committed to attack, they won't be afforded the same luxury.
2. Watford turtle up, hope for best
Hornets manager Quique Sanchez Flores came for a point and nearly got it. Incredibly rare were the moments when Watford had possession of the ball within Spurs' half, although you'd have been able to guess that such a reality would come to pass by simply looking at the teamsheet.
Troy Deeney took a seat on the bench so Flores could play five in midfield. However, despite the numbers, Watford stuck to a phenomenally narrow system in order to prevent Spurs being able to pass it through the midfield and into the danger zones on the edge of the box patrolled by Harry Kane, Christian Eriksen, Nacer Chadli and Erik Lamela.
Thus, responsibilities fell to full-backs Nathan Ake and Allan Nyom to provide width on the rare occasions Watford tried to press forward. Even then, though, their impact was largely insignificant given that passes from their team-mates tended to bypass them entirely.
Lone striker Odion Ighalo enjoyed the thankless task of attempting to bring down a stream of long, high balls pumped up to him from the back. It was an approach that Toby Alderweireld, Kevin Wimmer and Eric Dier were able to nullify with ease.
Watford visited Spurs with a mentality that seemed to border on fear and that crippled any ability for them to play in a style that suited them.
3. Trippier and Davies are Spurs' best full-back pairing
Trippier has managed to cement a regular place in Pochettino's plans in recent weeks, which is well deserved given his form. Partnering him on the opposite side of the pitch here was Ben Davies, the Welshman having made just 12 Premier League appearances this term before this game.
What works so well is that they both share the same primary talent: positioning. While they each wholeheartedly adopt the modern ideals of the position (bursting forward, providing width in attack, taking on midfielders and defenders), neither is ever caught wildly out of position to the point that they can't recover.
For a side like Tottenham that prefer to adopt a fluid style that relies enormously on players interchanging positions with one another to keep their opposite numbers in a constant state of confusion, this positional discipline is essential to allow team-mates to instinctively know where to play a safe pass if possession is under threat.
Most damaging for the other primary full-back options, Kyle Walker and Danny Rose, it's very often their poor positioning that lets them down.
4. Wimmer a winner at the back
Enormous credit must go to Pochettino for having been able to bring in Kevin Wimmer to replace the injured Jan Vertonghen so effectively. While Spurs haven't had to play the league's best teams without the influential Belgian, Wimmer's success highlights a wider defensive unit that is well drilled and enjoys an intimate understanding of the core system in place.
Its effectiveness doesn't rest solely in preventing goals, however: Spurs' defence provides a stable foundation from which to build attacks from. With Tottenham in possession Trippier and Davies will move forward to create width, and Dier will drop back in the centre of defence to become part of a back three.
All three of Wimmer, Dier and, in particular, Alderweireld possess an excellent range of short and long passing. This means that, in any given moment, and no matter which of the three is in possession, opposition sides must account for shorter passes into the feet of Mousa Dembele, Eriksen or Lamela, as well as crossfield balls to the full-backs.
Therefore, pressing Spurs' defence becomes a very difficult task in that if you leave any of the three unmanned, they can punish you. Alternatively, if you back off, you run the risk of allowing the creative talents of Eriksen & Co. too many chances to shine.
5. Dele does the damage (again)
Following his precautionary removal from Tottenham's last match (the 3-0 victory over Norwich), Alli started on the bench. While, as above, his team-mates were successful in creating chances without him, it was only when the 19-year-old came on that his team's luck began to change.
Within three minutes Tottenham had scored, and in the (almost) half-hour he played, 10 shots were fired towards Watford's goal. Five of those were on target – one more than in the preceding 60 minutes.
STATS ZONE
Alli added pace to the game that seemed to catch Watford off guard given that, up until that point, they'd had to defend against intricate passing over direct, fast-paced attacking.
Part of the difficulty in dealing with Alli is that he is able to so naturally combine that decisiveness in attack with a delicate touch to his passing that makes his actions extremely unpredictable. It goes without saying, of course, that Tottenham's title credentials are improved greatly if they can keep him fit and an ever-present in the starting XI.
Analyse Tottenham 1-0 Watford yourself with Stats Zone
More features every day on FFT.com • Analysis
STATS ZONE Free on iOS • Free on Android
Quizzes, features and footballing fun
Get the best features, fun and footballing frolics straight to your inbox every week.
Thank you for signing up to Four Four Two. You will receive a verification email shortly.
There was a problem. Please refresh the page and try again.