Is Wayne Rooney past his peak? 5 players who adapted their game and regained their form
By Declan Warrington published
Debate continues to rage around Wayne Rooney's ability, but Declan Warrington can cite several players who adjusted to enjoy prolonged top-level careers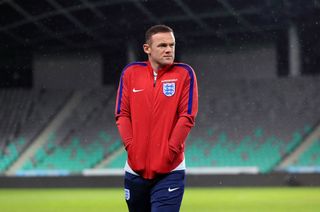 For all the sweeping statements and pontifications upon the death of a career, it's perfectly possible that Wayne Rooney's disappointing start to the season – combined with the lack of a consistent role over the past 12 months – could be due to something less terminal than an age-related decline but more complicated than a simple loss of form.
His Manchester United manager Jose Mourinho requires further time to find a position and system that suits both his captain and his new-look team. There is little question, however, that it would be strange for a footballer of Rooney's previously-fine technique – regardless of his recent form and confidence suggesting otherwise – to lose his ability as swiftly as some would suggest.
It is most commonly intelligent, technical players – those not reliant on athleticism – who prove capable of lengthy careers even as their physical qualities wane. Rooney is one such player, and while he is no longer the explosive athlete who once so excited, he could be going through the transition that so many others also have before him.
There have been countless players who, once age or injury has taken their speed, never return to near the peak of their powers: the once impressive Wilfried Bony may be proving one example.
Numerous others, though, have succeeded in reinventing themselves both on the pitch – by improving their timing, positioning and reading of play – and off it, with a less demanding schedule that allows their ageing bodies to recover. Encouragingly for Rooney, players in a variety of positions have demonstrated how possible it is.
1. Sami Hyypia
From his 1999 arrival at Liverpool until the 2002/03 season in which Gerard Houllier's team began to regress, Hyypia had consistently been among the Premier League's finest central defenders, despite never truly being blessed with pace. The team's overall decline didn't help their captain, but his individual performances also began to suffer as he gradually slowed down.
Hyypia turned 30 in October 2003, and Liverpool continued to drift. During the 2004/05 season under Rafa Benitez he was at one point dropped for the equally pedestrian Mauricio Pellegrino, and was alarmingly out-paced by Peter Crouch – Peter Crouch! – in a defeat at Southampton.
It was towards the end of that season Hyypia's improved positioning and anticipation helped him to return to the level that once made him so effective, and to impress in Liverpool's increasingly resilient defence. Inevitably, as he aged, he slowed further still, but from then until his departure from the club in 2009, he remained a quality performer in a very good team.
2. Stephen Carr
Injury prone but indisputably talented, Carr was arguably 10 years ahead of his time as an attacking full-back. He built his reputation on the right as much for his creative contributions as he did in defence. His technique and stamina led to his selection as a wing-back at Spurs, and for top-five regulars Newcastle to sign him in 2004.
However, as with many at St James' Park during that era, Carr was frequently undermined by injury, and eventually lost his place before leaving when his contract expired in 2008.
A move to Birmingham in the Championship followed, and there Carr re-established himself as reliable performer who, though no longer offering the same threat in the final third, was a strength in a defence that earned automatic promotion to the Premier League.
Birmingham followed that with an impressive ninth-placed finish, and then won the 2011 Carling Cup while suffering a relegation caused by their lack of goals, not a weak defence.
3. Paul Scholes
It's often forgotten that the mobile, attacking central midfielder who so brilliantly provided a goalscoring threat with his runs from midfield experienced something of a decline – one that appeared to be corrected when an injury gave him time to reconsider his game.
England manager Sven-Goran Eriksson was widely criticised (especially in hindsight) for selecting Scholes on the left wing at Euro 2004, but the reality remains that Steven Gerrard and Frank Lampard were England's in-form central midfielders. The Scholes of 2002 might well have succeeded in retaining his favoured position, but two years later and the wrong side of 30 he had a much weaker case for ousting the Liverpool and Chelsea men.
Despite being good enough to remain a regular amid United's declining central midfield options after his international retirement at the end of that tournament, Scholes' influence was not what it once was.
An eye condition ended his 2005/06 season in January, and after that break, the reinvented midfielder showed even greater intelligence and culture to produce one of his finest seasons in 2006/07 – when United reclaimed the Premier League title after the sale of Ruud van Nistelrooy allowed for a formation change that gave Scholes a deeper position he kept for several successful years.
4. Damien Duff
By the point of Duff's 2006 transfer from Chelsea to Newcastle, he no longer possessed the pace that contributed to making him one of Europe's finest wingers during his time at Stamford Bridge and his final two seasons with Blackburn.
That's not, however, to say many felt Newcastle had taken a risk; it puzzled many he had left for St James' Park when it was widely thought he could have remained a regular for the reigning Premier League champions, and he was expected to continue to excel.
Instead – and the mis-management of the club no doubt contributed – by his own admission Duff experienced three miserable seasons that concluded with relegation to the Championship.
Fulham manager Roy Hodgson appeared to gamble by bringing him back to West London shortly afterwards, but the 30-year-old – no longer consistently looking to get in behind his opposing full-back – had improved his right foot to compensate for the loss of his pace, making his delivery equally as good as from his left.
A significant contribution to Fulham's unexpected run to the 2010 Europa League final followed, as well as continued good performances under Hodgson's successors Mark Hughes and Martin Jol.
5. Alan Shearer
The ankle ligament injury Shearer suffered before the 1997/98 season concluded the very finest form of his career, which began during his time at Blackburn.
The striker's desire and exceptional finishing ability ensured he continued to remain a high-quality player, but where he was once considered one of the world's outstanding strikers, before too long there were those who began to feel he no longer even justified his place in England's starting XI above rivals like Robbie Fowler, Kevin Phillips, Andy Cole and Les Ferdinand.
Aided by Newcastle's improvement following the appointment as manager of the late Sir Bobby Robson and by his own less-demanding schedule having retired from international duty after Euro 2000, Shearer gradually adapted his game to his reduced pace. From 2001/02 he again excelled with three prolific seasons in which he scored 80 goals, leading England's assistant manager Tord Grip to publicly offer the 33-year-old a slot at Euro 2004.
Shearer refused and instead, Eriksson called up the teenage Rooney. Now nearing the other end of his career, the Scouser has in turn being advised by Shearer to quit the international game (opens in new tab). It may help prolong a career that, judging by history's examples, need not be over just yet.
New features on FourFourTwo.com every day • More England content
Thank you for reading 5 articles this month* Join now for unlimited access
Enjoy your first month for just £1 / $1 / €1
*Read 5 free articles per month without a subscription
Join now for unlimited access
Try first month for just £1 / $1 / €1
Quizzes, features and footballing fun
Get the best features, fun and footballing frolics straight to your inbox every week.
Thank you for signing up to Four Four Two. You will receive a verification email shortly.
There was a problem. Please refresh the page and try again.