Wheezing Allardyce forced to dance by Ellis Short
The Sunderland boss is still recovering from last night's exertion, Back of the Net reports...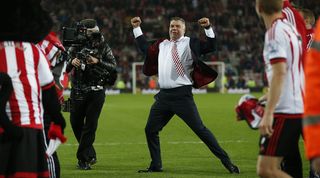 Sam Allardyce is still feeling the ill-effects of being made to dance on the Stadium of Light pitch to please the whims of sadistic Sunderland owner Ellis Short.
Allardyce had successfully guided the Black Cats to survival with a 3-0 victory over Everton, but what should have been a triumphant moment for the Dudley-born boss soon turned into a nightmare.
As the fans celebrated, the message was relayed to Allardyce that Sunderland owner Ellis Short wasn't satisfied with merely securing his club's Premier League status, and wanted to see the portly tactician dance for him.
The atmosphere at the Stadium of Light changed abruptly from one of unbridled joy to awkward silence as Allardyce proceeded to gyrate, grunting and wheezing at the effort.
"It was horrible to watch," Sunderland fan Thomas Atkins told FFT. "Our happiness quickly dissipated and we just felt sympathy for the poor man in front of us sweating through his jacket.
"The cheering stopped and people started shouting for Short to show some mercy, but he just kept encouraging Big Sam to throw shapes that were clearly beyond him.
"It was like watching a kebab revolving on a spit."
He cuts shapes
Many fans stuck around for hours after the final whistle to applaud Allardyce, who was in obvious discomfort, but by midnight the stadium had emptied.
At this point only left were the crapulent coach, whose movements had become spasmodic, and Short, still sipping champagne and making the occasional indication he required more dancing.
"It's great that Sunderland stayed up," Short told FFT.
"But [Big] Sam's not getting a new contract until he's put his thing down, flipped it and reversed it."
Please note: This fictional news story is not real. But you already knew that, right?
Quizzes, features and footballing fun
Get the best features, fun and footballing frolics straight to your inbox every week.
Thank you for signing up to Four Four Two. You will receive a verification email shortly.
There was a problem. Please refresh the page and try again.