Cristiano Ronaldo scores record-breaking 806th career goal to overtake Josef Bican
By Richard Martin published
The Portuguese's first-half double against Tottenham saw him become the top scorer of all time according to FIFA records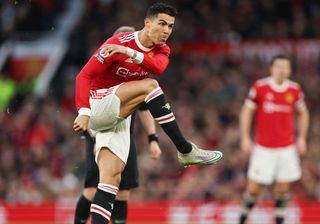 (Image credit: Getty)
Cristiano Ronaldo became the top scorer of all time during Manchester United's 3-2 win against Tottenham in the Premier League on Saturday.
The Portuguese gave United an early lead when he let fly from over 30 yards and sent the ball into the top corner to get his 805th goal for club and country, equalling the late Josef Bican as the highest scorer in the history of football, according to world organising body FIFA.
Ronaldo then restored United's lead after Harry Kane had equalised from the spot, knocking in a cross from Jadon Sancho to make it goal 806 and overtake Bican.
For good measure he scored a third after Harry Maguire's own goal had made it 2-2, completing a hat-trick to give United all three points.
It was Ronaldo's 59th career treble.
Who was Josef Bican?
Austrian Bican, whose career spanned from 1931 to 1955, scored the majority of his goals for Slavia Prague, plundering a remarkable 427 goals in 221 games for the Czech side.
He played for two national sides, first for his native Austria and then for Czechoslovakia. He retired at the age of 42.
Thank you for reading 5 articles this month* Join now for unlimited access
Enjoy your first month for just £1 / $1 / €1
*Read 5 free articles per month without a subscription
Join now for unlimited access
Try first month for just £1 / $1 / €1
Richard Martin is an experienced football writer, editor and social media producer. Before returning to London, he spent 10 years in Spain as a football correspondent and has attended over 600 games across 16 countries, his favourite being Argentina. He has also worked for Reuters, The Telegraph, The Daily Mail, The Times and AS.
Quizzes, features and footballing fun
Get the best features, fun and footballing frolics straight to your inbox every week.
Thank you for signing up to Four Four Two. You will receive a verification email shortly.
There was a problem. Please refresh the page and try again.