4 big lessons Arsenal need to learn against Barcelona
The Gunners go into Wednesday night's second leg two goals down, and not for the first time either. Lee Roden looks at what's gone wrong…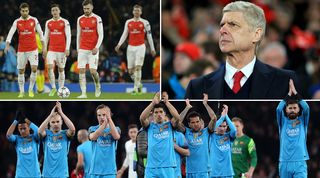 Arsenal fans were left with a bittersweet taste back in February as their team fought valiantly against Barcelona at the Emirates, only to see the visitors leave 2-0 winners.
Even the most diehard of Gooners will admit that a three-goal swing at the European champions' home is an unlikely scenario on Wednesday, but can they at least come away from the Camp Nou with their pride intact? Learning a few important lessons from the first leg would help them to do so...
1. Özil must be more disciplined
The home side's tactics from kick-off last month suggested that Arsene Wenger had been thorough in his research, with shades of the approach Deportivo adopted in a 2-2 draw against Barça on December 12.
That afternoon, Victor Sanchez split his team up into two separate units, asking seven outfield players to maintain a rigid defensive block and the three forwards to press high against Javier Mascherano, Gerard Pique and Sergio Busquets. It worked like a charm: Barça couldn't build comfortably from the back, and the Galicians came away with a huge point from the Camp Nou.
Arsenal attempted something similar. Initially, whenever Pique or Mascherano received the ball, they were faced with an energetic Olivier Giroud, who worked hard to try to close off their line of passing, while Busquets had Mesut Özil sticking to him like a shadow. Barça were forced to be conservative with the ball, the risk of losing it in their own half too high.
The dynamic only lasted for around 10 minutes, however, and while it's tempting to conclude that Barça simply improved, Arsenal also played their part in the shift: Özil pursued Busquets less and less as the game progressed. As the midfield pivot was given greater time and space, Barça grew.
Not coincidentally, many of the away team's best chances involved a line-breaking pass from the No.5, with his German opponent no longer applying pressure.
Wenger's defensive approach was largely spot on: it was the execution that was the problem. Özil is often criticised for failing to take responsibility in possession in the big games, but if anything it was his eagerness to relax without the ball that caused more problems at the Emirates.
If the Gunners are to stand a realistic chance at the Camp Nou, he will need to be far more persistent.
2. Switch play more effectively
Talk of Barcelona's high full-backs and the space behind them has become a favoured cliché of football commentators over the years. But in truth, the level of cover the Blaugrana's midfielders produce under Luis Enrique means it isn't easy to get in behind Jordi Alba or Dani Alves.
One way to try to increase the chances of exploiting that space is by switching play effectively from one flank to the other, looking to catch Barça out while they are still shuttled over towards the opposite side.
Arsenal tentatively attempted to do that at the Emirates, but they rarely pulled it off. On some occasions the pass was overhit, while on others it was poorly timed – like when an excellent early chance for Alex Oxlade-Chamberlain to sprint behind Alba was wasted by the attacker being flagged offside.
Given they have pace up front and decent passers from deep, Arsenal can surely do better to try to exploit those kind of situations in the second leg. It won't guarantee success, but it will at least give Barcelona something different to think about.
3. Can Alexis do more to test Alves?
On paper a battle between a 32-year-old full-back whose legs aren't what they used to be, against an exceptionally skilled forward in the midst of his peak years, should only have one winner. Yet when the final whistle went in London, it was the wily old veteran who came out on top and not the energetic goalscorer.
Alexis Sanchez started brightly in London, but as the minutes rolled on, Alves started to win 50/50 situations more often. The Brazilian eventually grew so confident that he could be seen breezing effortlessly past his young rival in the attack, having fully broken his resolve.
Arsenal evidently can't afford a repeat in the return leg. Alves is one of the all-time greats in his position, but there is no way a player of Sanchez's talent should be losing out so comprehensively against him. Can the forward better vary his approach, and throw in a few new tricks to catch his old team-mate out? The Gunners need more from their talisman.
4. Better exploit the aerial advantage
Arsenal have few, if any, tactical and technical advantages over Barça, but physical stature is one thing that could work in their favour.
The average height of the outfield players that faced Barcelona in the first leg was 1.82m, compared to 1.77m in the Catalans' team. The difference may seem trivial, but working out how to better profit from that natural resource could be an important equaliser for the away team on Wednesday.
For starters, the Gunners could do more with knock-ons in the final third which, if executed correctly, can help them to break lines of pressure and put together spells of play higher up the pitch.
In the first leg, winnable aerial duels against Barça players of similar or lesser stature were regularly lost. With better timing, Arsenal's attackers could all perform better in that area against their opposite number, giving their team a much-needed outlet for turning defence into attack.
Crosses are also an area the away team could make greater efforts to profit from. In the first leg, the Premier League side only attempted 12, four of which were successful, compared to 22 by Barcelona (who also completed four).
That tells us Arsenal had a higher success rate, but also that they attempted far fewer, so it seems obvious that they should try to make more of that strength at the Camp Nou. There is a fine line between falling into the trap of aimless, repetitive crossing and not crossing enough. Striking the balance will be key.
Quizzes, features and footballing fun
Get the best features, fun and footballing frolics straight to your inbox every week.
Thank you for signing up to Four Four Two. You will receive a verification email shortly.
There was a problem. Please refresh the page and try again.