5 Chelsea youngsters fans can get excited about (and they're all English)
By Garry Hayes published
The Blues' kids defended their UEFA Youth League title against PSG on Monday, and Garry Hayes introduces a clutch of their best performers...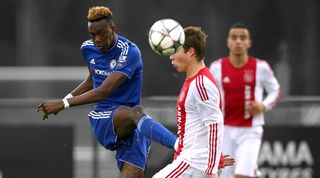 Chelsea are European champions.
Those fans wanting to know when the victory parade will commence down the Fulham Road need to calm their excitement somewhat, though – Chelsea's latest success on the continent comes in the UEFA Youth League, which the Blues won for the second successive year after defeating Paris Saint-Germain 2-1 in Nyon on Monday. They're the first club to ever achieve that feat.
It's not quite the same as when Chelsea won the Champions League in 2012 – or indeed the Europa League a year later – but it's a sign of the gains the Blues continue to make at junior level.
They have the FA Youth Cup final against Manchester City to contend on Friday too – a sixth in seven years – reinforcing that point.
NEW ISSUE
NEW ISSUE If you want to watch Chelsea's next generation, head to Vitesse Arnhem. FFT did just that and found five Blues youngsters currently on loan, taking the tally to 19 loanees since summer 2010. Do fans fear the Eredivisie club is losing its identity?
Unless Stamford Bridge starts to see some of these lavishly talented youngsters begin to make their mark on the first team at Stamford Bridge, however, all these victories will be worth little in the grander scheme of things.
To roll out the much-used fact: not since John Terry has a youth team product become a Chelsea regular. To put that into perspective, the Chelsea captain made his debut in 1998.
So who from the victorious UEFA Youth League side can we expect to buck the trend? FourFourTwo takes a closer look…
1. Tammy Abraham
FACT FILE
Position: Striker
DOB: October 2, 1997
Nationality: English
It's rare a Chelsea youth team game is played and Abraham doesn't score. He wasn't on the scoresheet against PSG on Monday, but you shouldn't let that influence your opinion of him.
Abraham has hit an incredible 25 goals in 37 games across Chelsea's youth team matches this season, adding to the 41 he netted last year. Those stats show how lethal he can be in the opponent's area.
Watching him in the UEFA Youth League final on Monday, his performance outlined just how he's maturing as a player. Abraham didn't score, yet he played a role every striker must for his team. Abraham was holding the ball up to bring the midfield into play – something that influenced the match-winning performance from Kasey Palmer – and making runs to create space.
He put that big frame of his to good use too, bullying the PSG centre-backs to prove himself a real nuisance.
That's what catches the eye about him. Abraham is still only 18, but he's playing like a striker well beyond his years. A first-team call is probably premature given he has to compete with Diego Costa, but he doesn't have much else to prove at junior level.
2. Charlie Colkett
FACT FILE
Position: Midfielder
DOB: September 4, 1996
Nationality: English
Captaining the side in Nyon on Monday like he did in the 2015 FA Youth Cup Final when Chelsea also lifted that trophy, Colkett is a smooth operator in midfield.
When we talk about a team's game management, it's only ever as good as the man they have in the middle of the park. Thankfully for Chelsea's under-19s, they have Colkett and it allows them to control proceedings like they did for long spells against PSG.
He's slight of frame and looks like a strong gale will blow him over, but Colkett's ability as a footballer makes up for all of that. He has excellent vision, with his calm approach proving infectious across the Chelsea team.
If you're looking for lazy comparisons, he is to the Chelsea youth team what an in-form Cesc Fabregas is to the senior side. He's the lynchpin the midfield is built around and he must surely be in Chelsea's long-term plans.
3. Kasey Palmer
FACT FILE
Position: Midfielder
DOB: November 9, 1996
Nationality: English
Considering how uninspired Chelsea have looked in attacking midfield this season, there's a very real case for Palmer to be promoted to Antonio Conte's first-team squad for next term. This is one kid who doesn't need a pointless loan move.
Palmer is an athletic, imposing player, yet he breaks the mould in what Chelsea have in that his physicality doesn't come at the expense of his technical abilities.
If Colkett controlled the tempo against PSG, Chelsea won the game because of Palmer. He put in the sort of performance that he's managed all season: not only did he provide the corner that led to the opening goal, it was his strike to cancel out Yakou Meite's equaliser that proved the difference.
In the UEFA Youth League semi-final, Palmer got Chelsea up and running against Anderlecht with a wonderful goal that was all about desire and perseverance, which he repeated with a beautifully timed run to score against PSG.
In recent weeks it's been Ruben Loftus-Cheek operating as Chelsea's No. 10. That's not his game, though, and it doesn't suit him. With Palmer's skill in tight areas, Chelsea should be looking at him for that position, with Loftus-Cheek deeper to utilise his power and pace to punish teams.
4. Kyle Scott
FACT FILE
Position: Midfielder
DOB: December 12, 1997
Nationality: English
It seems an odd observation to make about a player, but seeing Scott's posture tells you everything you need to know about him. He looks like a footballer.
Another diminutive type, the way he swivels and turns shows he understands how best to manipulate his low centre of gravity. It's all in the hips with Scott, with a quick shimmy left or right taking him away from opponents.
Despite being a gifted footballer, he doesn't mind a tackle either. Scott showed that much against PSG on Monday with some well-timed lunges to dispossess players who made the mistake of thinking they'd got the better of him.
Deployed on the left side of Chelsea's midfield, everything about Scott suggests his future is playing more centrally. He isn't blessed with the sort of pace that makes the best widemen in the modern game, so he really needs to add a bit of bulk to allow him to cope with the rigours of senior English football.
5. Jake Clarke-Salter
FACT FILE
Position: Defender
DOB: September 22, 1997
Nationality: English
For the casual observer, Clarke-Salter suddenly came on the Chelsea radar recently when making his first-team debut against Aston Villa. He came on a second-half substitute as the Blues romped to a 4-0 victory.
What was interesting that afternoon is that Guus Hiddink used Clarke-Salter's inclusion to switch his system to a 3-5-2. Not long after that game, Conte was named as the new manager for next season – and he has historically used that system often before.
Did we see a glimpse of the future with Clarke-Salter in that position in the backline? Chelsea fans are hoping so, as the 18-year-old is being billed as Chelsea's next John Terry.
The fact he's a defender and has been at the club since a young age is about as close he gets to being Terry-esque. If we're comparing to Chelsea players of old, he has more of a Ricardo Carvalho look to him in that he's a much-hyped, ball-carrying centre-back.
Monday against PSG wasn't Clarke-Salter's best performance. He was caught out of position a couple of times and was also booked for a wild tackle that could have produced a lot worse.
Those who watch him often enough know there's more to his game than what we saw in a nervy UEFA Youth League final, though.
Thank you for reading 5 articles this month* Join now for unlimited access
Enjoy your first month for just £1 / $1 / €1
*Read 5 free articles per month without a subscription
Join now for unlimited access
Try first month for just £1 / $1 / €1
Quizzes, features and footballing fun
Get the best features, fun and footballing frolics straight to your inbox every week.
Thank you for signing up to Four Four Two. You will receive a verification email shortly.
There was a problem. Please refresh the page and try again.