5 things Real Madrid need to fix to compete with Barcelona
Lee Roden's recipe for restoring los Blancos' faltering reputation...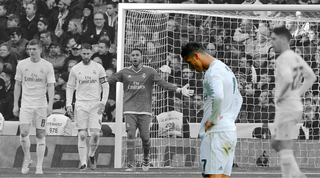 1. Put the house in order
One of the biggest farces in football history occurred on the eve of September 1 last year, when Real Madrid's failure to get then necessary paperwork authorised on time meant their move for David de Gea fell through. The incident set the tone for the season to come. 
In December, they were eliminated from the Copa del Rey after fielding an ineligible player, somehow not noticing that Denis Cheryshev was due to complete a one-match suspension.
In January, midfielder James Rodriguez was tailed all the way to the Valdebebas training ground by police after allegedly driving at speeds of up to 200kph.
The picture those incidents paint is not of a top-level club with its house in order, but one in chaos. It's already difficult enough for Madrid to catch Barcelona on the pitch: they need to stop conceding an unnecessary advantage through their practices off it.
2. Build a well-structured squad
For a team that aspires to compete on three fronts and isn't afraid to spend big in order to do so, there are some criminally big holes in Real Madrid's squad at present.
Just one senior left-back?
Marcelo is the only senior left-back at the club, so when he's injured either Danilo or Dani Carvajal need to play there, neither of the pair being left-sided players. At centre-forward, Cristiano Ronaldo's failure to adapt to a more central role means that Karim Benzema is the sole first team option, a situation that forced Zinedine Zidane to bring Castilla's Borja Mayoral on for his debut during the Madrid derby. At holding midfield the situation is even worse: Casemiro is the only genuine fit option, yet the Brazilian hasn't started since December.  
Having no cover in three key positions is inexcusable for a club of Madrid's resources, creating a near-impossible task for any coach hoping to mould a balanced team. That can't continue.  
3. Sell Cristiano Ronaldo
As their all-time top goalscorer, Ronaldo's position in Real Madrid history is already secured, but a footballer can only dine out on his past form for so long, and the Portugal international is clearly on a downward trajectory.
The striker's numbers still look good on paper but they are deceptive: of the 22 2015/16 league goals he'd scored by February 29, 70% came against teams in the bottom half of the league table. Combine that with the fact that he has yet to score against Barcelona, Atletico Madrid, Villarreal and Sevilla this season, and an obvious pattern emerges.
Is CR7's time up at Madrid?
Notoriously passive without the ball, when Ronaldo isn't scoring goals he has a habit of becoming more of a tactical hindrance than a solution, and that is particularly problematic in big games. His growing tendency to kick out at opponents, meanwhile, is a red card waiting to happen, and to top it off he's now added more friction to a difficult situation by berating the quality of his team-mates in the press.
RECOMMENDED La Review: Cristiano attempts team-building as Blancos hanker for Perez's head
The solution is to sell him. Madrid need to rebuild their team from a harmonious position, and with Ronaldo around they can't do that. A more balanced, less individually focused Real Madrid will be far more likely to cause Barcelona problems than one that panders to a declining 31-year-old, regardless of how good he once was.
4. Instil a clear plan and identity
Madrid's troubles in recent years can be charted alongside the contrasting trajectory of their city rivals. Before Diego Simeone's arrival, Atletico had gone 22 games without winning a derby, but since then they've won seven of their encounters with los Blancos, including a six-league-game undefeated run. Most notably, Simeone has overseen three wins in a row at the Santiago Bernabeu, something that no other team in La Liga history has achieved.
In pure economics Madrid would beat their rivals every time, so how exactly do Atletico close the gap despite their constant turnover of players? Having a clearly defined identity certainly helps. There are no doubts over the Colchoneros' style: they keep things tight at the back, play on the break, and are gradually improving their game in possession. When they look for players, they look for ones who can fit that system. As for Real Madrid's system, it's anyone's guess.
Atletico: the top dogs in Madrid once again
Real Madrid have gone from the fluid football of Manuel Pellegrini, to the counter-attacking of Jose Mourinho, to the more expressive game of Carlo Ancelotti. It was then the rigid discipline of Rafa Benitez, then back to the relaxed approach of Zinedine Zidane. There is little to nothing in common from one coach to the next, so each manager has to start virtually from scratch.
With such an obvious lack of planning, is it really any surprise that Madrid increasingly look like a headless chicken? This is a club in desperate need of a strategy. If they want evidence of how important that can be they only need to look across the city. Or to Barcelona, for that matter.
5. Axe the interventionist president
The elephant in the room here is that no genuine changes can be made at the Santiago Bernabeu without the removal of its supreme ruler. Florentino Perez seems to think he is a football coach, but the results suggest he is a very bad one.
Madrid have only won one league title in the seven years of his current mandate – half the number claimed in the three-year tenure of predecessor Ramon Calderon. It isn't a coincidence that the league trophy drought has occurred during the rule of an interventionist president who sticks his nose into team selection and has unchecked control over signings and sackings.
Gradually, Madrid fans are starting to wake up. On several occasions this season they have chanted for Perez's resignation, and coincidentally or otherwise, this month marks 10 years since he last departed. 
La Liga Loca
Finding a successor won't be easy: restrictive changes to the club's statutes instigated by Perez in 2012 limit the potential candidates to around 88 members of Spain's 46 million plus population, but it's hard to believe that even among that small number there isn't someone better suited to the job than the incumbent president.
Getting rid of Perez isn't a magic wand, and it won't automatically make Madrid compete with Barcelona, but only a change at the top can permit the adjustments required elsewhere to take them forward. Real Madrid's socios are at a pivotal moment in their club's future: so how will they act?
Quizzes, features and footballing fun
Get the best features, fun and footballing frolics straight to your inbox every week.
Thank you for signing up to Four Four Two. You will receive a verification email shortly.
There was a problem. Please refresh the page and try again.