5 ways MLS embraced the fanatics – and won
The USA's top flight is one of the best­-run, fastest­-growing competitions. Stephen Tudor examines how that happened...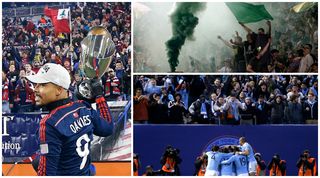 Here's a startling thought: there will be garments in your wardrobe that are older than half of the teams in Major League Soccer and you'll almost certainly have a jar of nutmeg at the back of your kitchen cupboard that expired before many of the club rivalries began.
Yet even a curious look at this ever-­expanding league reveals an explosion of colour and passion, tifos and full houses, an enthusiastic embracing of soccer fandom that would have been Greg Dyke's wet dream when he first sat down with representatives of the 'big five' to discuss the formation of the Premier League. Supporters turn up, drink beer, vociferously cheer on their team, then go home all friendly like. Oh Mr. Dyke, look at what you could have won.
From infertile soil...
The surge in popularity of U.S. soccer is a remarkable feat, especially in light of the failed NASL experiment of the 1970s that put all its Peles in one basket and attempted to railroad a reluctant public into dividing their attention from their beloved basketball, American Football and baseball. Elsewhere across America's heartland, the sport amassed negative stereotypes of hooliganism and pointless stalemates, and in time became relegated in American culture to a children's after­-school pursuit, with their mothers inheriting their own niche porn category to boot.
So finally capturing the imagination of football's final frontier has been a resounding victory against the odds, with attendances increasing from Vancouver to New York, down to Houston at a rate of 7% per year: the overall MLS average of 21,554 is roughly the same as a full Liberty Stadium in Swansea. This weekend's MLS Cup final, to be aired on two mainstream channels, is expected to attract a record audience.
The number-­crunching, however, simply doesn't do justice to what's going on in the U.S., a fan culture still in its relative infancy that is already showing many other nations how it could – and should – be done.
How was this most unlikely of phenomena achieved, then? The 'Beckham Effect' can't be overlooked, nor can the fluke of timing. But MLS commissioner Don Garber and the founding clubs deserve kudos for their initial blueprint. They 'borrowed' astutely from European and South American models and implemented these ideas into their unique, corporate structure. But there was something else too, a stroke of genius that no other league anywhere in the world would dare attempt. They embraced the fanatics...
1. Ultras: not a dirty word
A recent fracas between New York Red Bulls ultras and their New York City counterparts led to predictable chin-stroking in the media, postulating that U.S. supporter groups are now copying the ugly side of fan culture from their European cousins. This was given more relevance when both sides were heard shouting "Who are ya?" in faux-British accents.
Yet reported instances of aggro between rival fans are as rare as hen's teeth, with humour and having a good time always trumping tribalism. Or as one New England Revolution supporter put it: "Basically the day is one big piss-­up."
The vast scale of America becomes a factor here too, with away supporters often given warm respect for travelling a country 38 times bigger than the UK.
This is not to sugarcoat MLS in a Mary Poppins sheen. The San Jose Earthquakes – generally regarded as having the most bellicose of fans – has this besmirching their Wikipedia page: "An Earthquakes fan was arrested for assaulting a Portland Timbers fan after taunting the group in April 2013."
It almost goes without saying that if such instances were recorded for many European and South American leagues, the internet would collapse. Supporter groups may like to call themselves confrontational names such as 'Army', 'Firm' and 'Ultras', but the aggression begins and ends in terminology.
2. Tailgating
In designated parks and car parks outside the stadiums before each game, many fans partake in the great American sporting tradition of 'tailgating'. This comprises of a large community of barbecues where dogs are grilled and beers sunk before impromptu kickabouts spring up.
Phill Gattenby, a Manchester City fan now living in Boston, describes a typical scenario: "You turn up three hours before kick­-off and get the beer and grill out. Random people walk up to you who have made cupcakes or a hundred jelly shots laced with all sorts. There are various games such as keepy-uppy or throwing bean­bags into a wooden hole, and then for an hour and a half after the game you do the same as the traffic dies down.
"Can you imagine the police allowing that on the car park at the end of Joe Mercer Way? The club wants you inside drinking their over­priced pints of piss and entertaining you rather than you entertaining yourself."
3. A strange alliance
The founders of MLS didn't just pay lip service to the value of fandom. They put their whole vision into the hands of the people, with Garber and the franchises consulting closely with the nascent supporter groups to galvanise genuine passion and affiliation.
This strategy continues to this day with groups – despite boasting such names as the 'Riot Squad' and the 'Timbers Army' ­enjoying close working relationships with the front office of their respective clubs, a strange alliance that is unimaginable to such an extent in other football cultures.
Garrett Dittfurth, Director of Communications for the (Portland) Timbers Army, explains how it works: "We meet monthly with the Front Office to talk about how we think things are going and if there is any way we could work together to increase the experience. They are well aware we're going to have our rough edges, but they accept that. Like any two groups we have our differences but we realise we both want the same outcomes, which is a winning team, an amazing atmosphere and great involvement with the community."
4. Wall of noise
It has swiftly become the norm for one end at every stadium to be awash with banners and burst into life with chants and drums as supporter groups merge to create a wall of intimidation and noise. Worthy mentions here must go to D.C. United's Screaming Eagles along with Seattle Sounders' formidable Emerald City clan, whose atmospheres have become legendary, but the two main collectives from Orlando City SC truly epitomise the zeal in which U.S. fans have taken to putting on a spectacle. Despite only being in existence for four short years, at each home game The Ruckus and Iron Lion Firm combine forces to create 'The Wall', a fearsome explosion of colour among which the club's owner Phil Rawlins and his wife Kay have been known to sit and belt out songs as loudly as anyone.
Rodrigo Guillem, President of the Iron Lion Firm, explains how friendly competition between the supporter groups is key: "Our love for our club is the most important piece of the puzzle and is what unites us to make a tremendous force and impact at every match. There is a healthy yet friendly rivalry: much like siblings, we always push one another to become louder, better and more creative as every year goes by."
5. Everybody needs good neighbours
It's all very well encouraging a rambunctious environment of pride and passion but if the chants fall on jet-lagged ears it lacks a little something. Which is why the newest and next franchises – New York City FC and LA FC – both bristle up next to titans in metropolitan cities as MLS begins to prioritise generating rivalries.
Some are already well­-established: the Seattle Sounders and Portland Timbers first crossed swords back in the NASL days, which at least partly explains why the Cascadia region is considered a hotbed of fanatical support. So expect plenty more derby days added to the fixture list as the MLS phenomenon continues.
RECOMMENDED How Giovinco dazzled for Toronto – and helped MLS to take the next step
Thank you for reading 5 articles this month* Join now for unlimited access
Enjoy your first month for just £1 / $1 / €1
*Read 5 free articles per month without a subscription
Join now for unlimited access
Try first month for just £1 / $1 / €1
Get FourFourTwo Newsletter
The best features, fun and footballing quizzes, straight to your inbox every week.