7 critical FIFA 18 tips – direct from the developer EA Canada
By Ben Wilson published
The team behind FIFA 18 shares its scouting report on Ultimate Team, The Journey and mastering the new defending model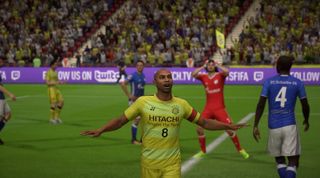 Merely glance at social media and you'll note FIFA 18 doesn't lack for supposed experts – but no one knows the game better than its own development team. Which is why FourFourTwo got on the hotline to Vancouver-based creators EA Canada for the inside scoop on all this year's big changes.
Is there a secret to mastering FIFA 18's new defending mechanic? What's the best approach to the revised penalty system? And who exactly should you target if lacking Ultimate Team coins? (FFT can also help with that, by the way, via our own comprehensive guide (opens in new tab).)
All these questions and more are tackled below by creative director Mat Prior, lead gameplay producer Samuel Rivera and live producer Yahsir Qureshi.
1. 15 players you need to target in Ultimate Team
"With every new iteration of Ultimate Team we see an evolution of gameplay which results in a number of players emerging as stars. Outside of the stalwarts like Cristiano Ronaldo, Neymar, and Robert Lewandowski – who shine every year – we're seeing reality mimic itself in FUT with players building a reputation both on and off the virtual pitch.
"For more defensive players, Raphael Varane, Jordan Lukaku, David Alaba and Eric Bailly have a great mix of strength and overall defensive stats to put a stop to most attackers.
"In the midfield positions, Leon Goretzka, Ivan Perisic, Christian Eriksen and Radja Nainggolan all have great work rates and shooting prowess, making them a constant danger.
"For more attacking players, Gabriel Jesus, Alejandro Gomez, Sadio Mane and Timo Werner all possess the agility and lightning-quick reactions to score goals and frustrate defenders." - Yahsir Qureshi
2. If they're too pricey, there are bargains in FUT too...
"If you have a few thousand coins and are looking to find a bargain there are a number of players who can help you on your way, depending on your play style.
"Looking for a GK? You'd be hard pressed to find better bargains than Asmir Begovic, Joe Hart or Jose Reina. If you are looking for defenders to outmuscle opponents, Ashley Williams, Daniele Rugani and Ryan Bertrand are very strong candidates.
"If you are looking for midfielders who are versatile and provide different options to suit most play styles, Yohan Cabaye, Quincy Promes and Suso fit the bill. If you're looking for bargain attacking players who can outpace defenders, Joshua King, Jose Izquierdo and Luciano Narsingh all present a constant threat to any defence." - Yahsir Qureshi
3. The new defending model requires patience and timing
"The defender should not sprint towards the dribbler all the time. It's easy for a dribbler to avoid a defender that has a lot of momentum, as in real life. Contain or manual contain are the best ways to maintain a good defensive position. Once you are in a good position, you have to decide what type of tackle is the best for the situation.
"One of the advantages of the new 'Hard Tackle' is that when powering it up, the defender is also going to be looking for a regular tackle. This means if you're in a good position, and the ball is close while powering up, you will launch a regular tackle before reaching full power. If the ball is further away and you reach full power, you will launch a hard tackle that will take you closer to the ball.
"You may experience a short delay when trying to tackle but missing. To be extra clear, this delay will only happen if you are going to miss the ball. If you are going to successfully contact it, there is no delay. This happens because in order to understand if you are requesting a 'Hard Tackle' we need to detect 'button up', instead of 'button down'." - Mat Prior
4. Struggling with penalties? Here's how to master them
"The first advice is to turn on the trainer, by pressing the up button in the D-pad, to visualise how the aiming mechanics work. Once you are comfortable deciding your direction and power, you can try more advanced mechanics – like changing the aiming direction just before the player kicks the ball.
"It is possible to read where the penalty taker is aiming by looking at the direction of his head. However, the better the attribute of the PK taker, the less you can notice the head movement. If you change your shot direction too late though, you may get more error." - Mat Prior
5. Choices within The Journey should be tailored to your style
[During later chapters of The Journey, you – as Alex Hunter – face two big branching choices: a new strike partner and a new club]
"In terms of strike partners, each choice creates a different experience and different expectations. Pick Dele Alli and you'll play more as the front man with the expectation and pressure of scoring goals. With Antoine Griezmann you'll play more of a playmaker role, whereas with Thomas Muller it's more of a combination of the two – so it depends upon your style of play and what you consider your strengths and weaknesses to be.
"In terms of team choice, it's a tough one as the top flights in Spain, France and Germany are all pretty exciting places to play. Spain is probably the toughest as you'll be coming up against the likes of Real Madrid and Barcelona. The Bundesliga is never an easy place to play but I expect playing alongside Neymar at PSG might be enough to lure a lot of people to check out Ligue 1. Wherever you go, you will have an incredible group of players playing alongside you, so expectations will be high." - Samuel Rivera

6. Know your individuals before selecting a Career Mode team
"Every FIFA player has a unique style, so this is quite subjective. But just looking at some of the attributes that make a big difference, I would pick out four clubs [for Career Mode].
"For the dribbling attribute, my favourite teams are Barcelona and Man City. Having Lionel Messi, Andres Iniesta, Gerard Deulofeu and Ousmane Dembele – or Sergio Aguero, Gabriel Jesus and David Silva – will give you a lot of confidence that you can keep the ball.
"If you like passing, then Arsenal should do a good job with Mesut Ozil, Alexis Sanchez and Santi Cazorla. For a more physical style, Man United should do it with Marouane Fellaini, Paul Pogba, Romelu Lukaku and Nemanja Matic." - Mat Prior
7. The a magic 'C' word which will help you improve
"Skill gap is a very important part of the game. A lot of the professional FIFA players have impressive records - they basically don't lose a game. In that sense, 'composure' is a big part of their play style, but also a big part of FIFA 18's general mechanics.
In game, the 'composure' attribute determines the distance at which the player with the ball starts feeling the pressure from the opponent. The players with the highest composure attribute will feel less pressure and therefore will have less error when kicking the ball. The key is to make sure you don't take rushed decisions when under pressure." - Mat Prior
Gfinity Elite Series: Why your chances of becoming a FIFA 18 pro have just increased
The 10 best FIFA 18 kits that'll make your Ultimate Team look snazzy
15 of the finest FIFA 18 hidden gems you can sign in Career Mode
FIFA 18 skill moves: How to do 7 of our favourites
FIFA 18 Chemistry Styles explained – and why they're more important than you think
The 5 best formations in FIFA 18: our favourite systems explained
7 essential FIFA 18 tips: new defending, Career Mode advice, Ultimate Team web app and more
The 12 best FIFA 18 right-backs you should sign in Ultimate Team
FIFA 18 wonderkids: the 13 best young players to sign in Career Mode
How to do the 12 new FIFA 18 celebrations – plus more of our favourites
The 11 best cheap Premier League players for your FIFA 18 Ultimate Team
The 11 best free agents in FIFA 18
7 must-read FIFA 17 tips and tricks – directly from the developers at EA Sports
Thank you for reading 5 articles this month* Join now for unlimited access
Enjoy your first month for just £1 / $1 / €1
*Read 5 free articles per month without a subscription
Join now for unlimited access
Try first month for just £1 / $1 / €1
Quizzes, features and footballing fun
Get the best features, fun and footballing frolics straight to your inbox every week.
Thank you for signing up to Four Four Two. You will receive a verification email shortly.
There was a problem. Please refresh the page and try again.