Gfinity Elite Series: Why your chances of becoming a FIFA 18 pro have just increased
Bradley Russell talks you through Gfinity's exciting new FIFA 18 Elite Series, which opens up your path to the FIFA 18 eWorld Cup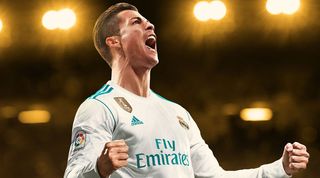 Ever fancied a crack at being a pro gamer and thought: 'Well, how hard can it be be?' If so, you're in luck. Starting from January 2018, you'll be able to put your controller when your mouth is and be in with a chance of rising to the top of the FIFA 18 eSports mountain.
The eSports company Gfinity have recently announced plans for a FIFA 18 Elite Series – essentially pitting the world's best against each other – with the addition of a Challenger Series launching on January 8 and the Elite Draft on February 23.
So, how do you do it? It's actually fairly simple: all you need a Gfinity account and an Xbox One or PS4. There are a few steps before you take on the world, though. Plus, you'll want your eyes on the prize – so we've even mapped out your eventual road to the FIFA 18 eWorld Cup 2018.
Up for the challenge?
How to get involved
First things first, head over to challenger.gfinityesports.com and register. Once you've done that, click the Gfinity logo in the top right-hand corner of your screen and head to your Profile. Once you're there, link either your PSN ID or Xbox Gamertag. (Or both, if you're feeling adventurous.)
For now, you'll be playing the waiting game. To qualify for the Elite Draft you'll have to rank in the top 40 players worldwide, and then drafted by pro eSports teams. To do that, you'll have to play in the Challenger Series. Thankfully, that's open for all but – as of writing – it's not confirmed how you'll build up your rankings.
Other game series, such as Rocket League, feature head-to-head battles and ad-hoc tournaments to increase your ranking, so it should be very much the same here. Keep your eyes peeled on the Gfinity website for more details as and when they're released.
Ten teams of two Xbox and two PS4 gamers will make up the Elite Draft, and those gamers will go on to compete in the Elite Series The best from that competition will then duke it out at the FIFA 18 Global Series Playoffs and the biggun: the FIFA 18 eWorld Cup.
Now your journey begins. If you do make it to the FIFA 18 eWorld Cup, you'll be up for winning a massive cash prize. How does £150,000 sound?
So get practising – and keep a few controllers handy just in case a few pads get... ahem, damaged in a fit of rage that Cristiano himself would be proud of.
The 10 best FIFA 18 kits that'll make your Ultimate Team look snazzy
15 of the finest FIFA 18 hidden gems you can sign in Career Mode
FIFA 18 skill moves: How to do 7 of our favourites
FIFA 18 Chemistry Styles explained – and why they're more important than you think
The 5 best formations in FIFA 18: our favourite systems explained
7 essential FIFA 18 tips: new defending, Career Mode advice, Ultimate Team web app and more
The 12 best FIFA 18 right-backs you should sign in Ultimate Team
FIFA 18 wonderkids: the 13 best young players to sign in Career Mode
How to do the 12 new FIFA 18 celebrations – plus more of our favourites
The 11 best cheap Premier League players for your FIFA 18 Ultimate Team
The 11 best free agents in FIFA 18
7 must-read FIFA 17 tips and tricks – directly from the developers at EA Sports
Thank you for reading 5 articles this month* Join now for unlimited access
Enjoy your first month for just £1 / $1 / €1
*Read 5 free articles per month without a subscription
Join now for unlimited access
Try first month for just £1 / $1 / €1
Get FourFourTwo Newsletter
The best features, fun and footballing quizzes, straight to your inbox every week.