8 unlucky footballers who might make Shane Duffy feel better
The Blackburn defender scored two own goals, was booked and then sent off as Rovers lost 2-1 to Cardiff on Wednesday night. Elliott Griffiths remembers more of football's unfortunate bunch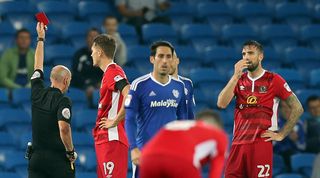 1. Jonathan Woodgate
Woodgate was a talented English centre-half, words which so seldom appear together that even Real Madrid took notice. Los Blancos signed the already-injured defender, and predictably it was 13 months before Madridistas saw their new man in action.
After waiting over a year to play, Woodgate was desperate to impress. He didn't.
The centre-back headed into his own net in the first half, and then on 65 minutes was given his marching orders for a second yellow card. "It wasn't the best start in the world," he confessed post-match. Er, yeah.
2. Michael Ballack
Ballack is a gloriously decorated footballer: a four-time Bundesliga winner, three-time German Footballer of the Year and a Premier League champion, with 42 international goals from midfield and two European Championship Team of the Tournament inclusions.
And yet he could have had so much more. With a reputation for choking in big games, he's been a runner-up in nine major competitions, including the Bundesliga twice, Champions League twice and the World Cup.
Despite being a gloriously talented player, he never made the top three of any Ballon d'Or award but "Mr Silver Medal" (his nickname in Germany) did at least finish his career with more trinket wins than losses.
Still, what this really means is that English fans can have the last laugh – we don't ever finish second. Take that, Michael.
3. Svein Grondalen
A different kind of misfortune affected Grondalen. While on a run in a nearby forest, the defender sustained an injury just before a World Cup qualification game for Norway.
How did he get injured? Fall down a pothole? Trip over and break his arm? No, the defender collided with a charging moose and missed the match. Scandinavian problems.
4. Steve Harper
Harper was a Newcastle player for two decades, but made just 157 league appearances in part thanks to some stupendously bad luck.
The keeper first looked to be Newcastle's first choice in 1999, before Ruud Gullit was sacked, but then dropped behind Shay Given again.
Between 2001/02 and 2005/06 he mustered just two Premier League appearances. Given suffered an injury the following season, giving Harper a long-awaited chance, but just one game in he watched Xabi Alonso's 60-yard lob sail over his head as he slipped trying to save it.
He finally became first choice when Newcastle were relegated into the Championship – and impressed. Harper played all but one match and had a fine year as his side got promoted – but as always, circumstances conspired against him. An early-season injury gave the aptly named Tim Krul a chance to impress, and the Dutchman grabbed it with aplomb. Harper left in 2013, via a brief loan spell at Brighton.
5. Patrice Evra
Evra was, and still is, a very good left-back at the grand old age of 35. A mainstay in a Manchester United defence that won the Premier League five times, and similarly for Juventus, Evra has won it all domestically. He has been unlucky on the international stage, admittedly – but that isn't why he's on this list.
Despite his success, Evra became the first player in history to lose four Champions League finals when Juve were beaten by Barcelona in 2015. He's been in five overall – and at least tasted victory against Chelsea in 2008 – but suffered the ignominy of final heartbreak with Monaco (2004, vs Porto) and twice with United (both Barcelona, 2009 and 2011).
6. Darren Barnard
Svein Grondalen can't even claim the weirdest animal-related injury here. Barnard's bad luck left him unable to play football for five months due after slipping on a puddle of his own dog's urine.
Man's best non-potty trained friend wasn't so kind to the Barnsley man, who crocked his ligaments and duly spent a lengthy spell on the sidelines. At least there was time to teach Rover a few things.
7. Stefan Kiessling
Germany clearly have one of the best international sides in the world, and yet it's commonly stated that they don't have the world-class striker that would make them unbeatable. Kiessling, therefore, has always felt pretty hard done by.
Widely regarded as one of the better strikers in the Bundesliga, the Bayer Leverkusen centre-forward has just six caps to his name and couldn't even get a game under Jogi Löw when Miroslav Klose and Mario Gomez were out.
The now-32-year-old has scored 15+ goals in a season three times since his last German cap in 2010, including one 25-goal season in 2012/13. Sometimes there's just no pleasing some folk.
8. Steve Bruce
Bruce will attest to that too. Now most famous for his masochistic tendencies to manage teams who perennially fight relegation, and being the only manager who believes in Alex Bruce, he was once a highly respected central defender for Manchester United.
Bruce played 414 times for United, and scored 51 goals, but never got a cap for England.
A domineering, powerful defender at the heart of United's defence, he could even take penalties (maybe that explains it), but the national management – right through Bobby Robson, Graham Taylor, Terry Venables and Glenn Hoddle – conspired to never give him a shot. That's one shot fewer than *deep breath* Michael Ball, David Nugent, Francis Jeffers, Carl Jenkinson, Joey Barton, Seth Johnson and Michael Ricketts.
Thank you for reading 5 articles this month* Join now for unlimited access
Enjoy your first month for just £1 / $1 / €1
*Read 5 free articles per month without a subscription
Join now for unlimited access
Try first month for just £1 / $1 / €1