Arty Arsenal, mighty Man United, wine-and-cheese Chelsea: How Americans pick their Premier League clubs
It's not an exact science, writes Manny Otiko, but there does appear to be trends in the way our friends across the Atlantic choose their English allegiances...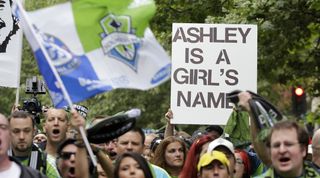 Football fans across the pond are quickly taking to the Premier League. But without regional loyalties and familial bonds, how do they decide on a team?
It's easy for many American fans to latch onto glamour teams like Chelsea and Manchester United, but other American fans are proud supporters of underdogs like Everton and Swansea too.
Some hip New Yorkers are attracted to stylish Arsenal, for example – see film director Spike Lee and rapper/entrepreneur Jay Z, who might just be the coolest man on the planet.
"When Thierry Henry was at the club I saw him play and I just thought he was amazing," said the rapper in 2010. "Ever since then I've been a big fan of the club, and still today you play the beautiful football that Thierry did. I think he had a real long term-effect on the team."
Tempted by the Devils
As is the case anywhere in the world, affinities can come from many different reasons. LA-based author and lecturer Lawrence Ross is one of many Americans who count themselves as Man United fans, but he is quick to point out that he is no Johnny Come Lately who jumped on the Theatre Of Dreams brandwagon.
"I became a fan before United started winning championships," insists Ross, who has followed the game for 40 years, long before it become popular Stateside.
"I've watched every World Cup that US networks have broadcast - which was difficult back in the 1980s, because they never really showed the game here," he says. "At the beginning it was hard. I lived in the [San Francisco] Bay Area, and back when the Premier League was just starting we'd only get a 30-minute recap."
Watching English football in the 1990s allowed Ross to see United become a modern-day powerhouse as they dominated England's top flight.
"It was then that I became a fan of Eric Cantona, United, and the overall way that the English game was played," says Ross. "Each team attacked, and the atmosphere at the time was magnificent. I was hooked."
So why choose England's most successful team to follow in the first place? "I'm a diehard Los Angeles Lakers fan, and United reminded me of the Lakers," says Ross, before extending the basketball comparison to United's rivals. "Liverpool are the Boston Celtics. At the time, Liverpool had the most championships, and United were forever chasing them. It seemed like a natural fit. Plus, the Lakers always have transcendent players, and so do United. Eric Cantona was that first player for me.
"There are those of us who followed early, before the silverware, and have enjoyed the ride," he continues. "And then there are those who joined when David Beckham transcended sports and put United on the casual fans' map. United winning then became like the English version of the New York Yankees, so like all winners, they attracted bandwagon folks. But then again, there are a lot of people who don't pick United because they're United."
Blue-collared Blues
Not all Americans are attracted to the Premier League's big names. Some from blue-collar towns have decided to follow perennial underdogs like Everton.
Brian McWilliams, vice president of Spell Communications, grew up in working class Philadelphia and that coloured his choice to adopt the Toffees.
"Philly has always had an underdog mentality, maybe from seeing Rocky so many times, and Philadelphians identify with and root for teams that have guts, play hard and have a chance to win, but aren't the favourite," he says.
"Being right next to NYC, Philadelphians always have a chip on our collective shoulder. That inspired me to turn to Everton, ­a team that's in the shadow of the much larger and far better-funded Liverpool – yet they're competitive. They're the underdog that still has a puncher's chance, and the culture of the fans and team is second to none."
McWilliams scoffs at American fans who follow high-profile teams likes United and Chelsea. "LA natives, on the other hand, would probably go for Man United, Chelsea or Man City, having been spoiled with teams like the Lakers and Galaxy for so long," McWilliams said. "They root for teams filled with superstars and lose interest quickly if a team isn't winning titles."
San Diego-based attorney Richard Chapo supports one of the Premier League's Big Five – he's part of a loyal band of local Liverpool fans. Chapo says San Diego is a big football city because of the large Mexican population, what with it being a stone's throw from the US-Mexico border.
Chapo played soccer as a youth and was initially a Bundesliga fan before switching to the Premier League. He started off a Gunner, but lost faith as they got tied up in funding the Emirates Stadium, and finally settled on Liverpool.
"I enjoy the style of play employed by Brendan Rodgers and the rabid fan relationship," says Chapo. "Liverpool fans in San Diego tend to be knowledgeable and incredibly passionate. A win against QPR means we are obviously going to win the Premier League, while a loss against anyone means the team stinks, Rodgers should be fired/given 50 lashes, etc. It's a bit hilarious."
Pass the camembert, Jose
Chapo has noticed that Americans fans do indeed have their unique quirks when it comes to choosing a team, tending to pick based on personal backgrounds rather than geographical location or success.
"There definitely seems to be an association between the atmosphere of the club and the fans who support it here in the US," Chapo says. "A club like Chelsea is going to attract more of a 'wine and cheese' following, while a club like Swansea very much attracts a 'beer and burgers' crowd. This being said, you can find all types of supporters for most clubs in the US. Since we aren't geographically located in the cities of the clubs, there is less of a requirement to associate with your 'local club'."
Apart from waking up at the crack of dawn to watch live Premier League games, Manchester United fan Ross also tries to catch a game when he visits London. From being an obscure sport followed by a small band of cult-like fans, to being shown on network TV and having several shows and channels dedicated to it, soccer's rise in the States has been surprising to super-fans like him.  
ALSO ON FFT
"Over the past 23 years it's been amazing to see how accessible the EPL is," he says. "I remember having to go to one shop in Santa Monica to buy a United kit, if they had it in stock. Now I can buy it online in seconds."
Good job he isn't one of those disgruntled New York City FC fans sporting 'Lampard 8' on their backs...
Quizzes, features and footballing fun
Get the best features, fun and footballing frolics straight to your inbox every week.