The case for Eddie Howe: The golden boy for England's silver generation
Each day this week, different writers will put forward the case for potential England managers. Today, it's Stephen Tudor on Bournemouth's blond bombshell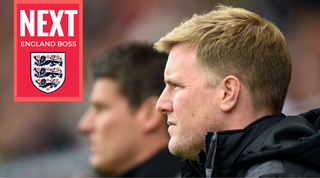 Gareth Southgate's no doubt unfailingly polite refusal to take on the position of interim manager for the Three Lions may as well have been accompanied by the squawking of a multitude of chickens coming home to roost.
For a great many years articles have appeared in the media wringing their hands at the lack of decent job opportunities afforded to home-grown coaches and the detrimental effect this would ultimately have at national level. Did we listen? Did we hell.
Instead, every man-jack of us would read these prophets of doom, tut with concern then get all excited about the prospect of an unshaven enigmatic European patrolling our club's technical area the following season.
So inevitably it has come to this, a desperate raking through the ashes that has unearthed two leading candidates, neither of whom set pulses racing, only deadening the heart. With the appointment of either it is hard not to fear that the FA is willingly taking one step back in order to take a further step back.
There's Big Sam, a man so synonymous with old-school, up-and-at-em football that it has now become a contrarian's cliché to suggest otherwise. And there's Jurgen Klinsmann, whose record with the US national side has been so mixed that several USMNT fans have actively supported his candidacy for the England job. Remember the xenophobic furore when the FA first appointed a foreign coach? Now we can't even attract the good ones.
According to the bookies, it's a straightforward shoot-out with one using outdated weaponry, the other firing blanks.
Forward-thinking
What we wouldn't give right now for a young, forward-thinking, brilliant English coach with a spectacularly impressive CV. Wait, there he is, shining like a forgotten diamond in the shadows of these lumbering big-name beasts; a 10-1 outsider because, unlike his peers, he hasn't accrued the vast experience of season after season of not winning anything.
Instead, Eddie Howe learned his trade from the bottom up in the modern age enjoying an unparalleled trajectory that took Bournemouth from the very depths of the football league to the Premier League promised land, overcoming 10-point reductions, administration and a transfer embargo en route.
It's a rise made all the more astonishing because it has been founded throughout on the principles of attacking football, while it's also worth noting that Howe's personable demeanour has consistently charmed the media while fostering undying loyalty from his players.
Sensible and brave
This is a man who keeps a diary of every single training session he has ever given; who devours motivational texts and ponders deeply on how they can be incorporated into innovative, fresh thinking; who has applied a flexibility to his managerial approach that only comes from someone born in the era of sports science. This is an immensely driven man destined for greatness. A special one indeed.
Occasionally life throws a curveball where the brave decision is also the sensible one. That is the case here. Howe is the golden boy for England's silver generation.
THE CASE FOR...
Despite being only 38 Howe boasts a significantly better win ratio than the other two since returning to Bournemouth from Burnley in 2012 – and that in the upper echelons, using players whose own bathroom mirrors struggle to recognise them. Imagine what he can do with such bright pupils as Kane and Alli.
Hodgson's schoolmasterly ways didn't work. He made them use an abacus ahead of a career in IT. It is beholden now to marry promise on the pitch with potential off it. A teacher who connects, listens, and inspires.
Eddie Howe has long been regarded as a future England coach. That future is now.
Quizzes, features and footballing fun
Get the best features, fun and footballing frolics straight to your inbox every week.
Thank you for signing up to Four Four Two. You will receive a verification email shortly.
There was a problem. Please refresh the page and try again.