'Chaos, gaffer tape, portakabins and Peter Odemwingie': 25 years of Sky Sports News
Kelly Cates, Dharmesh Sheth, Mike Wedderburn and Rob Wotton reflect back on the iconic news channel, in a FourFourTwo exclusive, as it reaches a quarter of a century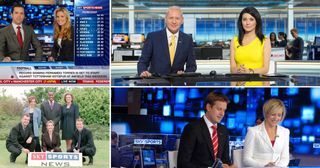 (Image credit: Sky Sports)
Britain's first digital channel is celebrating 25 years of yellow ties, tickers, graphics, rebrands, renovations, innovation and loud dramatic music. When the idea for a 24-hour sports news channel was initially mooted in the late 90s, people (including the presenters themselves) wondered how on earth they'd fill the time. They managed, but the first few years were 'wobbly'.
A quarter of a century on and the channel is a phenomenon. The go-to place for sports fans when the big news breaks. Numbers speak for themselves: 100,000 crews deployed, 154,700 live broadcasting hours, 43 Transfer Deadline Days. Viewing figures? Sky Sports won't share those, but judging by the incredible studio upgrade the channel has just enjoyed, we can assume they are sizable.
To celebrate the anniversary, the channel went free-to-air (just like the old days) at the start of October, and four of the original presenters who were there from the very beginning agreed to speak exclusively to FourFourTwo for an oral history of the iconic channel.
We can now go live to Kelly Cates, Dharmesh Sheth, Mike Wedderburn and Rob Wotton.
How on earth are we going to do this?
Kelly Cates: "That was exactly the question, 'how on earth are we going to fill 24 hours a day with sports news?' I think that's probably why there were loads of us in there who were really young and inexperienced because it meant it was really low risk. At the beginning, it was just a load of us being very excited about having the chance to do it. There were loads of us in the same position who just came straight out of university, straight to London. Our work life was our social life. We all worked weird hours, we were such a tight little group because we were all at exactly the same stage of life."

Mike Wedderburn: "People were constantly saying It will never work. This can't possibly happen. So this little band of brothers and sisters stuck together to take on the world. We were like, 'Well, we can do this. This is something special, there's nothing like this.' We were doing something completely different to everybody else - remember, we started digital television in this country. At the time it felt really exciting and a bit scary but brilliant - 25 years on all those people were wrong because now we can't fit everything in! There's so much sports news to tell, as I'm sure you're aware. It's just a phenomenon and on it goes."

Rob Wotton: "I might be wrong here, but I think the original concept was for it to be 'filler' because Sky were getting these new channels and they were going digital and Sky Sports News could be a filler between live events. But Andy Cairns, who started it, was a force of nature. He turned that around. I came from Capital Radio where we would do shows with hardly any people - live six hour shows on a Saturday. I actually prefer there to be less [people], so I could just talk, open my mouth and when I'm told to shut it, shut it. So I was never in fear that we couldn't fill it. I was surprised there were what we call 'packages', rather than live broadcasts because I thought the easiest way to fill all those hours was to just throw to a reporter and let them get on with it."
Dharmesh Sheth: "When we started they only had two satellite trucks so effectively every morning in the planning meeting they had to decide which two stories were going to have live capability. They'd have one truck in the south and one truck in the north and they choose where they could be live. Now, technology has moved on so much that nearly everywhere you go, a cameraman or camera woman would have the capability to be able to be live from anywhere that they can with 4G and WiFi and all of the modern technology that you've got now so compared to before. Things have really moved on."
KC: "When it first started sky changed the shape of their dish. They made it smaller and more oval. I remember going past houses that had the little dish on it and being really excited, like 'Ahhh, they can get our channel if they want to!'"
Day one: gaffer tape and freezing cold terror
RW: "I can remember the first day. There's a fellow called Richard Smith who's still there, and Dharmesh Sheth who obviously is still there. We were sat in this portakabin, because Sky wasn't very glitzy or rock and roll in those days. It was was freezing. Even though it was July, it was freezing cold for some reason! We were taken down to a little open plan office where Andy Cairns gave a Churchillian speech, then said 'right, get on with work.' I remember everyone else wandering off because they knew what they were doing. I was just sitting there going. I didn't have a clue."

KC: "I keep looking back at the pictures and thinking: 'Why did I not tell them that's not how I did my hair?' None of us really knew what to expect. It was really nerve wracking, but we also went in with that blind confidence that you only have when you're young, because you can't imagine all the things that could go wrong. I remember going on air with Mike that first morning and just being absolutely petrified. Nobody outside the building could see it, but it didn't feel like that to me. It felt like you were going live to the whole nation. It was genuinely terrifying. But once you got into the rhythm you realised that you were in work all day with your mates, it wasn't frightening anymore. But that first morning and that first week was just terrifying."

MW: "Honestly, it was like the studio was put together with gaffer tape. I don't know if you remember, but we used to call it the Sky Sports Dome and the opening shot had a camera tracking along the ceiling to reveal the presenters. They got the track for the camera from B&Q and it used to wobble, a lot! Honestly, it was like nothing you can believe. It's quite funny because we've got this wonderful new studio at Sky Sports News now. We were all in there having a look the other day, they've got incredible stuff. But 25 years ago it was ramshackle. The kit we used didn't work, when you finished the programme there was a tape which had to be run across the road to be played out. How we did it, I don't know, but we did. It was brilliant, so much fun."
Doing an Odemwingie
DS: "My favourite Deadline Day story would have to be Peter Odemwingie [who drove from West Brom to QPR only for the deal to collapse live on Sky Sports News]. It was one I personally followed and was involved in for a number of days. I was dealing with the agent who was doing that deal and he was giving me information like car registration numbers so our camera operator would know who to look out for. I think the only mistake they made was turning up outside the stadium. I've spoken to Peter Odemwingie since that fateful night when he drove outside Loftus Road and didn't get that move to QPR from West Brom. He said, 'Listen, it wasn't a case of me sneaking out of West Brom trying to engineer a move to QPR.' Basically, he was told that it was close to being done between the two clubs, but because it was getting quite late in Deadline Day, he had to get down to London so he had time to do a medical and sort out personal terms. It wasn't a case of sneaking out. He said goodbye to everyone in the canteen and, in full view of everyone, left the training ground in good faith that when he arrived at QPR there would be a full agreement between the clubs. Unfortunately for him, it didn't transpire that way and, tail between his legs, he had to go back to West Bromwich Albion. He tells me that when he moved to Stoke a few years later, whenever there was a story of a player potentially moving the rest of the players would tell that particular player who was potentially moving away from Stoke that they'd have to do an 'Odemwingie'. I think he saw the funny side of it."

MW: "Deadline Day works because of all of the contacts we have. We are talking to those people all the time. We're very on top of what's going on. Transfers are not simple. Say we have our chief reporter Karveh speaking to one side of the deal and on the other side of the deal, Dharmesh might be speaking to them as well. You're getting both sides and they can be very different because people are trying to tell their side of the story, so we have to be really careful. We know everybody's watching Deadline Day and these days clubs try and get their business done early so they're not part of Deadline Day, but they still can't help it, it still happens and it's still the glorious carnival that it is."
'It wasn't slick'
KC: "I remember one morning it had been the Sky Christmas party. For some reason we were in on the breakfast shift the next day. They used to have an opening camera shot that came right over the top of the studio. As it came over there was literally two people in the whole office and the two presenters at the front. The two people in the office were slumped over their desk, and everybody else was having a quick kip in the edit suite at the back because we were all young and stupid, we'd all just gone straight through and had two hours sleep or something like that. 'We'll be all good.' It wasn't a slick, professional practice but there was a charm to it which hit a sweet spot where there was still that enthusiasm and that 'newness'."
RW: "One of my first assignments was to go to Norwich where Bruce Rioch was manager. I'd had a little bit of a 'to do' with him when he was at Arsenal. He banned me from the training ground. It was a little unfortunate. I mean, I'm hardly Jeremy Paxman. Anyway one of my first jobs I was sent to Norwich and I was going 'oh no'. So I tried to avoid Rioch the entire time. I did a penalty shootout with Craig Bellamy and filmed that. Bellamy was firing shots at me and I was just about to leave when Rioch came over. He had actually thrown me out of the Arsenal training ground, so I was thinking 'Oh, no, he's going to have a pop' but he was lovely. He said, 'Have you got everything you need?' I said 'Yes, Mr Rioch, I've got everything I need, thank you very much.' I was thinking, he hasn't recognised me. I've got away with this. This is just perfect. I was just about to close the car door and he said, 'I see you've smartened yourself up since your Capital days. That's good.' I thought that was class from him."
The new Sky Sports News
KC: "I don't know what the official plan is, but I still think it's one of those places that if there is breaking news, you go to it to see what's happened. It's still the best place for the latest pictures and most up to date stuff. But I think also in terms of reaction and opinion, there's a lot of it moving online now, which is just how people get their news. There's definitely still a big place for it, but the whole landscape of everything is changing. I'm sure it'll adapt because it has done before. I think it's still the place, and I think that a lot of that online stuff is probably where the future lies."
MW: "At one point we got a new boss and he'd come from news. His view was, 'Sport and news are very different. A serious story in news is people dying. It's horrendous. A serious story in sport is your team losing. So I want to reflect that by being a bit more casual.' So our look changed. We have stylists who take care of our look. But if you notice now, the style changes throughout the day. It gets more serious up to my point in the day when it's supposed to be the heavy hitting, important stories, big stories. We tell them in depth. I like wearing a tie, and I've gone for the waistcoat because it stands out. It says to the viewer, 'Mike's on, settle down, this is gonna be serious.' Well, quite serious! I'm not the most serious person in the world. But if you watch, you'll see that from the morning it's very casual, then it gets slightly more structured as we go on up to me and then it's slightly more relaxed in the evening. There's method in our madness."
It's been a mad 25 years. They said Sky Sports News wouldn't work, but boy has it.
More stories
Declan Rice exclusively reveals what West Ham mentor told him when he left
Tottenham-Liverpool VAR officials 'took charge of game in UAE' 48 hours earlier
Barcelona stick €1bn release clause in wonderkid's latest contract - who isn't even on EA Sports FC 24
Thank you for reading 5 articles this month* Join now for unlimited access
Enjoy your first month for just £1 / $1 / €1
*Read 5 free articles per month without a subscription
Join now for unlimited access
Try first month for just £1 / $1 / €1