Tottenham-Liverpool VAR officials 'took charge of game in UAE' 48 hours earlier
The two referees responsible for the calamitous error which cost the Reds on Saturday were taken off their other weekend games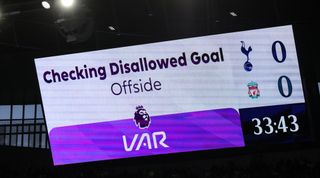 (Image credit: Getty Images)
The two VAR officials whose mistake cost Liverpool a perfectly good goal at Tottenham were out in the United Arab Emirates to take charge of a game just 48 hours before Saturday's Premier League clash in north London, it has emerged.
According to The Independent, Darren England and Dan Cook travelled out to work on the UAE Pro League match between Al Ain and Sharjah on Thursday night and returned on a six-hour flight on Friday.
That was just a day before the game at the Tottenham Hotspur Stadium, in which Luis Diaz saw a first-half effort ruled out for offside when the assistant raised his flag and play promptly resumed after a quick VAR check.
The VAR team told the referee Simon Hooper that their check was complete, believing the goal had originally been given to the Reds.
Instead, the official understood there was no need to change his on-field decision and the effort did not count. Once play resumed, there was then no way the call could be reversed.
After the game, the body responsible for refereeing professional games in England released a statement in which they apologised to the Reds for the mistake, which they said was down to "significant human error".
"PGMOL acknowledge a significant human error occurred during the first half of Tottenham Hotspur v Liverpool," they said.
"The goal by Luiz Diaz was disallowed for offside by the on-field team of match officials. This was a clear and obvious factual error and should have resulted in the goal being awarded through VAR intervention, however, the VAR failed to intervene.
"PGMOL will conduct a full review into the circumstances which led to the error."
But Liverpool were not satisfied with that explanation and released a statement of their own on Sunday night in which they called the PGMOL response 'unacceptable', adding that they would we "explore the range of options available, given the clear need for escalation and resolution."
Liverpool also had two players sent off in Saturday's match and ended up losing in the sixth minute of added time to a Joel Matip own goal.
Meanwhile, VAR Darren England and assistant VAR Dan Cook were removed from their fixtures following the incident, with PGMOL promising a full investigation.
England had been designated the role of fourth official for Sunday's game between Nottingham Forest and Brentford, with Cook down to be assistant in Chelsea's west London derby clash at Fulham.
More Tottenham-Liverpool stories
Tottenham vs Liverpool: why was Luis Diaz's goal wrongly disallowed by VAR?
Reds boss Jurgen Klopp blasts 'unfair' and 'crazy' decisions in Saturday's Premier League clash, while Spurs boss Ange Postecoglou admits he is not a fan of VAR.
EXCLUSIVE: Tottenham defender Micky van de Ven on Saturday's epic win over Liverpool and life in north London so far.
Thank you for reading 5 articles this month* Join now for unlimited access
Enjoy your first month for just £1 / $1 / €1
*Read 5 free articles per month without a subscription
Join now for unlimited access
Try first month for just £1 / $1 / €1