Declan Rice exclusively reveals what West Ham mentor told him when he left
Arsenal's £105m signing tells FourFourTwo it will be 'strange' when he faces his old club on Boxing Day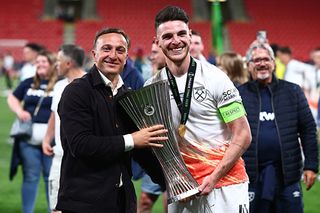 (Image credit: Getty Images)
Declan Rice brought an end to a glorious spell at West Ham United when he joined Arsenal this summer – but he'll always be grateful to the fans and the people he worked with in East London.
Rice lifted the Europa Conference League trophy as captain in his final game for the club, a fairytale end to six years in the Hammers first team, where he developed into an England regular and a £105m midfielder.
His future was unresolved when the squad went their separate ways for the summer break, but he remained on good terms with everyone during negotiations over his transfer to Arsenal – when his move was confirmed, he made sure he said goodbye to people, including boss David Moyes and his mentor Mark Noble, now the club's sporting director.
"I called David Moyes and we had a really nice conversation," Rice told FourFourTwo. "I felt like we owed it to each other to speak – I have so much respect for him.
"I talked to Nobes, too: it was a hard one for him because he's Mr West Ham, but he was buzzing for me. He was so happy that I could push myself and compete in the Champions League this year. He said, 'It's nothing more than you deserve'.
VIDEO: Why Edson Alvarez Is The Perfect Declan Rice Replacement For West Ham... Sort Of
"Some of the players messaged me as well – I had plenty of replies in the group chat we shared together, I was taken aback. They're all such close friends of mine and I speak to them regularly. I texted the manager ahead of the first game this season, simply to say, 'Good luck for the season and see you soon'. He replied, which was nice.
"I want to keep a positive relationship with him because he was so good to me, and the supporters were, too – they're special. I know it's hard when you see a player move on to another club, but I'm sure they understand – hopefully when I see them again, I'll be able to say goodbye properly."
Arsenal host West Ham on Boxing Day in the Premier League, before travelling to face the Hammers in February. "It'll be pretty strange when I play against West Ham this season, because there are so many lads I know and get on with – they'll be saying stuff on the pitch, I'm sure!" Rice laughed.
"We've got them at the Emirates Stadium first, then at the London Stadium later in the season. It'll be brilliant to go back there and see everyone."
Read the full interview with Rice in the current issue of FourFourTwo, in shops now or BUY HERE WITH FREE DELIVERY
More Declan Rice stories
Declan Rice, four years on: how Arsenal's new hero has matured into a £105m man
Arsenal manager Mikel Arteta gives Declan Rice injury update after Tottenham draw
Thank you for reading 5 articles this month* Join now for unlimited access
Enjoy your first month for just £1 / $1 / €1
*Read 5 free articles per month without a subscription
Join now for unlimited access
Try first month for just £1 / $1 / €1