The Chelsea faults Conte must fix – or face failure
Antonio Conte's Euro 2016 overachievements have left Chelsea fans dreaming of a return to the top of the Premier League. But as Garry Hayes discusses, that will require major work which won't be done before the season starts...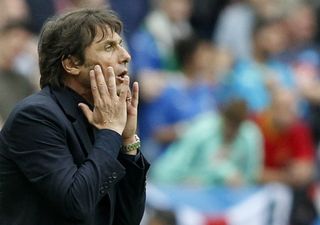 The challenge begins. Antonio Conte starts work at Chelsea this week and he has it all to do.
The Blues are still reeling after a season that saw them spectacularly dethroned as Premier League champions in 2015/16. They just about scraped to a top-10 finish – the worst English title defence in 23 years – and, with no silverware to fall back on, face a first season out of Europe since the mid-1990s.
That's the least of Conte's problems, though.
Fractured pieces
With just one new signing this summer – Marseille striker Michy Batshuayi joined the club last week – Conte is inheriting a squad that's alarmingly imbalanced and short on depth. The Italian will start pre-season with just one recognised first-team centre-back in John Terry. Gary Cahill remains on holiday after Euro 2016 while Kurt Zouma continues to recover from a serious knee injury.
Meanwhile, there are big questions over central midfield. John Obi Mikel was largely seen as a stopgap for Guus Hiddink last term as Chelsea were forced to make do, given how Nemanja Matic struggled. For a club with expectations of making the top four as an absolute minimum and potentially having a crack at the title, it's a far from ideal situation.
For a manager who is only now beginning to focus on club duties, the instability makes it even more concerning. Yet on the back of his exploits with Italy at the European Championships, Conte is suddenly being billed as the messiah of Stamford Bridge.
Rome wasn't built in a day
Chelsea fans have been wooed over the past few weeks by the resilience Italy showed at the Euros. They saw the Azzurri not only stifle superior opponents in Belgium and Spain, but beat them; now they're beginning to expect the same thing as Chelsea recover from a Premier League season in which their points total was closer to the bottom three than the top four.
The shift from doom and gloom to more positive expectations is a good thing for morale along Fulham Road. There's a feeling of the club getting back on the track the Mourinho regime took them off, but Conte isn't going to transform a weak Chelsea side into Italy overnight. He isn't going to do it in the five weeks between now and when the new campaign gets started, either.
Between his first day at work at Cobham and 15 August – when Chelsea face West Ham, who finished 12 points clear of them last term and will already be warmed up after the Europa League qualifiers – the Blues will travel to Austria and the U.S. for pre-season tours. It all sounds rather nice and glamorous, yet means a significant portion of time spent in departure lounges and players adjusting to time zones rather than being drilled on the training ground with those famous double sessions.
We saw it before with Juventus and Conte repeated it with Italy; his teams require supreme fitness levels if they are to prove effective in his system, whatever that will be at Chelsea. He builds his teams on endeavour, elevated by his tactical nous.
CONTE FEATURES
The old guard unreplaced
Not only that, he relies on some big characters to marshal matches and assert authority. For Italy this summer it was Daniele De Rossi and Leonardo Bonucci in those roles, not to mention the dressing-room presence of Gianluigi Buffon. Italy's displays were as much about character and passion as they were footballing ability and for all the talent Chelsea have in the squad, those figures of old are missing.
It's been written about so much that the reality has perhaps been lost. Chelsea no longer have Didier Drogba, Frank Lampard, Michael Ballack, Michael Essien, Ashley Cole and Petr Cech. They're left with just John Terry from that generation these days and so far as leadership goes, he can't be the sole player carrying that burden.
Conte needs to strip Chelsea back and rebuild them, and his Achilles heel is the disjointed transfer policy that has resulted in the Blues losing the one thing that had made them stand out: their ability to perform under pressure, like Italy did in France.
Last season Chelsea capitulated from the outset. It wasn't the pressure of being champions, either, it was an inability to compete in key areas – and they got overrun through a lack of fitness after an ill-judged extended summer break.
From that moment they were always playing catch-up and that's when the pressure truly hit. They wilted, unable to arrest the form that saw them dragged into a relegation battle. However brief that was, Chelsea looked under genuine threat and their big names couldn't hack it. Whereas in the past the club had fed off chaos, they were now proving its victim.
Chelsea haven't replaced the mettle in the squad after allowing so many of their previous stars to leave in quick succession. An obsession with replicating the Barcelona model saw Roman Abramovich turn his back on that, with the club buying more diminutive types and not adding a blend of players to complement the existing squad members. That's where the imbalance formed.
Changing managers at a rate of one every 14 months in the 12 years Abramovich has owned the club hasn't helped. It's meant the transition from one generation to the next has been dragged out without a formula in place to combat the effects an ageing squad can have.
Now Conte's left picking up the pieces. He's taken over a club that simply can't miss out on the Champions League in 2017/18 – not when broadcast deals have made the markets ever more competitive; especially not when they're attempting to fund a new £500 million stadium.
The pressure is huge and yet, because an unfancied Italy side ripped up the rulebook at Euro 2016, we're expecting Conte to perform minor miracles in just a few weeks to ensure Chelsea overcome it all.
After succeeding in Serie A, Conte has suddenly raised expectations massively through his unexpected success with the national team. Now, settling into an alien football culture populated by some of the world's biggest-spending clubs, he must overachieve all over again.
Quizzes, features and footballing fun
Get the best features, fun and footballing frolics straight to your inbox every week.
Thank you for signing up to Four Four Two. You will receive a verification email shortly.
There was a problem. Please refresh the page and try again.