Ante Coric: The Croatian maestro who keeps turning down the big boys
Croatia, and particularly Dinamo Zagreb, are well known for producing talented young attackers – and Ante Coric is next in line, writes Nemanja Grbic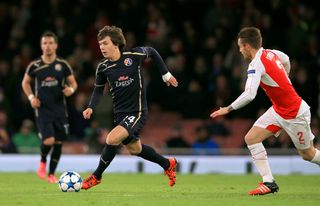 The 60-second-story
FACT FILE
Born: April 14, 1997
Place of birth: Zagreb
Height: 5ft 7 1/2in
Position: Attacking midfielder
Current club: Dinamo Zagreb (80 apps, 11 goals)
Former clubs: Hrvatski Dragovoljac, NK Zagreb, Red Bull Salzburg
International: Croatia (2 caps, 0 goals)
Every time Croatia stepped on the pitch in France this summer, their immense pool of talent was clear to see. Although eyes were mainly focused on the players and events on the field, more than a few were distracted by the presence of a 19-year-old on the bench.
They were all hoping to see at least a few glimpses of action from a youngster who has has long had the attentions of Premier League clubs like Liverpool, Tottenham, Manchester City, and eluded the grasps of Bayern Munich, Real Madrid, Barcelona, Chelsea and Roma for years.
The player in question is Ante Coric. Sadly he didn't feature at the Euros but the whole world might soon know his name if he seals a move to any of the top European sides chasing him this summer.
Why you need to know him
Unlike most of today's Croatian stars who rose through the youth academies of Dinamo Zagreb, Hajduk Split and Rijeka among others, Coric's early days began outside the borders of his native country.
When he was nine years old, his parents realised that their son possessed an exceptional gift and decided to go on a quest for a place in Europe where Ante's talents would be properly nurtured.
They visited England and Spain before finally arriving in Germany, where Bayern Munich fell in love with the young Coric for the very first time, only to find out that it was unrequited. At their youth camp there is a grading system which determines the potential of talented youth players. Coric was the first one in club history to fully complete all the tasks and score maximum points.
Despite every effort from the German giants, Coric's family instead decided to go to Austria, where Coric surprisingly joined Red Bull Salzburg's youth academy.
"At the time we thought we made the best decision for our son, as Salzburg provided us with everything we needed and were looking for," Coric's mother explained. "Ante even said it himself that this was the only place where he didn't feel he was much better than the rest of the kids and that he likes it that they train more often and harder than anywhere else."
As the years went by, though, Dinamo Zagreb became fertile land for young Croatian footballers to launch their careers. With the whole Coric family being supporters of the club and growing increasingly unhappy in Austria, they decided to return to their home country. Before Coric officially signed for Dinamo, it was reported that Bayern, Chelsea, Barcelona and Roma all made new attempts in signing him, but once again they all failed.
"I am happy," a 16-year-old Coric revealed when he was presented at Dinamo. "I am glad that the leading people of Dinamo have a lot faith in me and I will try to justify their trust in the following years."
In less than a year, Coric made his professional debut for his beloved club. It didn't take long for the media and fans in Croatia to start comparing him with Luka Modric, due to his style of play, technique and their similar build.
Aged 17 and 157 days he became the youngest goalscorer in the Europa League as Dinamo ran over Astra Giurgiu 5-1, with Coric netting the fifth goal for his team. Now at 19, he has already amassed more than 80 appearances for Modri, notching 11 goals and 15 assists in the process. His inclusion in Croatia's squad for Euro 2016 was just reward for his impressive displays.
Of course, the interest of many high-profile clubs never stopped – in fact, they were even more persistent. As a young player trying to concentrate solely on playing and giving his best to Dinamo, he found that quite annoying.
"I already experienced playing football in a foreign country and it's not all rosy how everyone thinks," Coric said. "I have only started to play serious football recently at Dinamo and it's difficult for me to talk about my plans for the future and going abroad again.
"I'm not interested about these stories or talking with scouts and managers. I don't know how, but they have my cellphone number and keep calling now. I even deactivated my Facebook account because of them. I guess they are allowed to do that now, given the fact that I'm no longer a minor."
Things weren't all that 'rosy' for Coric at his current club though, as the media outlets were writing about his partying habbits and unhealthy lifestyle. The teenager was upset and denied it all. But things got even worse.
In a Champions League clash against Arsenal in September last year, Coric had an opportunity to increase his team's lead and seal victory in the dying moments. He blew it, from that point on was suddenly spending more time on the bench and didn't appear his usual self when on the pitch.
Of course, the miss against Arsenal wasn't the reason – it was more about the rumours that his father started pushing for a transfer to Porto, and that Coric might sign a deal with third-party company Doyen Sports Group to represent him.
Coric's free-kick is headed in
After two months of various speculations, Coric shocked the Croatian public and alerted many clubs across Europe by stating that he wanted to leave the club, after openly criticising president Zdravko Mamic and his brother, head coach Zoran Mamic. Coric was fined for his outburst but the media war continued and things didn't settle down between them before January arrived. They buried the hatchet eventually, though, and Coric was once again happy to play for Dinamo Zagreb.
Strengths
Fakes. Faking a pass, faking a shot, faking a direction in movement before he bursts away and leaves his markers chasing shadows. Quite simply, Coric is a joy to watch when in possession and when he decides to dribble past players. It's not rare to see him go past two or three of them in just one of his runs.
His opponents, however, don't find it amusing. Bayern's Douglas Costa showed that during his time at Shakhtar when he faced Coric and Dinamo in a friendly game in February last year, and slapped the youngster in the face after his team-mates were unable to dispossess the teenager.
When asked why, Coric said that the Ukrainians were nervous because of the result, his dribbles and that a player should only smile to his opponent when that happens – which is what he did to the Brazilian.
Coric often has a magnetic touch with the ball that helps him come away from difficult and pressuring situations with ease. Intelligent, with great vision and impeccable playmaking abilities, Coric is among a dying breed of modern No.10s and it's easy to understand why is he one of the most sought-after youngsters.
He can execute perfect passes regardless of where he is on the pitch, and in numerous ways. Although his natural position is as an attacking midfielder, the 19-year-old was also used in a deeper role at the business end of last season. Unsurprisingly he impressed there too, showing that he is capable of dictating the tempo and orchestrating the attacks of his team.
Weaknesses
A few, but Coric is working hard on improving each of them and the results are evident. For instance, his lightweight built caused him trouble earlier as he was easily pushed off the ball, but now he is a bit tougher and his balance is better. Bulking up too much, however, might cause him to lose some of his agility and pace which isn't one of his highlighted qualities.
He was rarely tracking back to help his team-mates in the past, but is now one of the first who puts pressure on the opposition. He is obviously not a threat in the air with his height and physique, can often lack composure in front of goal and needs to continue working on his finishing skills.
Jumping into any of the top leagues from Croatia's top tier is a challenge for any youngster and requires patience, but bearing in mind everything that Coric already experienced and achieved through his short career, it would be a real surprise if he doesn't cope with the pressure and fails to adapt to his new surroundings regardless of where he continues his career.
Finally, there's that temper. Coric is a pretentious young player fully aware of his talents, and isn't afraid to set the house on fire when things aren't going according to his plans. This was proven in his row with Dinamo Zagreb's board, and regardless of which side you take, the player could have reacted differently and more professionally with the problems he encountered.
Did you know?
Ante has an older brother, Josip, who is also a footballer, and the two of them had an opportunity to play against each other in Croatia's HNL league. Before the clash Ante revealed he'd made a bet with his older brother that whoever ended up on a losing side would be rewarded with a slap.
Josip admitted he was unaware of such bet, but saw the interview and immediately slapped his brother once he returned home.
Ante Coric revealed that his dream is to feature for Barcelona one day. "Step by step, I'll get there and play for Barcelona one day. That has always been my dream, that is my goal as a footballer."
What happens next?
Coric has admitted contact with Bayern, Manchester City and Real Madrid, and that both Milan teams were also interested in him last January. However, all of that happened during his disagreement with Dinamo and he is now saying the same things before those events occurred – that he is in no hurry to leave Dinamo and has a contract with them until 2020. It is his intention to remain for at least another year or two there.
It is also unlikely that both Marko Pjaca and Coric will leave the club in the same transfer window.
However, the list of clubs interested in Coric keeps expanding and many are already trying to sign him. By the end of the summer we'll know if he has managed to elude Europe's biggest sides once again.
More features every day on FFT.com • The world's hottest prospects scouted
Thank you for reading 5 articles this month* Join now for unlimited access
Enjoy your first month for just £1 / $1 / €1
*Read 5 free articles per month without a subscription
Join now for unlimited access
Try first month for just £1 / $1 / €1