Chris Ramsey on Harry Kane: "At 14 it was touch and go whether he'd be kept on"
FFT hears from the man who helped make our June 2015 cover star one of the Premier League's deadliest hitmen...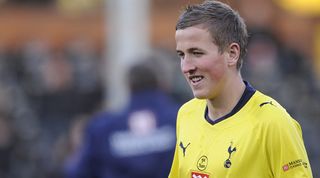 I first saw Harry Kane play about 2005, early in my development role at Tottenham. There is no sensational story about his early days, it has to be said. While he always had ability, you wouldn't say he was one of the exceptional or standout players of his age group early on. It was certainly touch and go when he was about 14 whether he'd even be kept on.
What was always evident about Harry was how hard a worker he was. He was always obsessive about the game and that kind of dedication can help to get you to a certain level, coupled with decent ability.
ALSO ON FFT.COM
Harry has changed physically and his technique has improved a great deal. He struggled with his pace a lot in the early days, and that is clearly something he has worked on a lot. I've mentioned that word 'obsessive', and that's how he was about working on the physical sides of the game to improve.
Slow and steady
He always had talent but he was a little kid and traditionally smaller players have struggled to make the breakthrough, not just at Spurs but across academies in the UK. I think his progress and Ryan Mason's too, who was also a small lad, is a good demonstration for people involved at development level that you don't always need players to be outstanding physical specimens. The philosophy when I was at Tottenham was always to focus on players' strengths. The players that have made the breakthrough from Tottenham's academy into the first team in recent seasons (including Nabil Bentaleb) are always ones we thought had a good chance of getting there. They had the ability and so did Harry. The only question mark that remained about him when he was in and around the first team was that he was slow.
I think it was about five years ago when myself, Tim Sherwood and Les Ferdinand were involved in the development set-up that we really thought Harry had a chance of making the breakthrough (his first-team debut for Spurs came against Hearts in the UEFA Europa League on August 25, 2011). Our thoughts were always on the ability we had and comparing it with what was in the building (the first-team squad). Naturally, you're looking at the first team and thinking: 'If so-and-so is playing, then player x deserves his chance.' We started to think that about Harry.
ALSO ON FFT.COM
It's a misconception that Harry's loans to Norwich and Leicester didn't work out. On the contrary – they did. His time with both clubs helped him improve his strength and his speed. You don't judge a loan spell as black and white and 'how many games did they play?', 'how many goals did they score?' etc. You don't know which players they are up against, who they are playing alongside and what system they are playing in so it's difficult to measure. What we judge them on is how they are when they return from those loan spells and most definitely, Harry returned from all the clubs he went on loan to as a better player.
"He's confident and rightly so"
Harry played first-team matches for Harry Redknapp and Andre Villas-Boas but let's be clear, that didn't happen without a fair bit of fight from the development department at Tottenham – Tim and Les especially. Those two pretty much had those managers in a headlock to get Harry and the other young players in the first team!
Tim and Les put their reputations on the line pushing the case of our young players, but they were high profile and well respected enough to be listened to.
The club did explore the possibility of sending Harry out on loan in the second half of last season but myself, Tim and Les all voiced the opinion that he should stay. To be fair to the boy too, you'd have had to drag him out of the club at the time to take him anywhere else. He knew this was his level then, knew the players that we had at the time and thought 'I deserve to be picked'.
That's not arrogance. Harry is very down to earth, but he is also confident in his ability and rightly so. He works hard at his game and he has all the tools to be a very, very good player. We're not talking natural ability with Harry, this is someone who works unbelievably hard.
A lot of credit has to be given to the fact that three or four academy players are now regularly in the first team at Tottenham. We had a style of play at U21 level and below while I was there that the players knew. We worked a lot with Harry on his movement, helping him know when it was the right time to come short, go long or wide. That enhanced his game without any doubt.
Credit has to go to the manager for giving him a regular opportunities in the first team, and to the development setup for helping him on the way. But the biggest credit goes to the boy himself. At the development stage, or as a manager, you can only help someone along the path. It's down to the player.
Easy does it
I think there is a problem with English football that as soon as a young player makes a mistake, we start to criticise. There are countless players who come to clubs for big money, don't do a job and seem to avoid the same criticism.
We have to be very careful not to over-inflate young players like Harry, who of course there's so much attention on at the moment. He's got a great temperament to be fair to him, and I think he can take a lot of things in his stride. But at club level and now at international level, he shouldn't be made to think he's got the world on his back. We can build people up a lot in this country only to knock them down, so a bit of perspective is important when talking about a player who is still only 21.
Read our cover feature on Harry Kane in the June 2015 issue of FourFourTwo, out now in shops and on iPad. We chart the incredible rise of Spurs' goal-getting PFA award winner, look at a divisive decade of the Glazers at Manchester United and revisit the Miracle of Istanbul as told by the fans 10 years on.
Quizzes, features and footballing fun
Get the best features, fun and footballing frolics straight to your inbox every week.
Thank you for signing up to Four Four Two. You will receive a verification email shortly.
There was a problem. Please refresh the page and try again.