Conspiracies, class divides and all-night parties: Why Real Betis vs Sevilla is Spain's hottest derby
For the March 2002 issue of FourFourTwo, Andy Mitten visited Andalucia to gauge the temperature of what is regarded as the hottest rivalry in Spanish football...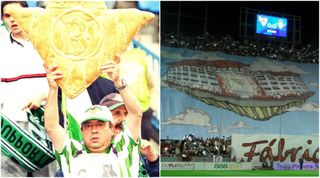 Denilson de Oliveira is used to compromising situations. When the Brazilian moved from Sao Paulo to Real Betis in 1998, the £21m transfer fee was hefty enough to make him the most expensive footballer on the planet. Eyebrows were raised throughout the football world. "Real who?" asked many outside Spain. "Betis? Are you joking?" asked many within.
The transfer was no joke though, and from the moment he arrived in Seville, Denilson's every move was scrutinised. He was singled out by rival players with a point to prove, and by a Spanish press so voracious that news of Zinedine Zidane or Rivaldo taking a coffee would be deemed fit for a story.
Given that he's survived nearly four years at Beds, Denilson will have grown used to exercising caution. So why he and 14 Betis team-mates chose to hatch the following plan on Halloween night is a mystery.
The 15 players told their wives and girlfriends they had an official club dinner to attend. They didn't. Instead they went to a private party along with 38 girls, whom it was later noted were of the more aesthetically pleasing variety. At around 6am, with the party still rocking, Betis' president, Manuel Ruiz de Lopera, acting on a tip-off from one of his many private detectives, turned up.
"I don't know if it's the whisky, but I'm seeing the president," said one inebriated Betis player. It wasn't the whisky; Lopera was there in the flesh. And he wasn't pleased. Denilson, beer in hand, tried to escape through a window but the wily chairman caught his prize asset. As compromising situations go, this was a first for Denilson.
Lopera, the flamboyant and controversial owner of Betis, was placed in a difficult predicament. Given that the derby between Real Betis and Sevilla was less than two weeks away, any punishment handed out could have an adverse effect on a team spirit which was evidently thriving. Lopera decided to sit tight and not to punish...allegedly pending the result of the derby.
Unique passion
The Seville derby is regarded as the fiercest in Spain. Everybody knows of the matches between Barça and Real Madrid, but you'll be lucky to find a hundred away fans at either game. Unlike England, Italy or Germany, Spain simply doesn't a tradition of travelling fans. At the recent Espanyol v Barça derby, the Catalan giants took a mere 150 fans to their cross-city rivals in Espanyol's vast Olympic stadium.
Seville, however, is renowned for the passion of its football fans – one reason why the Spanish national side play there so frequently. Here, fans of the rival teams live and work side by side. True, the same can be said of Espanyol and Barça fans, or Atletico Madrid and Real Madrid fans, but the fortunes of the two giants of Spanish football are very different to those of their less glamorous neighbours.
In Seville, however, the recent fortunes of the teams have been remarkably similar, only adding to the intensity in the games between the two. Both teams were relegated in 2000, and both returned to La Liga a year later, Sevilla just pipping Betis to the title.
Both average 35,000 crowds and seem hopelessly incapable of avoiding controversy. Sprinkle that concoction with a series of facts and half-baked conspiracy theories and you begin to understand why there's no love lost between rival fans in Spain's fourth largest city.
While the Betis players had to worry about a fine and a few choice words from their better halves after their Halloween misdemeanour, three Sevilla players have a little more on their mind – the very real prospect of jail. A local prosecutor is recommending that the players are sent down for eight years for a bar-room altercation two years ago.
The trio claim they were enjoying a drink with their partners when they started receiving verbal abuse. After ignoring the vitriol for a few minutes, they did what any high-profile football player shouldn't do: allegedly, they leathered their detractors – all five of them, one of whom ended up with a fractured jaw.
By way of an explanation for their actions, one of the Sevilla players simply offered: "They were Beticos". The Betis fans in question saw it rather differently, saying that they had been enjoying a drink only for the Sevilla players to request that they leave the bar due to their green and white shirts.
Historically, Betis have drawn much of their support from the working classes and Sevilla from the social elite. Given the manner in which they were formed, it is hardly surprising. Sevilla Football Club was founded in 1905, mainly by British employees of the Riotinto mines whose directors were from the upper classes that ruled Andalucia.
When one director refused to hire a worker as a player, allegedly because he was from a working-class background, there was a revolt, and in 1909 two dissident Sevilla directors founded Betis. In 1914, they merged with another team to become Real Betis Balompie (Balompie is the old Spanish name for football) and played Sevilla for the first time in 1916. Violence flared all over the city after the game.
Three years later, Sevilla controversially trounced the upstarts. "Several Betis players were doing their national service," explains Jose Manuel Diez, chief editor of local sports newspaper Estadio Deportivo, which sells 80,000 copies a day.
"It was arranged that their barracks would be locked so that they couldn't let them play in the game against Sevilla. Betis were very angry about it and played only their young players. Sevilla won the game 22-0."
Head to head
Sevilla have traditionally had the upper hand over Betis, having spent 51 seasons in the first division against the 36 of the verdiblancos. Both teams have won the title once, Betis on the eve of Spanish Civil War in 1935, and Sevilla in 1946. Betis's ground was bombed during the Civil War and many of their Basque players left the country.
Sevilla did better under Franco and although there's no evidence to prove that they were cohorts of the General, they frequently finished in the top five in the 1940s and '50s, while Betis, the team with the leftist following, spent their time flitting between the top three divisions.
Betis were seen as the city's poor relations simply because they were. But both they and Sevilla were selling clubs to the top outfits in Spain and the fans as much as accepted it. Sevilla fans still do, as the example of Davor Suker shows.
"Suker pretty much grew up in Sevilla," explains fan website editor Javier Gayan. "He gave everything to the club and he refused better offers to stay here. His only request was that if Real Madrid wanted him, then he should be able to go."
Madrid came in for Suker, but the Sevillistas refused to turn against their man. "In his last season at Sevilla, with the team close to being relegated, Suker hired his own private plane to fly him from the Croatian national team camp back to Sevilla, even though he had already signed up with Real Madrid for the next season. He scored a hat-trick as Sevilla won, and were saved from relegation. He continued to be applauded when he returned to Sevilla with Real Madrid," adds Jayan.
In contrast, Betis have changed. For years they sold their best players – Luis del Sol (a star of the great Madrid five-time European Cup winners) being the best example – but they can now keep stars like the young local-born midfielder Joaquin. The irony is that after living in Sevilla's shadows financially for many years, Betis are the team flush with cash while Sevilla have debts of £27m.
Home is where the heart is
One solution for Sevilla would be to sell their Sanchez Pizjuan ground, named after their president from 1932 to 1956. Sanchez Pizjuan was astute in that he knew the value of land near the ground and invested wisely in it. There's now not much land left to sell apart from the stadium itself, worth an estimated £60m, located in the wealthy Nervion district.
A move to the city's Olympic Stadium, which was used for the 1999 World Athletics championships, has been proposed. With 65,000 seats, this new stadium currently sits under-used on the edge of the city, a testimony to the ambition – some would say over-ambition – of a city the size of Glasgow. The city council are trying to get at least one – if not both – of the clubs to move in.
"It will never happen. Not ever," says Gayan. "Italian clubs may share stadia but in Spain there is simply not a feeling for that. We take the stadium as part of the club. It would be the best option for the city that both clubs move to the Olimpico, but pride won't let that happen."
It seems inconceivable that Betis will move either. The reason they have money is down to one man, their president Lopera, and he has remodelled their stadium into a 56,000 triple-tiered all-seater. Not short of ego, he named it after himself.
"Lopera plays up his Betis credentials, the usual one is about how he used to go to Betis games on a pony, and people either love him or hate him," says Diez. "They say that he made his money by renting out televisions which he imported from the States at a time when Spaniards couldn't afford TVs. He also has interests in property. He is an influential man in Seville and he has private detectives everywhere."
Perhaps that Halloween party wasn't such a good idea after all.
The new arrogance displayed by the Beticos winds the Sevilla fans up, while many Beticos find Sevilla's debts hilarious and sing mocking songs to them about having to sell their ground.
"The Sevillistas are just jealous of our money," says one fan, who only gives his first name as Raul. "They think that they should be the team with the money. Their club should spend more time trying to solve their own debts rather than being so obsessed by Betis." Ouch.
"Sevilla intend to clear their debt by staying in La Liga for the television money and by bringing through local players which they will sell for a profit," says the well-informed Diez.
Sevillistas need not expect any more extravagant signings like Diego Maradona for the time being, then. Maradona joined Seville in the summer of 1992. He played 26 times, scored five goals and was sent off twice.
"He was out of shape, but it was great to see him perform in the field: his touch, his vision, his character. He seemed to have power over his team-mates, over the other players. Amazing," reckons Gayan.
Conspiracies abound
The nightclub and bordello owners were sad to see him go too, but at least Maradona came to the city. A cheque to buy Robert Prosinecki from Barça bounced before the player had moved in the summer of 1996 and the Brazilian Bebeto had to return home when Sevilla failed to pay Flamengo his transfer fee.
Book-keeping has not been Sevilla's forte in recent years; they were threatened with relegation in 1995 for failing to submit their accounts to the Spanish FA. Many Beticos found it surprising that Lopera wanted Sevilla to stay up, but then he knew that derby matches were good for business.
Sevilla did go down in 1997, but only after their fans accused Betis of going easy on relegation rivals Sporting Gijon in a key game. Three years later, Sevilla apparently had their revenge, accused of going equally easy on Betis's relegation rivals Oviedo, losing 2-1 at home.
It's all conspiracy, but it adds to the already heady brew of rivalry that exists. The coaches only add to it further. In England, managers will often speak of their respect for a rival team or manager. In Seville, the coaches only make disparaging remarks about their rivals. The Sevilla coach recently stated that he would never coach Betis.
The main event
It's four hours before the game and fans are picking up tickets from the stadium. The atmosphere is moody. Looking about as Spanish as Queen Elizabeth, FourFourTwo keeps being offered tickets because they apparently see foreigners as rich pickings.
FFT is in the ticket queue when there's a commotion. A young scally sprints towards his mate who is revving up a moped. The scally jumps onto the bike and his mate accelerates away. In desperation, the bloke gives chase before reluctantly accepting the truth; he's just had his match tickets nicked.
Two hours later, a helicopter hovers above, its powerful spotlight illuminating many of the 2,000 visiting fans below. After meeting two miles from the ground they have walked en masse, flanked by police. The word is that the Betis team coach has been bricked by Sevillistas.
Walking by – the majority young lads with tracksuit bottoms and Nike Cortez trainers – they look no different from their Sevilla rivals, save for the green scarves around their wrists. "The working class/upper class thing is a cliché," says Gayan. "Perhaps it was true during the 1920s, and '30s, but not now. Indeed, many families are split between Sevilla and Betis. How do you explain that?"
Perhaps so, but Betis certainly retain the more 'rootsy' support. While in Seville FFT takes nine taxis. Every driver confessed to being a Betico. Not one of them went to matches though. Indeed, inside the ground, there are more than 5,000 empty seats in the 45,000-seater stadium.
Why would this be the case, when an equivalent English derby game would sell out two or three times over? "It's because it's cold," reasons Diez at half-time. Others shrug their shoulders. It could just be down to the existence of peñas, supporters' groups who meet and watch most away games on the box. An argument often put forward in Spain is that it's better – and cheaper – to meet up with friends and have a few beers with friends whilst watching the match on telly.
NOW READ THIS
The game is a let-down. It finishes goalless, although the atmosphere is as charged as you would expect and the seven bookings ensure that the derby has its usual edge. The result means both teams stay in La Liga's top 10, which, given their turbulent recent past, they should be happy with.
Then again, FFT is left with the distinct impression that the only issue that concerns them is finishing higher than the other at the end of the season. Not much between the two teams. "Yes," agrees Diez, "but whatever we write, both sets of fans will accuse us of being biased towards the other team."
The following morning Estadio Deportivo re-adjusts its masthead: '132 days to the next derby," it states, as though the city's football clock has merely reset itself; 132 days for more scandal, controversy and conspiracy theories. Maybe they've all had too much sun.
This article appeared in the March 2002 issue of FourFourTwo magazine – subscribe!
Thank you for reading 5 articles this month* Join now for unlimited access
Enjoy your first month for just £1 / $1 / €1
*Read 5 free articles per month without a subscription
Join now for unlimited access
Try first month for just £1 / $1 / €1
Get FourFourTwo Newsletter
The best features, fun and footballing quizzes, straight to your inbox every week.
Andy Mitten is Editor at Large of FourFourTwo, interviewing the likes of Lionel Messi, Eric Cantona, Sir Alex Ferguson and Diego Maradona for the magazine. He also founded and is editor of United We Stand, the Manchester United fanzine, and contributes to a number of publications, including GQ, the BBC and The Athletic.