Dress sense, medicine balls & dictatorship: What Felix Magath will bring to Fulham
German football expert Titus Chalk explains exactly what Cottagers fans (and players) should expect from their new boss...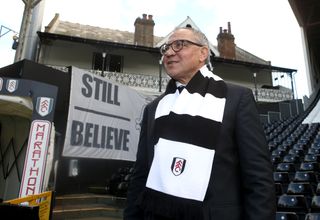 Congratulations, Fulham! Having ditched the Wacko Jacko statue, you have managed to import an almost equally polarising figure to the banks of the Thames. In case you don't know what you're in for, allow FourFourTwo to introduce you to the man affectionately known by his former charges as "Saddam".
Here are just five things the latest Bundesliga émigré will bring with him to London...
Medicine Balls
Like a deluxe Iain Dowie, Felix Magath likes his players fit. Renowned for running players into the ground in training, he has even earned a famous Asterix-stlye nickname "Quälix", which rhymes with Felix, but comes from the German verb 'qualen' – to torture.
Think we're exaggerating? In his doomed second spell at Wolfsburg from 2011 to 2012, he once led the squad on an arduous run through the woods. When they arrived at the end, they found that, like a sadistic drill commander, Magath had emptied their water bottles. His lesson in "sharing resources" backfired and his side were sucked ever-deeper into relegation trouble.
In Magath's defence, though, fitness can be key when you're scrapping at the bottom (or, whisper it Fulham fans, launching a promotion bid in the Championship). In 2000, Magath saved a seemingly dead-and-buried Eintracht Frankfurt from the drop with his no-nonsense physical regime (featuring medicine balls more often than footballs) and made a big impression on some of his players. Jan Age Fjortoft said at the time, "I don't know if Felix Magath would have stopped the Titanic going down, but the survivors would have been really fit."
Given Fulham's languid play for much of the season, perhaps a jolt of tough love is just what they need. Quite the contrast to the smoking-behind-the-bikesheds double-act of Martin Jol and Dimitar Berbatov.
Baggage
While a handful of Bundesliga players praise Magath for the structure and discipline he brought to their careers (title-winning Wolfsburg duo Grafite and Diego Benaglio, for example), he has left a huge trail of disgruntled players behind him. "I'm always accused of spreading fear and putting players under pressure, but I'm actually one of the nicest guys in the world," says Magath. But others disagree. As Schalke's Jefferson Farfan put it, Magath was the only coach who left nothing positive behind when leaving the club, "only fines" for the players who broke his rules.
In the Bundesliga, those players queued up to put one over their former tormentor when he brought his newest team to town. At Fulham though, the score-settling may be internal. After a promising start at Craven Cottage, Lewis Holtby now faces the prospect of trying to impress a manager who sent him out on loan twice whilst at Schalke. Though Holtby has greeted Magath's appointment with professional stoicism, he must be cursing the latest potential blip in a stop-start season.
Style
Magath might now be a tarnished brand in the Bundesliga, but there's no denying he brings an impressive managerial CV with him to Fulham, including three league titles. He is also a snappy dresser – second only perhaps to Karl-Heinz Rummenigge in the German football style stakes – and has more charisma than Alan Curbishley, Ray Wilkins and René Meulensteen put together. The sacked Meulensteen was obviously part of some glorious years at Old Trafford, but has not been able to shake the hang-dog air of a perpetual number two since leaving the Theatre of Dreams.
While image should not be everything when it comes to touchline appointments, Fulham owner Shahid Khan oozes flair himself (look at that 'tache!) and almost certainly did not buy a football club in buzzing London out of modesty. Magath – a heavyweight appointment, however polarising – has already attracted more column inches than Fulham's largely dire football has all season. Just the kind of lustre today's modern breed of franchise – sorry, club – owner is looking for.
Power
Magath is roundly castigated in the Bundesliga for his dictatorial bent and his stipulation that he must have complete control over footballing matters when appointed at a club. For a country like Germany, where the model of technical director plus coach prevails, it is an almost vulgar flexing of the muscles, but one that slots right into established British football culture. Strong-man Magath says it is so important to him, because he wants the players he brings in to be completely accountable to him and vice-versa. Cynics would say though, that he simply hates compromise of any kind.
Either way, once he had finished talking up his credentials to take over farce-engulfed Hamburg on Facebook and opted for an English relegation fight instead, it was only a matter of time before Messrs Curbishley and Wilkins received their P45s. This may be Magath's chance to show he is simply misunderstood at home (like, say, Robert Huth) and better adapted to rain-soaked kick-and-rush in the birthplace of the beautiful game.
Expensive tastes
Magath's penchant for power might have been less roundly derided in Germany had he used it well. Unfortunately, his habit of spending his way out of problems (and into new ones) has proved incorrigible. In his second spell at Wolfsburg, the half-Puerto Rican Penfold lookalike haphazardly splashed €70 million on players in just 18 months, building up a disastrously unwieldy squad of 32. Trusted players suddenly found themselves ditched without explanation and morale plummeted to rock bottom.
Win ratios
1995-97 Hamburg 40.58%
1997-98 Nuremberg 55.17%
1998-99 Werder Bremen 34.62%
1999-2001 Eintracht Frankfurt 40.54%
2001-04 Stuttgart 49.66%
2004-07 Bayern Munich 64.12%
2007-09 Wolfsburg 54.12%
2009-11 Schalke 53.16%
2011-12 Wolfsburg 34.62%
Essentially, as Magath fell out with players, his only answer was to buy new ones who had no idea what they were letting themselves in for. One un-named Wolfsburg player said at the time, "I had imagined it would be tough with Magath, but it was even worse than that." Fulham fans should be glad he arrived after the winter transfer window closed – though they may come to miss the careful stewardship of the Al-Fayed years when the transfer market re-opens for business.
Magath (perhaps rightly) has no truck with modern players earning big bucks and not pulling their weight. Anyone caught slacking will be mercilessly shipped out (Bryan Ruiz should be frantically calling his agent now about extending his PSV Eindhoven loan move). Change is coming to Fulham, in the form of "the last dictator in Europe," as Jan Age Fjortoft calls him.
Expect the serenity of the Cottage to be seriously shaken.
Thank you for reading 5 articles this month* Join now for unlimited access
Enjoy your first month for just £1 / $1 / €1
*Read 5 free articles per month without a subscription
Join now for unlimited access
Try first month for just £1 / $1 / €1