Exhausted fans call for winter break
Supporters demand the FA give them a fortnight off, Back of the Net can reveal...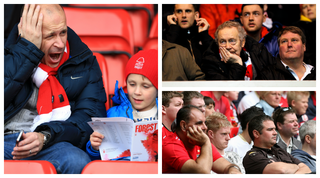 English fans are running on empty following a punishing schedule over Christmas and new year, according to the Football Supporters' Federation.
The barrage of league and cup fixtures means hardworking supporters have suffered a spate of eye strains and muscle cramps related to the gruelling demands of twice-weekly matches, and the FSF has called for action to prevent fans in England falling behind their counterparts in Germany and France.
"Bayern Munich and PSG supporters have spent the winter resting up, recovering from any niggles and enjoying their Pfefferkuchen and dried plums," said FSF spokesman Neil Simmonds.
Falling asleep
"This means they're raring to go in January, and still alert and engaged at the end of the season, when all fans in England want to do is fall asleep in front of Downton Abbey."
"For too long, we've ignored the risk of fan burnout, which has seen major tournaments marred by exhausted supporters farting out the same four bars on brass instruments in a desperate attempt to stay awake."
This weekend, Arsenal and Sunderland fans face their seventh game in less than a month, while Liverpool fans are barely halfway through a period in which they will be forced to watch 10 games in just 31 days.
Reds fan Billy Cooper, 48, said: "I had to get the kids involved for the Exeter game so I could be fully rested for Arsenal. I'm considering bringing in some extra cover for the Stoke game, because my sister has that evening off, but then I won't be able to call on her for Leicester.
"I'm running on empty, and it's bad enough having to watch this team once a week."
Please note: This satirical news story is not real. But you knew that already, right?
Quizzes, features and footballing fun
Get the best features, fun and footballing frolics straight to your inbox every week.
Thank you for signing up to Four Four Two. You will receive a verification email shortly.
There was a problem. Please refresh the page and try again.