Filippo Inzaghi
"I was born with a ball in my head. I studied just to make my mum and dad proud..."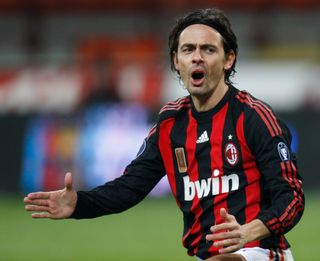 He's a serial scorer who's tasted World Cup and Champions League glory, yet many in the?game just don't rate Filippo Inzaghi. Here, 'Super Pippo' talks critics, heroes – and goals.
Athens, May 2007. While the rest of the AC Milan squad are celebrating their Champions League final victory over Liverpool in the centre of the pitch at the Olympic Stadium, one man is conspicuous by his absence.
Filippo Inzaghi, the Rossoneri's two-goal hero, has other things on his mind. Refusing to abandon his natural domain – the penalty box – he screams out to Massimo Ambrosini, who's holding the matchball, to hit him a pass. Inzaghi runs on to the ball and then contrives, comically, to miss the unguarded net from six yards out.
It is a moment that perfectly captures the curate's egg that is 'Super Pippo', a puny-limbed, ungainly player who often manages to cock up the simple things, and yet whose insatiable hunger for goals has made him one of the most prolific strikers for over a decade; a player cherished by his coaches at club and national team level, yet dismissed abroad as "a diving cheat" (Jaap Stam) who was "born offside" (Alex Ferguson) and who "can't actually play football at all" (Johan Cruyff).
"I remember the first time Pippo got called up for Italy," a former international once confided to FFT's man in Italy, James Richardson. "In training we all stood stunned because his technique was the worst we'd seen, but despite it all he just scores and scores."
Roberto Carlos, who faced Inzaghi regularly during his Inter Milan days, said of the forward: "He is the man who sorts everything out – even though it's difficult to lay your finger on what it is exactly that he's got! Whenever Milan are in trouble, he seems to get them out of it."
So what is his secret? "I think it's my instinct for scoring goals, the ability to be in the right place at the right time. And [Sir Alex take note] my cleverness at avoiding being caught offside," he tells FourFourTwo, after generously agreeing to a midnight interview hours before flying to Scotland with AC Milan for an ill-fated Champions League encounter with Celtic.
It is an instinct that has served him extraordinarily well: in a career spanning 16 years, despite being dogged by injuries, he has bagged almost 250 competitive club goals and 25 more for Italy, has twice been Serie A's cappocanoniero and has won just about every piece of silverware possible.
Oh, and no one has scored more in European competition. Two more in the group game at Shakhtar Donetsk took his haul to 62 (including a phenomenal 41 from 49 Champions League appearances), equalling the mark set by his childhood idol Gerd Muller.
Inzaghi believes he was born to be a striker. "As a kid, I was lively, cunning and determined. And mad for football, of course," he tells FFT. "I was born with a ball in my head. I studied just to make my mum and dad proud [the result was a diploma in accountancy], but I always knew that, with a little luck, I'd be a footballer – a centre-forward, to be precise."
He got his first break in 1991 with hometown club Piacenza, then in Serie B, before dropping down a division to join Leffe, scoring 13 times in 21 games. His Serie A debut came several clubs later with Parma, but it was only after he switched to Atalanta in 1996 that he caught the eye, finishing as Serie A's top scorer, with 24 goals – enough to earn a switch to Juventus.
While it would be wrong to say he is now universally loved in Italy, Inzaghi has earned widespread admiration. But he has had to work for it. After moving in 1997 to the Stadio delle Alpi, where he joined maestros Alex del Piero and Zinedine Zidane in the Old Lady's three-pronged attack, he was regarded by the cognoscenti as an artisan misfit.
Yet he defied the critics, banging in 87 goals over four seasons. It wasn't enough to stop him being dislodged by new signing David Trezeguet in 2000, and so came the move to the San Siro, where he had to start all over again to win over the naysayers. Thirty goals in his second season, in which he also finished as Champions League top scorer, helped shut them up.
During six years in charge of AC Milan, Carlo Ancelotti's faith in Inzaghi has never unwavered. "No great team should be without this kind of killer striker," he says, and he has compared Inzaghi's importance to that of Milan legends George Weah, Marco van Basten, Ruud Gullit and Oliver Bierhoff."
During his time at the San Siro, Inzaghi has played second fiddle to an array of more illustrious names – Christian Vieri, Andriy Shevchenko, Hernan Crespo – and yet he's never stopped scoring. In Ancelotti's new 4-3-2-1 'Christmas tree' formation, where Kaka and Seedorf are pushed up behind the lone striker, Inzaghi's place is less secure. But while he is likely to defer to Ronaldo, when the Brazilian is fit, he remains ahead of £15 million flop Alberto Gilardino.
In terms of popularity with fans he's possibly second only to Kaka. Yet for the purists, the Rossoneri's reliance on a player who so clearly lacks the finesse of those around him remains a source of consternation.
Which brings us back to that comment from Johan Cruyff: "Look, the thing about Inzaghi is he can't actually play football at all. He's just always in the right position."
Inzaghi brushes off the criticism. "Everyone is free to say what he thinks," he shrugs. He might even regard Cruyff's remark as an unintended compliment – after all, being "in the right position" is central to any striker's art. And Inzaghi doesn't just do it time and again, he does it when it matters most. There is, though, one jibe he can't leave unanswered. "I'll respond to Ferguson's comment [that he was "born offside"], which I think is the most unjust: if I've one virtue, it is my ability to beat the offside trap."
Inzaghi's unerring ability to find the net has drawn comparisons with England's prize goal sniffer, Michael Owen. The Italian takes this as an enormous compliment. "I'm extremely flattered that someone would compare me to Owen," he says. "When I first saw him in 1998, I thought to myself: this young man will be the best striker in the world. Then the injuries stopped him, but now he has come back and I wish him all the best."
He's also a big fan of Gary Lineker, and also singles out three AC Milan men – past, present and future – as forwards he admires. "In the recent past, there was Marco van Basten. I'm proud to wear his number 9 shirt. Nowadays, I think Ronaldo is still the number one. And look out for our new player Alexandre Pato: he has the skills to become an amazing forward."
Inzaghi has often been labelled as greedy, a charge to which he owns up. "My single-mindedness is famous in Italy," he says. "The fact is I live for scoring." But he adds: "I must confess, sometimes I've been too selfish."
At Juventus, the sight of Alessandro del Piero raising his arms in despair, waiting in vain for a pass as Inzaghi hogged the ball, became a familiar one. Such scenes sparked reports of a rift between the two, but Inzaghi is keen to play this down.
"I'd like to take the chance to say that Alessandro del Piero is a friend, a person I admire a lot. Many journalists in Italy have written that we're not friends – that's a lie," he claims. "If you are friends, it's better, but it's not essential. My best friends in football are my brother Simone [now with Atalanta] and Christian Vieri [with whom he is rumoured to have 'shared' the latter's former fiancée, model and actress Elisabetta Canalis] but unfortunately we never got the chance to play together with the continuity I wanted."
"Goals are a positive drug," he adds. "I've never been able to get enough." An incident a few years back illustrates the point. When Inzaghi scored Milan's fifth goal against Torino in a meaningless league encounter, he went crazy, screaming wildly as if he had just netted the title decider. Torino players were so furious that they tried to attack him. Inzaghi apologised, explaining that for him every goal was "like a mystical experience".
At 34, having last year added a World Cup and Champions League winner's medal to his collection, he has no intention of ending his international career to eke out a few more years at the top. "For me playing for the Azzurri is the biggest honour of all, so I've never considered retiring," he says.
National team coach Roberto Donadoni may have overlooked him of late in favour of young pups Fabio Quagliarella, Antonio di Natale and Raffaele Palladino. But Inzaghi's strike rate of 25 goals from 57 caps has, in the modern era, been bettered only by Vieri and Roberto Baggio, and puts him well ahead of Del Piero and Francesco Totti. It's even more impressive when you consider that, between 2003 and 2006 – a quarter of his top flight career – he was out of the frame.
His ability to bounce back at 32 speaks volumes for his resilience and self-belief. "I always had the hope that I'd be back," he says. "Especially because my absence was mostly down to injuries, and not choices by the coaches. The injuries have helped me become stronger as a person and more cunning as a player."
Despite all the criticism, Inzaghi remains untroubled by the lack of plaudits outside Serie A. "I guess the fact I've never played for a foreign club could explain it," says Super Pippo, before adding, only half-?joking, "or maybe it's because the Italians are gourmets, and they know how to appreciate good football!"
From the January 2008 issue of FourFourTwo.
Thank you for reading 5 articles this month* Join now for unlimited access
Enjoy your first month for just £1 / $1 / €1
*Read 5 free articles per month without a subscription
Join now for unlimited access
Try first month for just £1 / $1 / €1