From Galáctico to Partridge: Why are we obsessed with trolling Michael Owen?
It's incredibly easy to forget, writes Hayden Woolley, that this was a man who once struck fear into defenders and adorned bedroom walls. So where on earth did it all go wrong?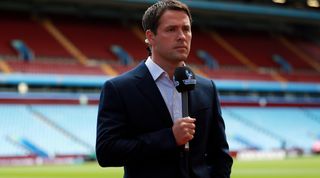 As much I'm looking forward to the Premier League's latest Saturday lunchtime kick-off, I can't seem to concentrate on the screen. It's the BT Sport logo in the top-right corner that's causing me the problem. As soon as I see it my thumbs take over in a flurry of muscle-memory.
It seems like I'm not alone. Within minutes, Twitter's trending topics reveal that the eyes of the whole country have been yanked from the big screen at the front of the room to the small screen in their hand.
Michael Owen, it seems, gives us all absolutely no choice but to tweet about him. Indeed, by the time the weekend's over, criticism of his commentary has already hit the back pages, with stories that are little more than the journalistic equivalent of a playground pile-on.
At the centre of all of this, buried underneath a mountain of retweets, is a man who – on paper at least – is an England legend. Our country's fifth-highest goalscorer, a former Galáctico who once stood shoulder to shoulder with Luis Figo and Zinedine Zidane. Yet in 2015 he is reduced to little more than cannon fodder for the smartphone-wielding masses. For the British public, it seems that no prospect is more lipsmackingly delicious than the dismantling of a former footballing idol. But why?
Shine of the spotlight
Perhaps Owen stands apart from other former elite athletes because he was once more than merely a footballer, but a conduit for the nation's hopes. It's easy to forget that now, as we roast his grammatical inadequacies online, but this is a man who has felt the weight of public expectation like few others have.
He was the spring-heeled teenager who blitzkrieged through an entire Argentine defence, his mazy dribbling telling the country exactly what they'd always wanted to believe; that 1966 was more than just a serendipitous moment in time, but a feat destined to be relived. Unlike many footballers whose profiles gradually rise over a series of strong performances, the 18-year-old burst into our lives in a moment of immaculate conception.
He was born under the watchful eyes of millions, and there he has remained ever since. Which is great when you're an icon of world football, but less ideal when you're tweeting a list of the only eight films you've ever seen (and that you also hate).
Our former idolisation of him means that his post-retirement career is this strange and beautiful thing that none of us can quite wrap our heads around. We try to, via thousands of jokes and tweets, but Owen eludes us with his precocious normality. There he is, living the digitally rendered life of a SIMS character, and there we are, rubbing our eyes in disbelief and trying to reconcile the past with the present.
For many, Owen's life now resembles a series of plot points pinned up on some imaginary scriptwriter's wall. Michael Owen runs over a rabbit. Michael Owen thinks Christmas is underrated. Michael Owen 'flies' a helicopter over Dubai. It's as though he's starring in his own individual version of The Truman Show, his daily mundanities beamed out to a nation who can do little but gape on in astonishment.
Mo problems
Indeed, Owen may as well be our 21st-century Truman. He was a man who was born on our screens and has seemingly lived many lives, right there in front of our eyes. We are in some ways invested in him, as though his fate somehow mirrors our own. We marvelled at him when he had the world at his feet, and now we feast in the most glorious ironic schadenfreude, peering down at him from our lofty position on barstools across the country.
Of course, the former Liverpool star doesn't help himself by running a Twitter account that reads more like a deconstructed real-time novel charting his own demise.
Whether he posts photos of his dog engaging in oral sex or a link to his astonishingly bad whisky commercial, we get precisely the same thrill as we get from hapless missteps of Alan Partridge or Larry David. But here the squirming deliciousness of it all is ramped up by the fact that he isn't a comic creation, but a man whose face used to gaze upon us from the posters of our bedroom walls.
This is quite a surreal sensation, and one that causes us to feel a disjuncture within ourselves, a jarring sense of disparity between the world as we typically perceive it, and the world as it really is.
We enjoy projecting our fantasies and ideals onto hero-like figures, and sportsmen represent the ideal mould onto which many can hang aspirations. However, the advent of social media means we no longer admire from afar, but have an unfiltered window into the internal monologue of our most exalted figures.
Not only that, but we can make their phone buzz whenever we want to – the equivalent of writing them a note on a piece of paper, walking up to them and placing it in their hand. This is a balance of power that we have sleepwalked into, and one that we still appear to be grappling with. It all raises one big question: what exactly is it that we want from our superstars?
Maybe we should have seen it coming...
For the British, that question is notoriously difficult to answer. We hate show-offs, but we hate bores. We hate opinionated loudmouths (*cough* Robbie Savage), but don't get us started on wooden dullards.
Andy Murray won Wimbledon but still no one liked him, until he cried, then people saw he was human. But human can be bad, too, like when John Terry cries and we all queue up to take the piss out of him.
Maybe we just have a bizarre national complex where we somehow project our own fears and insecurities onto the faces of our national figures. It puts the power back in our hands, giving us a sense of control that we may otherwise lack in our own pallid existences. As a nation we make our heroes walk a tightrope, and like crocodiles we lie in wait for them underneath.
Ultimately, Owen doesn't really deserve any of this – even if he doesn't help himself. He was the normal lad with an extraordinary gift, who has now simply returned to his base form. He never went off the rails, he was never at the centre of a public scandal, and in his footballing career he was never anything less than a consummate professional. He is a very normal multimillionaire, and for that we feel we must punish him.
Quizzes, features and footballing fun
Get the best features, fun and footballing frolics straight to your inbox every week.
Thank you for signing up to Four Four Two. You will receive a verification email shortly.
There was a problem. Please refresh the page and try again.