There's a problem with Gary Neville's analysis of Manchester United
The former Old Trafford star isn't a stranger to sticking the boot into his former club's malaise – but he is selective in his targets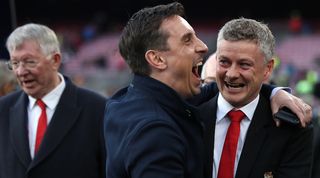 At least one man with Manchester United affiliations offered passionate entertainment on Sunday. A serial winner probably pleased his employers, as a ranting Gary Neville made for compelling television on Sky Sports. Even a selection of the words he used – woeful, painful, suffering, mess – shows he brought more incision than a beleaguered team did in a wretched defeat to Newcastle. Executive vice-chairman Ed Woodward went unnamed but was nonetheless the target of a brutal, clinical assault.
Meanwhile, some of those who are culpable for United's malaise were spared. There are times when the area Neville ought to have most credibility is where his arguments are most lacking in cogency. "Any chance you'll have the balls to call out the Glazers?" his sidekick Jamie Carragher said a few months ago on Twitter. Whether or not he was joking, he had a point. Nor would Neville countenance presenter David Jones's question of whether Ole Gunnar Solskjaer could be part of the problem. Hamstrung by a reluctance to criticise the owners or the manager, Neville's comments on his specialist subject are selective.
There are two strands that feel particularly awkward. In each he is perhaps a prisoner of his past, conditioned by a regime of record-breaking longevity and distinction. "I didn't want Jose Mourinho to be sacked," he said on Sunday. He has been consistent. He has spent years saying he didn't want David Moyes or Louis van Gaal to be fired either. But Mourinho was dismissed with United 19 points behind Liverpool in December, closer in points to the relegation zone than the leaders. Van Gaal was fired after a season when United scored 49 goals, only one more than Sunderland. Moyes was relieved of his post with United's defending champions in seventh. Each had presided over poor football.
So it all raises the question of what, in Neville's mind, is actually a sackable offence. Neville mentioned that Mourinho had been given a new contract less than a year before he was dismissed; so he had, but Moyes had a six-year deal. If the logic is that all managers should be allowed to complete their contracts – and, scarred by his experience at Valencia, Neville has said he will not call for them to be sacked – then the Scot would have remained at Old Trafford until this summer, Alan Pardew would still be in charge of West Brom and Jan Siewert (complete with his 5.3% win ratio) would remain at the helm of Huddersfield until 2021. Affording the wrong manager time is not a solution; the more pertinent judgement is precisely who is right, when and why. It is determining each case on its merits.
Neville is correct to argue that there has been no consistency in ethos at Old Trafford, where they are forever appointing managers whose style of play is radically different, and which in turn leads to expensive – invariably incomplete – overhauls. Much of the blame for that lies with Woodward, yet Neville said on Sunday: "They need a right-back." They paid £50 million for one in Aaron Wan-Bissaka last summer, who he had already said had "done OK". It did not stand up to scrutiny.
It is valid, though, to say a manager ought to be able to remodel a squad to suit his brand of football. Yet suggesting they should have dictatorial powers – at least in United's continued lack of a director of football – poses certain issues. In a sense, Neville was right when he said: "I was making the point last year when Jose Mourinho wanted to sign players: who is qualified up above him to say no?" After all, who at Old Trafford does have a level of expertise remotely comparable to Mourinho's? And yet consider the names on the Portuguese's 2018 shortlist. They included Jerome Boateng, Toby Alderweireld, Ivan Perisic and Willian. The common denominator was the proximity of their 30th birthdays. Woodward has got little right, but a reluctance to spend on players of that vintage may be that anomaly.
From a financial angle, it involved paying millions for those with little or no resale value. From a footballing perspective, it would entail overloading a squad with ageing players who would decline on United's watch. They already had Nemanja Matic, now about as mobile as a standing stone from the Neolithic era, and Alexis Sanchez, about as potent as Scott McTominay (that isn't even an insult: they have the same number of league goals for United). They scarcely needed other fading force, courtesy of a short-termist. Putting Mourinho in charge of the future is like entrusting it to a climate change denier. Not every manager can be trusted to double up as his own director of football.
In Neville's defence, it is understandable if his mindset is conditioned by his playing career. Perhaps it's a product of making all 602 of his appearances for Sir Alex Ferguson. The Scot was the most decorated advertisement for a policy of giving managers time; his awful autumn of 1989 gave way to 23 years of silverware. He was the one-man justification for an approach of letting managers spend what they wanted on whoever they wanted. Even if he bought a Bebe, he would have signed at least five Solskjaers. He rarely had to justify his actions.
SEE ALSO When Alex Ferguson got sacked at St Mirren: 40 years on from the job that made him
The most famous piece of punditry about Ferguson's United – Alan Hansen's assertion that "you can't win anything with kids" – was also the most misguided. And yet if Neville has helped elevate the profession to a higher level, the paradox is that there may be most holes in his argument when he talks about the club he knows best.
While you're here, why not take advantage of our brilliant subscribers' offer? Get 5 issues of the world's greatest football magazine for £5 – the game's greatest stories and finest journalism direct to your door for less than a pint in London. Cheers!
NOW TRY…
COMMENT Why Tammy Abraham's rise is about far more than being in the right place at the right time
QUIZ Can you name every player to score 50+ goals for a single Premier League club?
GUIDE Premier League live stream best VPN: how to watch every game from anywhere in the world
Quizzes, features and footballing fun
Get the best features, fun and footballing frolics straight to your inbox every week.
Thank you for signing up to Four Four Two. You will receive a verification email shortly.
There was a problem. Please refresh the page and try again.