Gary & Phil Neville: One-on-One
By Nick Moore
"I threw a gun at you once and cut your eye, do you remember?" "Er, no"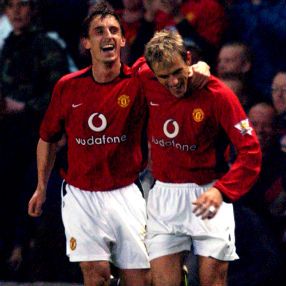 They've got more silverware than Buckingham Palace, more medals than the US Combined Chiefs and between them are approaching a century of England caps. Yet beyond the red half of Manchester, it's fair to say that Gary and Philip Neville are not the world's most popular football players. Au contraire, as Del Boy might say. But being the subject of many a pub debate up and down the country means there are plenty of people who would relish the opportunity to ask them a question or two. So having removed the unprintable ones – of which there were many – we're at Manchester United's palatial Carrington training ground to sock it to English football's most talked about siblings. And with both Nevilles keen cricketers in their youth, it's straight bats at the ready...
Who was the more talented youngster? And who is the better player now?
Tracy Archbold, Milton Keynes
Gary: Phil was always more talented as a youngster. He got in England schoolboy teams and things like that. I was struggling to even get in the county team – I was sub at times – whereas Phil was always one of the best in the country. I never got close to making England teams. As for now, you'd have to ask the managers.
Is there a huge sibling rivalry between you?
Rob Buchanan, Milton Keynes
Phil: No, never has been. I think we've always supported each other throughout our careers. At the start it was a bit weird, two brothers playing in the same team, but you get used to it. At times one of us has been in the team and one of us has been out, but we always support each other because at the end of the day we're brothers, and if you can't support your brothers who can you support?
The nice thing is that in nearly 10 seasons at the club, we've never been involved in a one-on-one battle where it's been me or Gary. At the start of our careers Gary was a right-back or a centre-back, I was always a left-back and now I'm playing in midfield, so we've never been vying for the same position, even in the England team.
Which of you got into most trouble as a kid?
Michael O'Hara, Camden
P: Gary, probably. In school, certainly. You weren't allowed to wear trainers at school, so Gary wore trainers; you had to wear a blazer, Gary wore a jumper. He was very opinionated too.
G: I constantly got on the teachers' nerves, I think. They weren't serious things, just petty things that constantly got me into trouble. I wanted to wear what I wanted to wear and couldn't see why I couldn't and I got into a ridiculous amount of trouble for it. It became more serious than things like wagging school, which I never did. In the final year I saw sense and decided to conform, but for three years – between the second and the fourth year – I was a pain in the backside.
P: I very rarely got into trouble.
G: He's cleverer than me. The blue-eyed boy here probably never did a day's schoolwork in his life.
P: I conformed to all the rules, that's the difference.
Is it true you two get most stick from team-mates?
Matthew Whitty, Basingstoke
G: It's a difficult question to answer, because there's a lot of banter between the players who have come through the ranks.
P: Because we're brothers if one of us is doing something silly they'll tend to come at both of us. In those instances we'll stick together. Because they give it to us together, we give as good back together as well.
If you weren't brothers and team-mates, would you be friends?
Alan Grott, via email
G: I think we would. Obviously it's a hypothetical question because when you grow up in the same family you tend to have the same likes and dislikes. We like watching football and are both sporty.
P: Away from sport we're a bit different though. Not everybody is the same.
G: In terms of musical tastes we're a lot different. I don't think we have similar personalities, do we?
P: No, probably not! [laughter] Gary's more outspoken, the instigator, whereas I'm more easygoing and just let things happen.
What are each other's worst faults and habits?
Nick Gamble, Manchester
P: Gary's so intense. He's relentless. If he's doing something he does it very stressfully, even just going out for a meal. He's constantly organising things and when he's organised it he's still worrying about it. Sometimes he just needs to chill out a bit.
G: Phil has a habit of being ridiculously early. If I'm picking him up to be somewhere at six o'clock and it takes 30 minutes to get there, he'll say, "Pick me up at quarter to five", so we're there 45 minutes early. Or if we're meeting at nine o'clock for a pre-match meal, he'll be at your room at half-eight, even though the dining room is only a two-minute walk away.
Ever donned a PE skirt and played netball with your sister Tracey?
Jerry Greig, Bristol
P: No, I've never donned a skirt. At school we used to play joint sports together, but we never played netball or rounders with Tracey and she's never played football or cricket with us. She usually plays on a Saturday or on the other side of the world so it's difficult to go and watch. But we went to see her play in the Commonwealth games.
G: I'm not sure I like netball as a sport but I enjoyed it because my sister was playing and there were 20,000 people watching so there was a great atmosphere.
It is fair to say that some fans have it in for you. Why?
Gary Jones, via e-mail
P: A month ago the boss said something about it being because we've nailed our colours to the mast, because we've made it public how much affection we have for Man United and that it's probably gone against us outside the club. That's the only thing I can think of.
G: I've never had any problems with United fans and that's what bothers me. If I started getting stick from them then that obviously becomes a problem. But getting stick at other grounds is something I quite enjoy, to be honest with you. It's not a problem. There are some grounds where it can be pretty bad but it's always good fun, you never feel threatened.
How did it feel to be the first brothers to play together for England since the Charltons?
Jason Rogan, via e-mail
P: My mum and dad were probably more proud than us because at the time you only think about your own selection. It's not something we realised we'd achieved at the time. Gary was 20, I was 18 and playing for England was a massive thing in itself.
Which of you would win a fight?
Danny Moore, Southfields
P: We get asked that by everyone and to be honest with you I don't think we've ever had a fight, even growing up.
G: Hypothetically, who would win? Well, you always back yourself to win, don't you?
P: I think it's a fight everybody in the dressing room would like to see. It's like, "Go on, go on, whack him!" It would be an occasion for laughter more than anything because I don't think either of us has got a fight in us. Ha, ha, ha!
G: You know, we probably did have fights when we were really young. Not fights but I threw a gun at you once and cut your eye, do you remember?
P: Er, no.
Given your Bury roots, what's your take on Peter Kenyon's comments that only 40 clubs can survive as full-time professional clubs in England?
Elliot Rogers, Islington
G: I would hate to think that there would come a day when Bury wouldn't exist. People say Bury only get three or four thousand crowds but that's a lot of people to upset by telling them they're not gonna have a football club. They may have to go part-time but even that would be a shame.
P: Towns have football clubs as their identity and there are many other small clubs with great traditions like Bury. Something's got to be done to safeguard the lower division clubs that are in financial trouble.
"Gary Neville is a red, he hates Scousers..." Where does this chant come from and do you dislike your neighbours down the M62?
Ross Strachan, Whiston, Merseyside
G: The chant comes from a piece I did in a United fanzine about eight years ago. The honest truth is – and I've told a few Liverpool fans since and they don't believe me – I said I'd grown up not liking Liverpool because they won everything. The headline was 'Neville hates Scousers'. That's where it comes from and now it's brought up every time we play Liverpool. They are our biggest rivals and I've always been a United fan, but I never said: "I hate Scousers." If you went into a Liverpool school now, they wouldn't enjoy Man United winning things, either.
You two and David Beckham are always good about clapping the fans. What's the matter with your miserable team-mates?
Stephanie Hanson, Altrincham
G: I don't know. It's something I've always done at the end of every game – win, lose or draw. Sometimes it's difficult when you've lost a game because you feel embarrassed, especially when it's been a disappointing performance, but you have to show your appreciation. They come every week and pay good money. People talk about Man United's fans but they've had the biggest average attendance for 30 or 40 years. They were getting 50-60,000 in the '70s and '80s when they weren't successful. Wherever we play we have a full house, because people want to watch Manchester United play. It costs them a lot of money and you've got to show your appreciation.
Being relatively local lads yourselves, how do you feel about the increasing number of Manchester United fans who come from other areas?
Chris Brown, via e-mail
G: There is a massive thing made about where Man United fans come from. If you go all over the world there are Man United fans and, somehow, that's a bad thing but I can't see how. I'm sure a few other clubs would like millions of fans all around the world. As for Manchester, 75 percent of people are probably United fans.
How did you each feel when only Gary was selected by Glenn Hoddle for France 98?
Mark Greig, Romford
P: It was probably the lowest point for me. I was almost sure I was going. I got right down to the wire and when I wasn't selected it was a bitter blow. As you get older you look back and take it on the chin, but at the time it was ?a bitter pill to swallow.
G: It's probably the worst footballing experience I've ever had. It was a terrible two or three days. The lead up to it was massive. Then Phil, Butty and Gazza got left out. There was a big trauma in the squad. What should have been the happiest moment in your life actually became a trauma for a few days. I'm sure Glenn Hoddle didn't enjoy it, either. No manager would. In training the next day there was a real low, a really dead atmosphere. We'd been together for three weeks then all of a sudden we had to lose four or five.
P: I was in La Manga in 1998 whereas this time I got a call from Sven at home, but there's no easy way of telling somebody. Being told in the privacy of your own home, where you can handle it in your own way, was probably better, but the disappointment was still the same.
You both missed out on last year's World Cup – for one reason or another. How did you spend your time?
Matt Hart, Brighton
P: I spent the summer in England because the wife was pregnant. I watched all the games and spoke to Scholesy and Butty, encouraging them all the way.
G: I was on crutches because I'd broken my foot and I did the punditry on ITV for England's games with Gazza, Bobby Robson and Des Lynam, which was really enjoyable. I spoke to Becks after every game and Scholesy and Butty after the Argentina and Denmark games. The worst moment for me was the Argentina game. I was in hospital because I'd just had my operation. It was a great moment for them, celebrating beating Argentina in a World Cup, but it was the point where I thought, "I wish I was there."
P: As the tournament progressed it got more and more difficult for me. I was in every squad prior to the World Cup so you're just willing your mates to do well. It's great in a way because when you're playing in a major tournament you don't sense what's going on back home, but I was in London for the Argentina game and the atmosphere was incredible.
G: I'd get back up to Manchester in the afternoon, go out to eat and drink and the pubs were rammed. The atmosphere was absolutely incredible. I was on the phone to the lads, telling them what it was like.
Which was the bigger gaffe: Phil's tackle against Romania in Euro 2000 or Gary's howler in this season's Manchester derby?
Rupinder Bhambra, Newcastle
P: Probably Gary's. Ha, ha!
G: Difficult to say. I think mine, probably. I don't think Phil's was a gaffe, really. We weren't good enough to go through and even if he hadn't have made that tackle we'd have been knocked out. Nobody should be kidded by that tackle – we were garbage. As one-offs they were both mistakes that led to goals. Phil was obviously playing for England whereas mine probably only upset Manchester United fans. It probably pleased everybody else in the country.
What are your opinions on Ruud van Nistelrooy's claims that United's wage levels are "obscene" and does the wealth need to be spread more evenly?
Rob McWean, Liverpool
G: He never said it. People say players' wages are raping the game, but it's a load of rubbish. Ultimately it's chairmen in charge of football clubs who sanction each contract. There has been a lot of bad financial management from chairmen, who've then said it's down to the players. If chairmen told the players that they weren't having the money, they wouldn't get it. Obviously TV money has gone down with the collapse of ITV Digital, but a lot of clubs spent money they didn't have.
P: Even the so-called smaller teams in the Premiership are gambling on putting players on higher wages and if they get relegated they face financial ruin. Look at Bradford.
G: How can you gamble the existence of your club on five or six players? Clubs like Bradford have been around for 100 years – you can't go paying players ridiculous amounts of money and put that at risk. I think West Brom have done well this season in that they've kept the players they had, maybe increased their wages in accordance with the Premier League, but I think they have their players on contracts whereby if they go down, they're on the same wages as they were on last year. That's prudent management.
The money's just not there. Everybody thought there'd be this mad rush during the transfer window, but how many signings have there been? Hardly any, because clubs haven't got the money, which probably means wages will come down eventually. And if that's the way it has to be... Players don't set the wage limit – they take as much money as they can get. You would.
Would either of you do a Niall Quinn and give your testimonial proceeds to charity?
Tom Pearson, Reading
G: Whilst we're probably eligible for them now, it's not something we've even thought about because we'd prefer to have our testimonials at the ends of our careers.
P: There's been a lot of criticism of people taking their testimonials but if you've served a club for 10 years you deserve a testimonial. It's also a chance for you to thank the fans and vice versa.
G: People talk about the money but it's your game – something you can always look back on.
P: Look at Ryan Giggs. 67,000 people came just for him. That must have made him and his family so proud. In this day and age, when players are constantly switching clubs and loyalty is questioned, it was testament to him and fully deserved.
How did you feel when Jaap Stam described you in his book as "busy little c***s"?
Nathan Hopkins, via e-mail
G: If you actually read the page from which it was taken, I don't think he could have been any more complimentary about us. The way I feel at the moment, I can't see myself ever doing a book because it's not worth the hassle. Everybody gets stitched up through the serialisation. I just don't see what the benefits are. So many things are taken so far out of context – spun. How can people take those three words out of that ?section in which he was complimenting us? Jaap rang me the day before that was going in The Mirror and said: "You read that part of the book and they've just taken these three words and..." He was absolutely gutted about that, to have to ring me. The way it was done by the paper was nasty.
Guys, come on, selling Jaap Stam was a dreadful decision! You haven't won anything since...
Ben Sturrock, via email
G: Pass.
P: You leave the buying and selling of players to the manager.
Has Roy Keane mellowed since his latest bout of bad publicity?
Harry Snape, Preston
G: I don't think he's mellowed out. He's still intense and desperate to win.
P: He's getting older and off the pitch he's probably a little bit less intense.
G: But he's always been normal away from football. What you see is what you get: that's why he's got the reputation he's got, that's why he's the footballer he is and you wouldn't want him to change.
P: When he shoved me against Sunderland it was just one of those things. He's done it in the past, I'm sure he'll do it again. Quite a bit was made of that, but it's something that we've all forgotten.
Gary, you have three career goals, Phil, you have a whopping seven. Is there any competition between the two of you in the goalscoring stakes?
Daniel Best, Eltham
G: My tally's absolutely pathetic. There's no doubt about it. I'm not saying I should have 50 goals but I've missed a few chances over the last few years. I like to get one a season and I'm not even getting that at the moment.
P: You should score more than one a season. If you look at Denis Irwin's record – I know he took a few penalties and free-kicks – but as a full-back at United you should be scoring more.
G: You've always got to make a contribution through goals or assists. I've had chances this season. I was one-on-one with the keeper against Deportivo away in the European Cup. I should have scored but I didn't even get a shot off, I ended up tackling the goalkeeper! I panicked, got a nosebleed. I'm like, "What's happening here?" and I end up rushing everything instead of relaxing and composing myself. I take my hat off to the lads who score the goals because it's the hardest thing to do in football.
P: I'm happy with my tally so far but playing in midfield I'd like to score a few more. We both need to improve our goalscoring records probably.
What's the strangest encounter either of you has had with fans – either your team's or the opposition?
Rob Parker, Mossley
G: I had a good one just before Christmas. I was walking down King Street in Manchester and a guy walks past with his wife looking really happy. I was on my own and he said: "Well done Gaz, thanks a lot mate..." I went: "Cheers mate", and he said: "...for the derby!" He was a City fan! I was gutted, but I had a bit of a giggle to myself. It was the way he conned me, he was so genuine. A lot of fans will say well done to you when you're out and about and it was way after the derby. He carried on walking and started laughing with his missus.
Another one was not long ago. City had been playing at home and as this car went past the driver shouted out the window: "GARY NEVILLE... is a Blue". He had his arms out of the window and everything. All the lads were pissing themselves laughing. I got a bit of stick after the City game, but that's the way it goes sometimes.
P: Because of Gary's well documented... with the Scousers, I always get sucked into it and whenever I see somebody from Liverpool I always get "Your brother's this" or "Your brother's that".
G: We lost at home against Liverpool 1-0 once and when I got home I couldn't get in my drive because I've got this f***ing bottle of Carlsberg [Liverpool's sponsors] wrapped up in the middle of my drive.
P: I had an England flag burnt on my gate after Euro 2000. It set fire to my gates. [FFT: Haven't you got yours and your wife's initials on the gate?] No [laughs, nervously]. Yeah, I have!
How does David May spend his days?
Phil Crowley, via e-mail
G: I don't wanna answer that one.
P: No.
Do you ever babysit for any of your team-mates when they fancy a night out with the missus?
Dean Fenton, via e-mail
P: You do.
G: No, but I don't wanna say it.
P: No? I've got my own son now, so I've got my hands full.
G: I don't babysit for Phil yet because the baby's only four or five months.
P: When he's out of nappies I think Uncle Gary'll come round. Ha, ha!
Which current non-United or England player would you love to line up alongside?
Kevin Giles, via e-mail
G: I like players like Maldini and Raul who have come through the ranks at massive clubs and stayed with them. I respect that. Maldini, who has played for nearly 20 years, is absolutely incredible. Playing against him was fantastic but to play with him, to have him as a team-mate and talk to him would be wonderful.
Can either of your ever see circumstances whereby you might move away from Old Trafford?
Ian Nightingale, via e-mail
P: It's something that neither of us would ever want to happen but we both know that it's the manager's choice, ultimately. We've just got to make sure that we keep performing to high levels and hopefully he'll never sell us. I don't ever want to play for another club but sometimes that decision can be taken out of your own hands.
Your dad, as many people might know, is called Neville Neville. What's his middle name?
Lee Williams, Mossley
G: [Laughs] He hasn't got one.
Interview: Louis Massarella. From the April 2003 issue of FourFourTwo.Subscribe!
Quizzes, features and footballing fun
Get the best features, fun and footballing frolics straight to your inbox every week.