Gianfranco Zola: One-on-One
"I took Asprilla fishing once. He broke my fishing rods and made a big mess in my boat."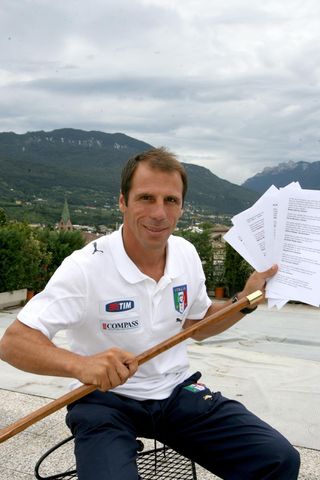 From across the hallway of the Hotel Boscolo, in the city of Trento, Gianfranco Zola, now 41, could easily pass as one of the many Italian U21 players that dash off after lunch, waiting to face Faroe Islands. He's wearing the same uniform: white polo shirt and blue trousers, and is still in good shape, despite the fact that it's been two years since he since retired at Cagliari.
As he greets FourFourTwo, he takes one look at the readers' questions and immediately asks: "Do you want to do this interview in Italian, English, Spanish… or Chinese? It's up to you." We settle for Italian with a few dollops of English thrown in, although doing it in Chinese might have been an interesting experience for everyone involved. Does Franco really speak Chinese? Unfortunately, none of you asked that, so we may never know...
As far as I'm aware, you and Gigi Riva are the only really famous Sardinian footballers. How much of a football culture is there on the island and did you get much stick when you moved between the two rival teams early on in your career?
Blake Harris, Devon
First of all we're not the only ones! I could start mentioning some names… For example, Gianfranco Matteoli, who has played in the national team, Pietro Paolo Virdis, another striker that has been international a number of times, Antonello Cuccureddu, who has won lots of scudetti with Juventus. I reckon all of them were very important players in Italy. Regarding the football culture, I have to say that it exists and there's a big rivalry between Cagliari and Torres, the second team of Sardinia. I've played for both of them, first at Torres and then at Cagliari, but I never got any stick for having played for both.

Given your height did you ever contemplate becoming a jockey like your fellow countryman Frankie Dettori?
Chris Benson, Bristol
[Laughs] Well, you know, actually not, because I've never had much contact with horses, so I've never really had the opportunity to think about it!

You were signed to Napoli by Luciano Moggi – the man at the centre of Italy's match fixing allegations. Did he do offer you anything to sweeten the deal? A lorry load of wine, perhaps? What did you make of the whole match-fixing affair?
Steve Pepper, Southampton
He took me to Serie A when I was playing in a Third Division club, to Napoli where he gave me the chance of playing alongside Maradona. Imagine that! I don't think he needed to sweeten the deal in any way. In fact, I should have given him a lorry load of wine! Seriously though, the recent scandal was incredibly damage for Italian football. We've lost our credibility and our reputation is damaged. When something like this happens, it's hard to move on just like that, there's always going to be a scar left and so far I think Italian football has yet to recover.
How much did winning the World Cup help Italian football recover from the Moggiopoli scandal?
Aldo Morelli, Turin, Italy
Winning a World Cup is always important, but in this instance, it didn't really help because the scandal was so big that it shook our football to its very core.
What did you learn from Maradona on and off the pitch? What's your funniest story about him?
Graham Rossi, Essex
I was very lucky to be his team-mate and get to play with him as well as watch him train every day. The things he did! He was and will always be unique. Off the pitch, I always liked his simplicity. He was Maradona, yet with the team, he seemed just like an ordinary lad like the rest of us. He didn't behave at all like a football star.
As for the story, there are many that come to mind [giggles], but there's one in particular that always makes me laugh. One day when we played against Pisa in the Italian Cup, he made me play in the No.10 jersey and picked the No.9 for himself. For me it was the most beautiful thing I could ever imagine; Maradona letting me play in the No.10. Imagine my confidence, but especially my shock!

You used to have wrong-footed penalties competitions with Maradona at Napoli. Who won the most? How did he react when you won?
Angus Dunne, Blackpool
[Long silence] Well, I know I agreed answer your readers' questions but this one I just can't answer… otherwise, Diego will be angry! [Laughs] All I can say is that he didn't enjoy it when he lost, even though he was very strong with his right foot.
Just how good is the Parmigiana cheese and Parma ham in Parma? Did you notice a dip in quality when you moved to London?
Owen Neil, Brentford
Don't remind me! The difference is not a small one. I believe Parma is the best city for eating in the entire world. In that sense, moving to London did make me suffer a little bit, especially at the beginning. It was OK when I was at home or in the city but the big problem was when we went to play away matches elsewhere in England, as the hotel food was not very good.
As the previous holder of Serie A's free-kick scoring record, who is better: you or Beckham? Or is there someone else?
Brad Reilly, London
Oh God! This one is difficult. I think I was better from close-range free-kicks and he was better from long-range free-kicks. But there was one that was probably better than both of us: Sinisa Mihajlovic. He would just rack up goals from everywhere: short or long distances, he was equally lethal.

Why did you leave Parma in 1996-97, where you had won trophies, for Chelsea, who had just finished 11th in the Premiership?
Alan Ames, Newcastle
At the time I was having some problems at Parma; I wasn't playing well and I had personal issues. So when I received an offer from England, I took it. Besides, I was always keen on making an experience abroad and I really needed a fresh challenge. Thanks to [Roberto] Di Matteo and [Gianluca] Vialli, I settled quickly and by the time I left Chelsea, England almost felt like home.
How much time did it take to learn English?
Marco Brizzi, Rome
About six months. I had two lessons per week and I also recorded them to listen them at home. Speaking was difficult, but understanding was probably tougher. At first in interviews, I took all the time I needed to say what I wanted, with long silences between phrases like "I think" or "I presume". A TV show made a compilation of all my "mmmhhs" and "ehmmss" and it was very funny.
How did you feel about getting sent-off at USA 94 after only being on the pitch for a few minutes?
James Avery, via email
My thoughts were all directed to the referee. And they weren't very nice thoughts, actually. I still remember him: Arturo Brizio Carter, the Mexican.
Ian Walker got a lot of stick from English fans and media after you scored against him at Wembley in 1996, but I reckon it got a lucky deflection off Sol Campbell? What do you think?
Robert Wright, Carlisle
I remember it well. The ball definitely deflected in Sol Campbell, even if it was a slight deviation.
Do you think playing in England affected how often you were picked for the national team? Was there a bias against Italian players not in Serie A? Does that still exist?
Andrew Hull, Mansfield
In that period of Italian football, playing abroad didn't help at all. Now I think the reality has changed, every year there's more Italian players going abroad and the national manager needs to scout them all to form the best team.

You won the Football of the Year Award after your first year at Chelsea. Did you find playing football in England easier after facing those tight Italian defences?
Adam Calvery, Detroit
I think at the beginning, the 'open' English football really helped me, as I was coming from tighter marking in Serie A. It was like a relief, in a sense, as the defences were not as rigid as they were in Italy. It was an advantage, but mind you, now the reality has changed also in England, I don't think there is so much freedom and space for strikers anymore.
That back-heel you scored against Norwich: was it premeditated?
Jack Mann, Leeds
No, it wasn't premeditated or practised before. It was something of the moment. I went to the near post to head the ball, which was something we did practise, and then I realised it was coming too low even for me, so I improvised. And it worked.
Jimmy Floyd Hasselbaink always looked so annoyed if you didn't pass to him. Was he still annoyed when you got into the dressing room? Did he ever turn violent?
Peter Handle, Leicester
Well, on the pitch Hasselbaink always looked annoyed with everybody. He was always like that, always breaking our balls a bit and nagging. But in the dressing room he wasn't allowed to behave like that, otherwise I would have smashed him in the face! No, really, he was a player that always gave the maximum so he always expected the maximum from his team-mates.

Is it true darts is very popular in Sardinia? Are you much of a player? Surely living in England you got roped into a few games…
Adrian Brown, Lincoln
No, actually they're not popular in Sardinia, but all I can say is that I wasn't very good. But when it comes to sports and competitions, I'm a fast-learner. I didn't actually kill anyone but the door and the wall at home can testify that I wasn't that good when I started.

I understand there are drinking competitions in English pubs. So what's your record number of pints?
Nicolas Fergero, Argentina
Hmmmm, one and a half, and if I was lucky to get there! I like beer but in a small dose, a small glass and that's it.
Sardinian suckling pig or English roast beef?
Emma Beasley, Rochester
[Laughs] Sorry, but Sardinian suckling pig is my definite final answer on that. It's special. Very special. And has no direct competition.
How did your relationship with Gianluca Vialli change after he became Chelsea manager? How did you feel when he picked himself over you?
Connor Harte, Cork
It did change and it changed a lot. I think it's a normal thing to happen, and it is by no means easy. One day he's your team-mate, the next he's the manager and still a team-mate, that doesn't happen often. You have to be very mature to understand the situation.

There's a great picture of you dressed as Robin Hood when you were at Chelsea. What made you pose for it? Do today's players take themselves too seriously?
Sid Lemon, Middlesbrough
[Laughing] Oh, why, why? Well, firstly I accepted because it was a charity event and also because it was a very funny thing to do. We had decided with Parma to do this initiative in which we dressed as different characters and it was nice. Times have changed, but I don't know if footballers take themselves too seriously now. It's probably not for me to say.
You were voted Chelsea's best ever player in 2003. Why do you think the fans warmed to you so much?
Roger Cole, Exeter
Listen, to be honest, I still ask myself that question every day! It was an extraordinary thing for me, probably the best prize and recognition that I got in my entire career. I really felt emotional. It was touching.
You received an honorary OBE in 2004. What did you make of it? Did you get to meet the Queen?
Richard Mackay, Bolton
I never got to meet her, but it was incredible. I didn't expect such recognition in a million years. I received the prize in Rome from Britain's ambassador and it was a complete surprise. If you asked me why, I don't know! I guess they thought my behaviour on and off the pitch made me a positive role model.

After Maradona, who's the second best player you've played with?
Nelson Dunstable, Gretna
Fortunately for me there's a large list of names to pick. I've played with someone like Careca, who has never received proper recognition just because Maradona was there. I could say Maldini, Baresi, Baggio in the national team. I played with Asprilla, another extraordinary player. And in the Premier League, Desailly, Poyet, Di Matteo, Dennis Wise... Players of high level.

Is it true that you took Asprilla fishing when he was your team-mate at Parma?
Fabio Fuentes, Maracaibo, Venezuela
It's true. I did take him fishing once. But only once because of how he behaved! He broke all my fishing rods and made a big mess in my boat. One time was more than enough, even if he was a big fan of fishing.
Who's the toughest defender you've played against?
David Tanner, Gillingham
It's a 50-50 between Franco Baresi and Pietro Vierchowod. After a game against both, your feet need loads of ice and anti-inflammatories.
How much truth is in the rumour that Roman Abramovich tried to buy Cagliari just to re-sign you? How close did you get to going back to Stamford Bridge?
Dominick Cook, Ipswich
I've heard that rumour, too, but I can't confirm it. I honestly don't know how much truth there is in it, but what is true is that he has made an official approach to Cagliari to rebuy me.

How envious are you that you didn't get to play in the Abramovich era? How do you think you would have fitted in under Jose Mourinho and alongside the likes of Didier Drogba?
Gordon Mantle, Weymouth
Envious? No, not at all. I'm always happy about what I did and I don't have regrets in my career. My years at Chelsea were very important for me, and even if I didn't win the Premiership, we had great results and I'm very happy about that part of my life. As for the current squad, I don't know how I would have fitted in, but I'm very confident of my capacity to adapt, so I presume I would have definitely settled well under Mourinho too.

You've had a great career, won a number of trophies and played with some top players. So why haven't you written a book yet? What do you think of players releasing books while they're playing?
Martin Tucker, Boston
I guess I haven't released an autobiography because I like to give my best in every thing I do. When I was a player I never felt the real motivation to write a book, let alone a controversial book or a thin book full of press speculations, just for the sake of selling copies. I'm not ruling out the possibility of writing my biography in the future, but if I ever do it, I'd like to publish one that sends a message to the young players, one that clearly states the things that I've learned and could help young footballers to grow up.

We know that you're working with the Italian U21 team, but what do you really do? And what's your goal in football now that you don't play anymore?
Pasquale Torriani, Milan
I'm working as a sort of assistant to Gigi Casiraghi, who is the manager, and [thinks for some seconds], I'm trying to learn, to find out, to understand if I'm capable of becoming a manager in the future. We'll see, it will depend a lot on my own improvement.
As a coach what do you do when you're not happy with a player? I can't imagine you having a go at anyone!
Giles Craig, Colchester
Well, if I ever have to get angry then I can, believe me, that wouldn't be a problem. But I also think that for every problem there's a solution, so if there's a better way to work things out, I'm sure I'll try that first.
Have you been on the phone to Dennis Wise and Gus Poyet, swapping managerial tips?
Neil Addley, Watford
Yes! We call each other quite regularly and have good talks.

Many would argue that Italy is now Europe's third best league after Premiership and La Liga. Would you agree?
Dennis Holt, Grimsby
In the last years, I would agree that Serie A has lost the importance it had, especially if you start comparing it with the late 80s and early 90s. It's also a problem of money, I presume. However, despite everything, the Italian league remains as a world-class league. The facts that we won the World Cup and an Italian team just won the Champions League backs up my opinion.

Everyone knows you're one of football's nice guys, but what's the worst thing you've done? Steal some sweets as a kid? Use your fame to get out of a speeding ticket? There must be something.
Rick Hammond, Gillingham
There's more than something [laughs and laughs]. There's more than something, believe me, but I always try to hide it, not to let anybody know about it. But I'll give you one. One day, I hadn't been selected for a game at Chelsea and I was sent to the stands. I wasn't really happy about it and so I watched the first half and then left at half-time. It wasn't a nice thing to do. And I wasn't very happy about my behaviour.
Who's the next Zola in Italy? Is there one?
Lorenzo Simone, Turin
There are a number of players with a great potential. Some of them are with us in the U21 team, like Sebastian Giovinco [Juventus] and Giuseppe Rossi [Villarreal].w
How much do you miss playing? Are you still in good shape if we want to invite you for a game?
Alberto Mennini, Ravenna, Italy
I still play with friends and sometimes I train with our players, and as long as I have good midfielders willing to run for me, I'm happy to play!

Would you like your sons become football players?
Gianmario Pasta, Turin
As a father, all I want is that they achieve what they really want to do in life. I will not at all influence their choice. I just wish them to have the luck I did because, after all, I did what I always dreamed of doing.
Interview: Martin Mazur. Portrait: Best Photo Agency/Giorgio Giavelli. From the November 2007 issue of FourFourTwo.
Thank you for reading 5 articles this month* Join now for unlimited access
Enjoy your first month for just £1 / $1 / €1
*Read 5 free articles per month without a subscription
Join now for unlimited access
Try first month for just £1 / $1 / €1