How Alexis Sanchez made Arsenal weaker
The big summer signing's success has come at a huge cost, says Chas Newkey-Burden...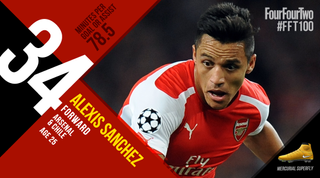 Fan and pundits alike keep asking the same question of stuttering Arsenal: where would they be without Alexis Sanchez? It's a rhetorical question, but Gunners legend Ian Wright delivered the implicit answer on last weekend's 606. He said: "They are mid-table without him."
If you consider it momentarily, it's a compelling suggestion. Alexis is Arsenal's runaway leading scorer with 13 goals; nearest contender Danny Welbeck has netted just five.
The Chilean's tireless, pressing, shorts-pulled-Cowell-high determination has formed an adrenaline-conjuring contrast to his lacklustre team-mates. He has won the admiration of the gallery to whom he plays so hard, and earned a nomination for UEFA's team of the year.
Yet it is also easy to argue that Arsenal would in some ways be better off without the Chilean. True, he has brought goals, gusto and glory. Yet he has also wrought disruption, doubt and danger.
One step forward...
Last season, the Gunners won the FA Cup and led the Premier League longer than any other side, including eventual champs Manchester City. Aaron Ramsey was the offensive heartbeat of that relatively glorious campaign. The resurgent Welshman thrived off Olivier Giroud's selfless labour, which saw the angular Gaul hold up the ball before touching it into the path of the stampeding cavalry.
Another factor was the under-valued contribution of Mesut Ozil. The highly-gifted German is as selfless as they come and a master of both the assist and of keeping the ball, which is why the Gunners became ever more focused on possession football, with all the careful, unselfish passing that requires.
FEATURE: Ozil, Ronaldo and football's distrust of introverts
The diminutive Sanchez is no target man and by instinct he is much more interested in receiving the ball than passing it. "Give it to me and I'll do the rest" could be his mission statement. Such is his determination and courage that it can seem as if he is forever trying to pen a Hollywood script in which he is the all-action hero of undisputed star billing. His forceful charisma means he sometimes intimidates team-mates who imagine a different plot.
The Chilean has displaced Ozil from the heart of Arsenal's play. To accommodate the new £35 million man, Ozil was forced out onto the wing. The sensitive German looked a lost spaniel out there. His shy smile only returned when he was allowed back into the No.10 role at Aston Villa, in the absence of Sanchez, scoring one and assisting another in the 3-0 win.
Many Fabergé eggs in one basket
Ozil and Ramsey have lacked confidence and form this season and both have suffered injuries. Meanwhile, Sanchez has become the team's focal point. He demands the ball loudly. Given his pricetag, stardom, popularity and goalscoring record, it takes a brave team-mate to consider other options. It is as if Sanchez, who was forever expected to be subservient to Lionel Messi at the Camp Nou, covets similarly dominant status at the Emirates.
If only his self-confidence and potency in front of goal were matched by his ability to pass the ball. Unfortunately, his distribution is average: for instance, against Spurs his pass completion was 59%; by comparison, Mesut Ozil and Santi Cazorla each completed 92% of their passes. And that's when he does pass. In contrast to Arsene Wenger's tenets, rather than releasing the ball quickly, Sanchez tends to keep hold of it too long and then loses it in dangerous territory, often with his team-mates committed into supporting him. Little wonder, then, that the Gunners are becoming ever more vulnerable to counter-attacks.
Hints of a clash of philosophy between Wenger and Sanchez showed earlier in the season. At Goodison Park, the manager uncharacteristically withdrew the Chilean at half time. He has dropped him to the bench on a few occasions and selected him for a League Cup clash, which would usually be considered below a player of Sanchez's stature.
Return of the one-man team
Yet he is now at the heart of the action and the Gunners risk becoming that most vulnerable of units – the one-man team. It's fitting that Ian Wright sang Sanchez's praises. Twenty years ago Arsenal were very much a one-man team and Wright was that man. Every bit as effervescent and showboating as Sanchez, he was such a domineering force in George Graham's unit that team-mates funnelled every assault through him. Fans ended up crooning: "And it's I-an Wri-ight, I-an Wri-ight FC…"
Bruce Rioch spent much of his one-year reign at Highbury trying unsuccessfully to diminish Wright's dominance. It was not until the second half of Wenger's first full season in N5, when Wright was injured and a coltish Nicolas Anelka stepped up, that the boss finally released the stranglehold that Wright had, without malice, gained on Arsenal's offensive endeavour.
Ever since then, the manager has prioritised team spirit over A-list stars. Dennis Bergkamp was a class apart and there was talk of 'Thierry Henry dependence' around the peak of the French striker's stay, but both put the team ahead of personal glory. Indeed, just last weekend, Henry told Football Focus that the defining quality of the unbeaten 2003/04 side was the "all-togetherness – everybody was willing to give the ball to the guy in the better position".
When Wenger signed Sanchez there was talk of him becoming Arsenal's Luis Suarez. The collapse in Liverpool's fortunes since Suarez left is a warning cry to any club to distribute their dependence more widely than Brendan Rodgers did last year. So for Arsenal, the hope could be that rather than emulating the Uruguayan, Sanchez will instead become their Eden Hazard – a mercurial wonder who conforms to a wider team pattern.
Although talk of Arsenal being in apocalyptic crisis is hysterical, it has been a disappointing campaign for the fans. But the received wisdom – that without Sanchez the club would tumble towards the bottom half of the table – overlooks the uncomfortable sub-plot of the Sanchez blockbuster.
Quizzes, features and footballing fun
Get the best features, fun and footballing frolics straight to your inbox every week.
Thank you for signing up to Four Four Two. You will receive a verification email shortly.
There was a problem. Please refresh the page and try again.