Ozil, Ronaldo and football's distrust of introverts
Why do fans not take to the quiet man? Chas Newkey-Burden examines the introverts...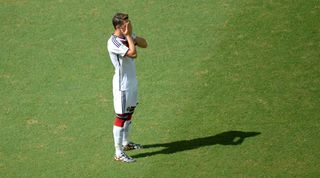 It's just before half-time in the second leg of Arsenal's Champions League qualifier against Besiktas. With the aggregate score line at 0-0, tension is high at the Emirates. Suddenly, a tantalising flick from Mesut Ozil cracks open the visitors' stubborn defence, allowing Jack Wilshere to tee up Alexis Sanchez, who tucks home the winner.
With that Ozil-orchestrated goal, the Gunners secured qualification to the Champions League and the £40 million payday that comes with it.
Yet, as they queued at the Tube afterwards, the satisfaction of many Arsenal fans was tempered by one thing: a consensus that Ozil contributed "absolutely nothing" to the victory.
His crucial contribution to a game of football had been overlooked – as it often has since he arrived on these shores last year. The German playmaker attracts a variety of opinions from pundits in studio and armchair, but they generally agree on one thing: he had a disastrous 2013/14.
Yet Ozil's 'disastrous' season was the sort many players can only dream of. He had a talismanic impact at Arsenal, his very arrival lifting a bewildered club to the top of the league for four months. He won the FA Cup and World Cup, was statistically Germany's key player in Brazil, and remained a guaranteed name on the team-sheets of two of the game's most discerning coaches: Joachim Low and Arsene Wenger.

Meanwhile, Europe's leading assists man of the past five years has seen his pass-completion percentage reach a new high since arriving in London. Some disaster. As Ozil reflects on the vast gap between the level of his contribution and the recognition it receives, no wonder those big eyes of his appear ever more startled at the irony of it.
Football and introversion
But why is the German's input so overlooked? Perhaps the answer lies in an observation of his first coach, Ralf Maraun, who says the first time he met Ozil, the youngster was "very small, quiet, introverted". In her widely-viewed TedTalk (opens in new tab) and bestselling book Quiet: The Power of Introverts in a World that Can't Stop Talking (opens in new tab), Susan Cain argues that 21st-century society undervalues introverts – to its detriment.
Football is showbusiness, but its history includes a tradition of seeming introverts. Pat Nevin, Darren Anderton and Paul Scholes were shy in their stardom. In his younger years, Gareth Bale was described as "painfully" retiring. Leighton Baines missed out on a place in Fabio Capello's squad for the 2010 World Cup because he was deemed too shy and introverted. Had he been picked, he'd have faced Ozil at his devastating best in Bloemfontein.
In football, where flamboyant forwards, crunching midfielders and chest-thumping defenders command our attention, the introvert is easy to miss. Alexis Sanchez forms an instructive contrast to his team-mate Ozil. He plays at a frenzied tempo and makes ostentatious workhorse gestures; he pulls his shorts Cowell-high before delivering a set-piece, and rips his shirt off when he scores. The extrovert Chilean plays to the gallery, and those in the gallery love it.
Historically, at the flamboyant end of the extrovert scale we have likes of Paul Gascoigne, Ian Wright and Rene Higuita, whose neediness formed a symbiosis with the fans. Gazza & Co. needed love and approval to rain over them, and fans were only too happy to shower that love and approval onto such charismatic showmen. Cristiano Ronaldo is more of the same, the glamorous frontman to the Real Madrid ideal of sleek athleticism.
The likes of Ozil prefer to work their magic quietly, often unnoticed. It's probably not coincidental that Madrid president Florentino Perez was willing to let Ozil slip away to north London, and it seems symbolic that the German first truly captured the attention this season in Arsenal's 3-0 win at Villa Park – the first game the limelight-comfortable Sanchez has missed.
Some coaches manage the quieter players better than others. Wenger, at the gentler end of the managerial scale himself, has defended Ozil during his ups and downs in north London. A previous boss of the German, the card-carrying extrovert Jose Mourinho, remains a fan too, saying that every time Ozil is in possession "the ball smiles".
The quiet entertainer
Wenger nailed it when he said recently: "You always see a good Ozil when you watch the game again". There is no doubt that the playmaker has disappointed on occasion since he moved to the Premier League. Yet take the trouble to watch him closely, and you'll be rewarded by a magic show, which would explain why he is held in such esteem by the world's leading coaches.
You'll notice how often he delivers the pre-assist for big goals, as he did against Besiktas. You'll see that, in some of his most crucial interventions, he scarcely touches the ball, gently caressing it rather than kicking it. You'll notice that he rarely looks at the player he is going to pass to, nor offers any hints of his plans with his posture, strategies that are infuriating for opponents. His sleight of foot is truly bewitching.
You'll also come to understand what a selfless player Ozil is. He creates space for his team-mates and makes those around him look much better, paying the price when perceptions of him suffer in comparison. Yet, true to the instinct of the introvert, he wouldn't dream of drawing attention to his contribution.
It is a similar story off the field. His strangely memorable "Ja Gunners, ja!" quip after Arsenal won the FA Cup final was the first time many fans had heard their hero's voice. He dodged reporters at the World Cup finals and largely eschews the sort of endorsements and media appearances the likes of David Beckham, Cristiano Ronaldo and Leo Messi have hungered for. Even his social media presence is thought to be powered more by his family and management than the man himself.
In the heat of the battle we enjoy the showboating superstars, the roaring ringleaders and clenched-fisted captains. But there is room for all types in the game and it pays to cherish the introvert. Ozil speaks few words but, as Ronaldo said of his former Madrid compadre, he is fluent in "the language of football".
Long may he and his ilk do their talking on the pitch. They may sometimes seem more mouse than man, but, whisper it quietly, we'd miss them if they went. For every football squad there are perks to having a wallflower.
Thank you for reading 5 articles this month* Join now for unlimited access
Enjoy your first month for just £1 / $1 / €1
*Read 5 free articles per month without a subscription
Join now for unlimited access
Try first month for just £1 / $1 / €1
Quizzes, features and footballing fun
Get daily World Cup 2022 news, updates and other football frolics to your inbox
Quizzes, features and footballing fun
Get daily World Cup 2022 news, updates and other football frolics to your inbox
Thank you for signing up to Four Four Two. You will receive a verification email shortly.
There was a problem. Please refresh the page and try again.