How do Kipsta make football boots cheaper than their competitors?
FourFourTwo recently took a trip to France to find out how Kipsta design and test their football boots – here's what we found out...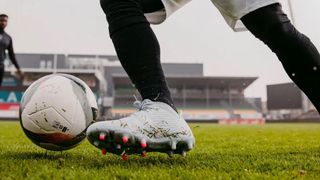 (Image credit: Kipsta)
Kipsta, the football branch of French sportswear giants Decathlon, recently invited FourFourTwo to Lille to see how they design and test their football boots.
We've already done separate articles on how football boots are tested at Kipsta and how they are designed, so be sure to check out those, as well as FFT's reviews of the best football boots of 2022.
This article is about how Decathlon are able to sell Kipsta boots so much cheaper than rival brands - something we were keen to find out during our visit.
To set the scene, Nike, Adidas, Puma, Umbro and others generally bring out new pairs with an RRP of more than £200, with inferior versions released at a cut price later down the line. Meanwhile, Kipsta boots range from between £24.99 and £99.99 (the latter price is for Kipsta's elite Traxium Compressor football boot, to be released in December). Despite the lower price, we found out that Kipsta's football boots are made of similar high-end materials and feature comparable specifications and technology.
It isn't then, as FFT assumed, that the boots are somehow lower in quality. So why are they so much cheaper? Well, the first answer is that Nike, Adidas and the other big brands know that their name carries a certain clout and that people are willing to pay more to have their logo on their footwear.
Yet there is a lot more to it than that. The biggest reasons for the lower cost of Kipsta boots are to do with manufacturing, marketing and the sheer size of Decathlon.
"We design & manufacture Kipsta products to be 3 things: technical, accessible and long-lasting," Charles Lecru, Footwear Product Engineer at Kipsta, explained to FFT. "That means each product we make must satisfy these 3 criteria to be in line with our values. This is made possible thanks to a number of different reasons.
"Firstly, all of our internal processes are integrated - from design to the end-user, via development and production. Secondly, our marketing costs are very low compared to our competitors. Finally, we produce and sell products all over the world, so the quantities involved in this allow us to optimise our costs."
Essentially, Kipsta do absolutely everything in-house, don't spend fortunes on sponsorship deals with players and sell so much sportswear around the world that they can order materials in bulk and save on production.
So, next time you get excited about Kylian Mbappe signing a new, multi-million-pound contract with a sportswear giant, remember that it might end up costing you more next time you upgrade your football boots.
Thank you for reading 5 articles this month* Join now for unlimited access
Enjoy your first month for just £1 / $1 / €1
*Read 5 free articles per month without a subscription
Join now for unlimited access
Try first month for just £1 / $1 / €1
Quizzes, features and footballing fun
Get daily World Cup 2022 news, updates and other football frolics to your inbox