How do you replace a player like Cristiano Ronaldo?
Real Madrid now face life without their greatest ever goalscorer, but do they splash out on a direct replacement or is there another solution? Thore Haugstad explores the Liga giant's options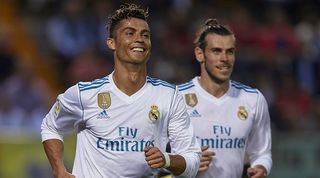 How do you replace someone who's averaged 50 goals a year over nine seasons? Back in 2009, when Cristiano Ronaldo joined Real Madrid, Manchester United learned how hard it can be when they slumped to second place after three league titles in a row.
At that time Ronaldo hadn't even scored that many, at least not compared to his form at Madrid, the club he has left as their all-time top scorer with 450 goals in 438 games. To whomever takes his shirt: good luck, you'll need it.
And so will Madrid. For whereas Ronaldo was the most important part of the United attack, at Madrid he has been the centrepiece of the team for almost a decade; the star around which the other nine outfield players have orbited. Directors have massaged his ego, team-mates have ceded him the lead role. Madrid will not only have to replace his goals, they'll also have to restructure the team.
One can still understand why they sold him to Juventus for €112m (just under £100m), given his strained relationship with president Florentino Perez and his age of 33. But surely they now have to sign a replacement. Or do they?
Waiting in the shadows
That would be the initial conclusion. But it's easy to forget how much talent Madrid have stockpiled, and the extent to which their attackers have spent the last years in Ronaldo's shade, waiting to leap into the limelight.
Especially Gareth Bale. The Welshman wants to win the Ballon d'Or, an ambition that was never going to be fulfilled as long as Ronaldo was around. More than once the 'Cardiff Express' has hit top speed when Ronaldo has been out, such as when he struck several decisive goals in the 2016/17 season run-in. Over the last two seasons, Bale has scored 35 goals in 49 league games, which isn't bad. Perez, who has invested a lot in him, knows what Bale can do when fit and trusted.
Also out wide is Marco Asensio, the 22-year-old wunderkind who hammered in a series of screamers last season. The Spaniard is seen as a future Ballon d'Or candidate, with good reason, and a player of his age and potential surely merits a starting role. As for playmaker Isco, new coach Julen Lopetegui built the Spanish national side around him and will want him involved at Madrid too. With Luka Modric and Toni Kroos untouchable in midfield, Isco will surely be used in a more advanced role.
Madrid still have James Rodriguez too, who is halfway through a two-year loan deal at Bayern Munich. The Colombian playmaker left the Santiago Bernabeu because he was overlooked by Zinedine Zidane, but apparently wants to return now that Zidane is gone. When James is at his best, there are few better around.
Finally, Madrid have striker Karim Benzema. Pull all these players together and you might have enough to fill the Ronaldo void. The concern, however, is the firepower.
Killer instinct
Because Ronaldo did not only score 450 goals, he also gave the team an enormous presence. He lurked in the box, made runs, fought to meet crosses and tested goalkeepers from range. The forwards Madrid have left are fine creators, and some of them might well shoot more often without Ronaldo there. But none of them has his killer instinct.
Symbolic of that is Benzema, who has held down the No.9 role for years because of his link-up play with Ronaldo. The Frenchman hit five goals in 32 league games last season, a scarcely believable number for a Madrid striker, and with Ronaldo gone his value has surely declined. As for Bale, his injury record gives Lopetegui no guarantees.
All of which will surely prompt Perez to sign. He might have done so anyway, given the pride he takes in bringing in extravagant names; a Madrid tradition that goes back to their glory days in the 1950s. They haven't made a big signing since buying James four years ago and, with the Ronaldo cash adding to one of football's healthiest revenue streams, Madrid can now spend big. The only problem is to figure out who they should get.
Tricky targets
For just as Madrid needed a star, target after target has become unavailable. French 19-year-old Kylian Mbappe said after the World Cup final that he'll stay at Paris Saint-Germain, and Madrid have issued two denials about bids for Neymar. The only realistic main target seems to be Eden Hazard, who said this week that he might consider leaving Chelsea. "You know my preferred destination," he told reporters, implying Madrid.
But while Hazard belongs to the top bracket of players, Madrid might worry about his goalscoring rate, especially if they see him as a direct Ronaldo replacement. The dazzling Belgian can start incisive moves from a standstill, yet has never scored more than 16 goals in a league season at Stamford Bridge, which falls well short of Ronaldo's standards.
Thus a ruthless forward might make more sense, with Bale, Asensio, Isco and perhaps James supplying the bullets. The weakest spot, after all, seems to be up front, with Benzema coming off an unproductive season and backup striker Borja Mayoral still only 21 years old.
Among the potential targets, however, Harry Kane signed a new six-year deal with Tottenham in June, while Bayern Munich's Robert Lewandowski turns 30 in August. It's hard to see a straightforward solution.
Perhaps Madrid will consider Inter's Mauro Icardi, the Serie A top scorer last season, although the glitz of that move wouldn't match that of a Lewandowski or Kane coup. The best way might well be to sign the most talented player available, in this case Hazard, and hope that the attackers they have all rise to the occasion. There should be more goals in Benzema, Bale and Asensio than the trio have shown with Ronaldo around; now is their time to show it.
After all, no player can replace the Portuguese No.7 on his own. But if anyone has the collective to pull it off, it is Madrid.
New features you'd love on FourFourTwo.com
Thank you for reading 5 articles this month* Join now for unlimited access
Enjoy your first month for just £1 / $1 / €1
*Read 5 free articles per month without a subscription
Join now for unlimited access
Try first month for just £1 / $1 / €1