How the Cristiano Ronaldo to Juventus deal came together
It began with a deal for a full-back and ended with Juventus signing Real Madrid's greatest ever goalscorer - Adam Digby traces the summer's most astonishing transfer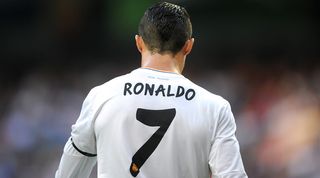 After watching their own side go toe-to-toe with a star-studded Real Madrid, Juventus fans had begun to think they could emerge with a victory, only for the man in the opposition No.7 shirt to declare they most certainly could not. Gigi Buffon had made a save that resulted in a scramble inside the Juventus penalty area, then Dani Carvajal hit a poor cross that looked set to sail over and beyond Cristiano Ronaldo.
Then, in the most resounding possible manner, he decided it wasn't.
Launching himself into the air, the Portuguese megastar delivered a sensational overhead kick, getting a cleaner connection with the ball than most players can when standing upright. It crashed into the back of the net, leaving everyone inside Juventus Stadium reeling in stunned silence, barely able to comprehend what they had just witnessed. Then, they simply stood and clapped.
A standing ovation from the 41,000 people in attendance was, at the time, merely a footnote in a match that saw Real Madrid and Ronaldo run out 3-0 winners. He had opened the scoring in the third minute, and in the second leg of this Champions League tie he would eliminate the Bianconeri courtesy of a 97th-minute penalty.
While that quarter-final marked the end of Juve's participation in UEFA's elite competition last term, it seems it may now have been the beginning of this summer's most shocking transfer story. It started out as a strange but unbelievable rumour, yet one that proved to be true and which might well alter the landscape of the sport in the same emphatic manner that Ronaldo's stunning goal decided that game back in April.
How did it happen?
Last month, Juventus agreed to a €40m deal with Valencia for full-back Joao Cancelo and it now appears that during those negotiations, the defender's agent Jorge Mendes delivered the news that his most famous client was also interested in wearing the club's black and white stripes.
"Cristiano Ronaldo was the first to believe in this deal, the first to get it going, he chose Juventus," the Bianconeri director general Beppe Marotta explained to the CorrieredellaSera this week. "When we realised that we could take this opportunity, the shareholders agreed to support the club. I insist, it was a great team performance. It all started when we were negotiating for Cancelo and we want to express maximum satisfaction and happiness at signing Cristiano, and his decision to join Juventus."
Having learned that the 33-year-old was open to the move, Marotta – along with sporting director Fabio Paratici and vice-president Pavel Nedved (both below) – knew he would need to speak to the club's board if they were to turn this dream into a reality. Prior to the move, their record transfer was the €90m paid to Napoli for Gonzalo Higuain, while the Argentinian striker was also their highest earner with a salary of €7.5m after tax.
Real Madrid supremo Florentino Perez had made a "gentleman's agreement" with Ronaldo that he could leave for €100m, but the player wasn't offering Juve a discount. Wages of around €30m per year after tax and a four-year contract should've put him out of reach for Juve, but Marotta, Paratici and President Andrea Agnelli were not about to pass up such an opportunity.
They worked for days to secure a deal, first checking that Perez would honour the price he had agreed with Ronaldo and then talking over personal terms with Mendes. With that all done, Agnelli took a private flight from Pisa to Kalamata in Greece where the player was holidaying with his family, toasting a deal that was previously unthinkable.
Justifying the outlay
"We've got to become more mainstream, more pop," Agnelli had said when he addressed the a shareholders meeting last year when the club unveiled its new logo. "We have new targets who are not your classic football fan: millennials, women and kids. We have to ask ourselves what is the little girl in Shanghai and the millennial in Mexico City thinking?"
It seems he decided the answer to that was: "Who does Cristiano Ronaldo play for?"
Going back to those same people and asking them to accept that after years of reporting a profit on the balance sheet – thanks to meticulous planning and careful, organic growth – Juve would now go into the red.
Paying for Ronaldo will represent short-term losses in return for potentially huge long-term growth. If Paris Saint-Germain received a 22% increase in social media engagements after signing Neymar, then Juve can expect the same given that (at the time of writing) they had 10 million followers on Instagram while their new No.7 boasted an incredible 134 million.
They will also expect that to translate into cold hard cash, the club's online store crashing on Wednesday evening and remaining offline throughout Thursday, while the Juve Store in Milan sold one Ronaldo shirt per minute during its first day's trade after the deal was announced.
The latest Deloitte football rich list saw Juventus rank 10th in the world despite revenue growing by 125% over the past five years, but they can realistically expect to leapfrog those immediately ahead of them (Liverpool, Chelsea, PSG and Arsenal) after completing this deal.
The ripple effects of signing Ronaldo have already begun to take hold as the club's share price rose by 34.8% between Monday July 2 – when the rumours of a move first emerged – and Tuesday July 10 when it was confirmed.
Why Juventus?
The idea that Ronaldo was 'not feeling loved' at the Bernabeu is one that has lingered for a number of years, and the player clearly believed Perez had become indifferent towards him. So much so that he has walked away from Madrid with three years left on his contract for a completely new challenge in an environment he has never experienced.
Juventus don't need him to win in Serie A, as their monopoly on the title over the last seven seasons clearly shows, but in the Champions League it has been a different story. They may have eliminated Real in 2015 and Barcelona two years later, but their European efforts in recent campaigns have constantly found them wanting against the very best.
In each of the last two years it has been Ronaldo himself who has ousted the Bianconeri, scoring twice in the 2017 final and last season with that aforementioned overhead kick and penalty. The Old Lady will now hope that, with CR7 swapping sides, that they are finally the ones holding all the aces.
Sales – most likely including Gonzalo Higuain, Daniele Rugani and a number of other fringe players – will certainly follow as Juve look to offset the cost, but more than anything they will be hoping to end what is now a 22-year wait for Champions League glory.
"I think it's a very important signing, which marks a step up for everyone at the club," coach Max Allegri told reporters this week, adding that he believed, "The club and President have done something extraordinary for Juventus."
They certainly have, and now it will be up to Allegri to plot a path back to the Champions League final, which next season will be held in Madrid. Given his love of capturing as much attention as possible and in the most dramatic scenarios, could there be a more fitting stage for Cristiano Ronaldo to deliver for his new club?
New features you'd love on FourFourTwo.com
Thank you for reading 5 articles this month* Join now for unlimited access
Enjoy your first month for just £1 / $1 / €1
*Read 5 free articles per month without a subscription
Join now for unlimited access
Try first month for just £1 / $1 / €1