How Jesse Lingard emerged from the shadows and became the heartbeat of Gareth Southgate's new England
For years of his development, the Manchester United man was a fringe figure; adaptable but undefined. But no longer, writes Richard Jolly...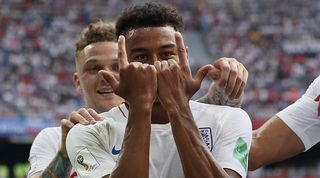 By the time that the Panama defence saw him, it was too late. Jesse Lingard had appeared unchecked in their penalty area. Having belatedly noticed him, Fidel Escobar fouled him. The resulting spot kick brought the first goal of Harry Kane's hat-trick in England's 6-1 rout. Lingard scored the best goal, a curling 20-yard shot that nestled in the top corner, but his role in Kane's first goal was the most symbolic.
He had ghosted in unnoticed. He is the late developer, the man who was slow to emerge and now seems to have such momentum that he is hard to halt. He is England's 25-year-old wunderkind, actually five months older than Romelu Lukaku yet seeming younger because his physique stunted his progress for years.
"He was always small and a late developer," said Michael Keane, an FA Youth Cup-winning team-mate at Manchester United in 2011. The sense can be that Lingard has surprised everyone except those who actually knew him. "I always thought he had a chance," Keane added. "Sir Alex Ferguson always said he wouldn't be ready for the first team until he was 23 and he was spot on."
Keane stayed friends with Lingard after he left Old Trafford first for Burnley and then Everton, but neither was among the stand-out talents of that precocious team. Keane namechecked Paul Pogba, Ravel Morrison and his brother, Will. For very different reasons, Lingard has outstripped two of them.
In the background
But then he is often camouflaged by team-mates. A memory is of several of us journalists grouped around Lingard after United's Europa League win over Anderlecht 14 months ago. After a token question about him, the line of enquiry switched to Marcus Rashford. The striker was bigger news. Lingard was once commandeered for a post-match interview after a game when he had the briefest of cameos, but when his friend had starred. He was, in effect, Rashford's chaperone.
Once again, his own attributes were obscured. He was only Jesse Lingard, the man who had lingered in the background for years. He has been on United's books since he was seven. The childhood pictures with Jaap Stam, Phil Neville and Fabien Barthez form part of the montage, but his was no Rashford-style surge to stardom. The £100,000-a-week contract that United awarded him last year provoked the predictable social media outrage. "Madness," was one verdict. Once again, Lingard was underestimated.
It has been a recurring theme – and perhaps even he has been guilty of it. Manchester United's coaches were telling him to believe in himself more in 2013. He was the top scorer on David Moyes's pre-season tour of Asia, and then dispatched out on loan. He began Louis van Gaal's first league game and struck on his second start, but they were separated by 15 loan- and injury-interrupted months. When he scored against West Brom, Dele Alli had just been called up for England after only four top-flight starts. Van Gaal said it was "much too early" for the national team to summon Lingard, who is 40 months the Tottenham player's senior.   
His first United goal was watched by his mother, father, brother and girlfriend. In typical Van Gaal fashion, a supposed tribute to the scorer was laced with criticism. "We need speed and creativity on the wings," he said. "Jesse Lingard is not the most speedy winger in the world."
Finding his place
It highlighted a recurring question: what was Lingard? He has stated that his favourite position is as a No.10. He has played as a second striker, a left and right winger, a wing-back and even, in Jose Mourinho's words, a "fake right-back" to chase a game at Selhurst Park.
Adaptable and amiable, he seemed the stereotypical squad player, forever offering options but few compelling enough to start him. But that has changed over the last 12 months. Lingard leapfrogged Rashford, Anthony Martial, Juan Mata and Henrikh Mkhitaryan in the United pecking order with a winter run of eight goals in 10 games. He was an unused substitute in each of England's June 2017 games. Now he is an automatic choice. If injuries to Adam Lallana and Alex Oxlade-Chamberlain helped create an opening, Lingard darted into it.
His career has gathered pace because of his running power. "He understands better the game, the different spaces, the different positions," said Mourinho in January. The Portuguese values players with tactical discipline. Gareth Southgate's fluid formation, meanwhile, required someone who could run ahead of the ball. "Jesse is fantastic at recognising space and working away from the ball to provide a great link between midfield and attack," the England manager said earlier this month.
While former United coach Rene Meulensteen, who tried to buy him for Fulham, said Lingard reminded him of Andres Iniesta, there is a marked difference. Iniesta operates with the ball. Lingard runs without it. He completed 31 passes against Panama and just 27 against Tunisia; Iniesta averaged 70 in Spain's group games. Instead, Southgate and Mourinho have found a way to get a fine finisher into the penalty area. He has had as many shots as Kane at this World Cup.
He was afforded the same tribute by Southgate, his substitution against Panama a recognition of his importance. The manager greeted him with almost paternal pride when he came off, sparing his legs for stiffer tests.
SEE ALSO
STORY How tragedy, reggaeton and rapping make Colombia's Juan Fernando Quintero the most unlikely star of World Cup 2018
LIST 9 World Cup squads that spectacularly imploded mid-tournament
Along the way, Lingard has appealed to two very different managers: the confrontational Mourinho and the mild-mannered Southgate. A selfless, hard-working attitude on the pitch is a major reason, but his personality helps. There is the contrast between his mumbling presence in front of the microphones and the bubbly social-media persona of 'JLingz'; the latter is probably the real Lingard. "He is a naughty but funny guy," Mourinho explained earlier this month. "He is the funny one that doesn't disturb the class. He is the funny one that the teacher isn't upset with."
Quite the opposite. Lingard can seem the teacher's pet. He is the personification of Southgate's England: new, energetic and capable of delivering on the global stage. Three years ago, he delivered the only win that Southgate's under-21 team mustered in an underwhelming European Championship campaign. The two midfielders he brought off the bench that day were Lingard and Ruben Loftus-Cheek. Three years later, they were the No.8s in England's biggest World Cup win.
Back then, Lingard seemed the man for the small occasion; prolific in pre-season tours but a fringe figure. Now he is the man for the big occasion, the scorer in Wembley finals and World Cups. The physique that held him back is now powering him forward. Finally, Jesse Lingard is being noticed.
Quizzes, features and footballing fun
Get the best features, fun and footballing frolics straight to your inbox every week.
Thank you for signing up to Four Four Two. You will receive a verification email shortly.
There was a problem. Please refresh the page and try again.