How tragedy, reggaeton and rapping make Colombia's Juan Fernando Quintero the most unlikely star of World Cup 2018
By Rupert Fryer published
Colombia's mercurial playmaker lost his 'disappeared' father aged two and almost fell out of love with the game, but has dazzled fans early on at Russia 2018. Rupert Fryer on an extraordinary tale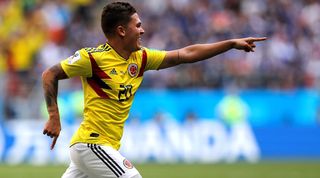 They said Juan Fernando Quintero was ready to give it all up.
Lost in a world that appeared to no longer have a place for him, he'd decided that a career in music could offer a greater vehicle for his artistic expression. He was castigated for showing more interest in nights out with Colombian singer Maluma and appearing in reggaeton videos than he had for his profession. They said he just didn't care enough.
Quintero is distrustful of media and rarely speaks about that period of his life. Asked to discuss it in April, he merely replied: "I experienced difficult things... life things, the people closest to me know all about it." When prompted to be more specific, he shot back: "I won't talk about it. I was to blame. It's behind me."
But his story runs much deeper.
The disappeared
Born in Medellin in 1993, 'Juanfer' was raised during a period of cartel-rule and a drug war that was tearing 'Locombia' apart.
"The Colombian military received record amounts of aid from the US government under the pretence of fighting the drug war," says Brenda Elsey, Professor of Latin American History at Hofstra University. "The result was a high number of civilian deaths and disappearances."
Quintero was two years old when his father was 'disappeared'. Human rights organisation Vidas Silenciadas state that Jaime Enrique Quintero Cano was sent off in a van following a fallout with a superior shortly after arriving for military service. He never reappeared.
"There have been two decades of searching and of asking the state to tell us where he is; 20 years of sailing in a sea of impunity," said Jaime's sister (and Juan's aunt) Silvia in 2015, as the family commemorated Jaime's life and disappearance. She is now director of Corporacion Proyecto DES, an organisation that offers support to the families of victims.
It is no huge surprise, then, that it was around this time that Juanfer became disillusioned with a football career that had stalled. A lost mega-money move to Arsenal after impressing for Porto is said to have plunged him into something of an existential crisis. Perhaps it was time to try something else?
No time for tens
Quintero had been under attack long before his career even began. Contemporary football had declared war on his kind by developing a sport of super-athletes who now cover more than twice the amount of ground they did when the first World Cup was beamed live around the world in 1970.
The overall standard of the game is higher than ever, but some things were lost. Classic No.10s like Quintero are now relics of the past; found only sparingly in countries such as Argentina, where their cultural significance has slowed extinction.
Football is now played at lightning speed with fierce intensity. There is no longer time for LaPausa, when the cerebral, artisan protagonist collects possession between the lines and stops to survey his surroundings.
A stocky, 5ft 6in all-left-footed playmaker, Juanfer is a throwback. He's flawed, intriguing, mysterious and infuriating. In a sport where players have been media-trained to within an inch of their humanity, Quintero is three-dimensional – one of us, rather than one of them.
In 2017, he wandered back home looking to start again, and joined Independiente Medellin on loan from Porto after making just 13 appearances in a year. Though he denies he was ever really ready to chuck it all in, it was a move that would define his footballing future. He would either find his feet, rediscover his form and his love of the game, or find what he was looking for elsewhere. Thankfully it was the former, and Argentine giants River Plate came calling.
Upon his January loan arrival in Buenos Aires this year, Quintero dismissed claims that he was overweight by countering: "I just have a big bum." River coach Marcelo Gallardo wasn't convinced, however, and his new player started and finished just two of his 13 league appearances in 2018. That Quintero said he had to adjust to the creeping pace of modern Argentine football said it all.
A dying breed
Juanfer is everything but an athlete. His mercurial talent and footballing intelligence saw him earmarked as a childhood prodigy at the prolific Envigado Futbol Club which produced the likes of Fredy Guarin, Gio Moreno, Dorlan Pabon and James Rodriguez.
At just 12 years old, Qunitero once lectured his coach at half-time, insisting on a tactical switch. He won the argument. Then he won the game with two second-half goals. "Already, he was bold and brazen," that coach, Jorge Betancur, told El Espectador. Quintero was more than that. He was hardened.
His frequent cameos with River earned him a recall to the national team in March, having played no part in qualification for Russia 2018. With it, he ended a two-and-a-half year exile when he came off the bench to inspire his side's equaliser against France, before sealing a 3-2 win. "Football is giving me another chance, that feeling of being useful again," he told Olé last month.
On Tuesday, with James struggling to overcome muscle fatigue, the 25-year-old was given another chance. Back at a World Cup, four years after his neatly taken goal against Ivory Coast crowned a tournament that attracted scouts from all over Europe, Quintero produced the highlight of the match. His magical free-kick, cheekily rolled underneath a leaping Japanese wall, will also go down as a highlight of the tournament.
"The magician pulled his best trick out of the hat, deceiving the goalkeeper, the crowd and even almost fooling the goal-line technology," said Colombia's El Tiempo. A disappointed Quintero, meanwhile, sighed: "We must raise our heads and start from scratch."
Quintero didn't complete 90 minutes, naturally, and was withdrawn for James after an hour as 10-man Colombia went down 2-1.
But he started again in Los Cafeteros' glorious 3-0 win against Poland on Sunday, this time alongside James, and set up Radamel Falcao with a visionary through-ball for the second goal.
Clearly, he has a big role to play. Quintero isn't ready to give it up just yet.
Thank you for reading 5 articles this month* Join now for unlimited access
Enjoy your first month for just £1 / $1 / €1
*Read 5 free articles per month without a subscription
Join now for unlimited access
Try first month for just £1 / $1 / €1