How Liverpool can stop Cristiano Ronaldo
As Liverpool gear up to face European champions Real Madrid, Thore Haugstad assesses how Brendan Rodgers can possibly hope to stop CR7 at Anfield...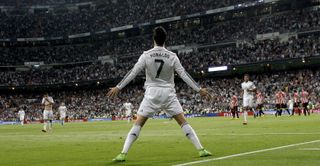 How do you stop Cristiano Ronaldo? The mere prospect of trying to find out can fill the body with anxiety, fear and exasperation. And if that is true for a writer, imagine being a manager.
CR7 IN 2014/15
Real Madrid 2-0 Sevilla (2 goals)
Real Madrid 1-2 Fiorentina (1)
Real Madrid 2-0 Cordoba (1)
Real Madrid 1-2 Atletico (1)
Real Madrid 5-1 Basel (1)
Deportivo 2-8 Real Madrid (3)
Real Madrid 5-1 Elche (4)
Villarreal 0-1 Real Madrid (1)
Ludogorets 1-2 Real Madrid (1)
Real Madrid 5-0 Athletic (3)
Levante 0-5 Real Madrid (2)
Ahead of the Champions League clash with Real Madrid at Anfield, Brendan Rodgers will know Ronaldo has struck 17 goals in his last nine club matches.
Twice has Ronaldo failed to score for Real Madrid this season – both in the Supercopa de España against Atlético Madrid in August – and each time fitness issues limited him to 45 minutes.
That is unlikely to happen now and, given his current form, planning for confronting him can seem akin to anticipating a tropical storm: you know what's coming, but you can only limit the damage.
Is it quite that bad? Well, not entirely. Ronaldo's best games have either come against teams expected to struggle – Deportivo La Coruña (three goals) and Elche (four goals) – or sides out of form, such as Athletic Club (three goals). The worry for Rodgers is that Liverpool belong to the second category.
Sunday's fortunate 3-2 win over QPR convinced few and, if your backline makes Bobby Zamora look like Didier Drogba, facing Real Madrid can prove problematic.
In his search for improvement, Rodgers may be wise to study teams that have limited Ronaldo's influence.
Admittedly, no side has stopped the Portuguese from scoring since the Super Cup but, if Liverpool can emulate Villarreal in restricting him to two shots, their chances of becoming the first will be good.
The explosive forward has also broken through enough defences this season to leave behind a clear behavioural pattern, from which lessons can be learnt.
Defend deep, stay tight
During José Mourinho's days in Chamartín, Ronaldo evolved into the game's best counter-attacking player. He still is. Besides an Olympian acceleration, his focus and quick reactions make it necessary for Liverpool to mark him even when they are in possession. If not, transitions can be fatal. Like a shark smelling blood, Ronaldo will surge forward before defenders have managed to turn.
Positionally he is something of a second striker. Carlo Ancelotti has settled on a 4-3-3 that becomes a 4-4-2 without the ball, in which Ronaldo, freed of defensive duties, lurks behind Karim Benzema.
In transitions, he attacks the space between the right-back and the centre-back. Failing that, he drops between the lines to run at the defence. In the 5-0 win at Levante on Saturday, Ronaldo broke quickly to carve out two good opportunities within the fourth minute.
The recipe for countering this, of course, is to defend deep and stay compact. Few teams master this like Atlético Madrid, whose performance in normal time of last season's Champions League final makes a good example. They offered Ronaldo little space and, while the Portuguese was still dangerous inside the box, the danger he created from the left was limited to two long-range shots.
There was also another element to that achievement. Ronaldo, of course, is also a threat from more established play. Grant him too much room and he will cut inside on his right foot to fire off rockets or dribble through. Examples this season include his goal against Córdoba and Saturday's solo run against Levante.
One mechanism used by Atlético here is to shuffle a central midfielder towards the right.
In Diego Simeone's extremely narrow 4-4-2, the central midfield duo can go wide to help create a three-versus-two situation against the opponent's winger and full-back. In the Champions League final, Gabi performed this role while Thiago focused on the central zone.
Stop the deliveries
Then comes the threat from inside the box. An increasingly common feature of Ronaldo's game is to convert crosses. The 29-year-old has evolved from a winger into something of a poacher, for whom off-the-ball movement, timing and finishing are chief qualities. He participates in build-up play from his customary left-wing position but, once the ball travels down the right, Ronaldo storms into the area. Examples were his hat-trick against Athletic and his 12-yard header from Álvaro Arbeloa's cross at Deportivo.
While the service can come from the full-back, the more likely outlet at Anfield will be right winger. Unlike on the left, where Ronaldo usually receives short passes when wide, his counterpart on the opposite side often receives longer diagonals that shift play. When this happens the opposition team shuffle across. Doing the same will be Ronaldo, awaiting the delivery. This combination occurred twice against Athletic, though if James Rodríguez plays, the crosses may be swung in from a deeper position.
This is difficult to stop. Ronaldo's movement and focus is extremely sharp and he comes in at full speed. (This is why he is more efficient as a winger than a pure forward.)
The best option may be to defend crosses vigorously, like Villarreal. Another is to tackle aggressively in wide areas, like Córdoba, to prevent deliveries from coming in.
Risks for Rodgers
Whether Liverpool will focus solely on stopping Ronaldo is doubtful. Rodgers is not renowned for sacrificing his attacking principles and is unlikely to adopt Simeone's game plan, even for one night only.
The Reds had success last season in steamrolling opponents with high pressure and intensity. If that plan is redeployed, spaces for Ronaldo are destined to appear.
That leaves certain challenges. The defenders must be careful in pushing too high up; they must react immediately to quell transitions if the ball is lost in midfield; they must defend crosses and track Ronaldo's agile movement; the central midfielders must help out in wide areas; the left side must stop the deliveries; and, on the opposite side, the right-back must have a very good game indeed.
Best of luck.
Liverpool vs Real Madrid LIVE ANALYSIS with Stats Zone
Thank you for reading 5 articles this month* Join now for unlimited access
Enjoy your first month for just £1 / $1 / €1
*Read 5 free articles per month without a subscription
Join now for unlimited access
Try first month for just £1 / $1 / €1
Get FourFourTwo Newsletter
The best features, fun and footballing quizzes, straight to your inbox every week.