How Rafa's defensive Real Madrid are struggling to find balance
Lee Roden isn't convinced by Los Blancos' mixed bag under Benitez so far – and points out how he could get it right...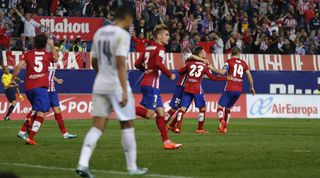 Real Madrid have a problem. While dropping points in the Madrid derby is a theme that stretches back some three seasons now, the manner in which Los Blancos conceded the high ground in their 1-1 draw at the Vicente Calderón on Sunday confirmed a much more pertinent issue. After nine official games with Rafa Benítez in charge of his boyhood club there have been three draws, with Madrid having failed to score in two of them.
The evidence is there: Benítez's side have big issues with balance. It goes without saying that Benítez is a pragmatic coach, and he would likely point to exceptional defensive numbers as an early achievement of his era at the Bernabéu. With seven league games played, his team have conceded only two goals, the best record in La Liga. It's a small fraction of the nine shipped by Carlo Ancelotti's version with the same number of rounds played last year, and shows that, in one aspect of play at least, there has been an improvement.
Menace in midfield
On Sunday evening at the Vicente Calderón that shift was made clear by the regularity with which Madrid won battles in midfield, beating Atlético at their own game by showing more aggression and assertion when stepping up to kill moves before they had a chance to gain momentum.
In the opening half in particular, Tiago, Gabi and Óliver all found their passing lines repeatedly shut off. Youngster Óliver, the better dribbler of the trio, was crowded out quickly when he received the ball on the turn. That had a positive effect on the Madrid defence, as it reduced the quality of ball from the midfielder through to Atleti's forwards trying to reach Keylor Navas's goal. Raphael Varane looked particularly comfortable tracking Fernando Torres's movement, his consistent anticipation suggesting detailed, accurate instructions on how Atleti would try to release the former Chelsea striker.
All of the positives for Madrid when out of possession were contrasted by their poor play while in it, however. Attacking moves were predictable: rarely did they end in a quality through-ball that could split Atlético's lines. Aside from Dani Carvajal's assist for Karim Benzema's opener, crosses were ineffective, yet that option was continually abused. So too were attempts to release Benzema behind the home back four. Despite José María Giménez tracking the Frenchman stride for stride, Madrid kept trying to force that approach, to no avail. The old quote that insanity is repeating the same thing over and over again and expecting different results springs to mind. On the football pitch, it's just a sign of inadequate coaching, players not handed enough attacking variety by the person whose job it is to instruct them.
Weak positives
Sunday wasn't Madrid's first monotonous outing of the season. Anyone who watched Los Blancos' penultimate game, a 2-0 Champions League win over Malmö, would have noted the same issues in their play while on the offensive. Despite playing against inferior opposition in Sweden, the 10-time winners struggled for quality in the final third; their opener coming from a counter-attack and second arriving after Malmö went down to 10 men. At the Vicente Calderón, against a higher standard of opponent and one that by extension is less prone to conceding chances through their own errors, the lack of creativity proved costlier. Benzema's goal aside, Jan Oblak was only asked to make a solitary save on the night.
Considering they had led within 10 minutes and then gone out in a whimper, positives were hard to come by for Madrid. In an attempt to find some, Marca looked to midfielder Casemiro, calling him "the owner of the midfield" on Monday morning. In reality, however, the Brazilian's game was a reflection of his team's in general: it featured many things done very well, and just as many done badly. Defensively he was undoubtedly a force, robbing Yannick Ferreira Carrasco with authority, and proving to be the player who coped most adequately with Ángel Correa, who was the Colchoneros' best attacker on the night.
On the ball though, Casemiro was far from perfect. Passes were overcooked, most notably when attempts to switch play fell behind Carvajal who wasn't in the position the midfielder presumed him to be, or on other occasions they went straight back into Atlético's hands. Some of those concessions allowed the home team an opportunity to break, although Diego Simeone's side were equally inept in attack.
Troubles in attack
In a game where high quality offensive play was rare, it isn't a surprise that a swashbuckling defensive midfielder stood out, but Casemiro towering above his team-mates in the eyes of the public isn't something for Rafa Benítez to celebrate. With an enviable amount of offensive quality at their disposal, the Spanish giants should be far less predictable than they have been. In all likelihood they will need to be, considering the current La Liga season is one in which the middle rung teams are performing exceptionally well.
Benítez mentioned the phrase 'counter-attack' 10 times in his post-match press conference, but the Spaniard should worry less about playing on the break and more about what his team can come up with when they are asked to break opponents down themselves. That challenge is one that stretches all the way back to the Jose Mourinho era at the Bernabéu; Carlo Ancelotti partially solved it, and now Benítez needs to find his own answer.
It may have already reared its head. Offensively, the away team's most consistent player on Sunday was Luka Modrić, although his quality was somewhat masked by the sub-standard play around him. Against a backdrop of predictability, the Croatian was the one midfielder who looked inspired, taking on opponents to win fouls and mixing up his positioning and passing. If Benítez can try to get that man on the ball more often and hand him a more pivotal role, the Spaniard may find that Madrid look less robotic and rivals have a tougher time figuring them out in turn.
Quizzes, features and footballing fun
Get the best features, fun and footballing frolics straight to your inbox every week.
Thank you for signing up to Four Four Two. You will receive a verification email shortly.
There was a problem. Please refresh the page and try again.