How sorry Swansea City became middling also-rans from model club
Once renowned for their attractive football in the top flight, the club now look settled as mid-table Championship strugglers with low prospects. Daniel Storey asks: what happened?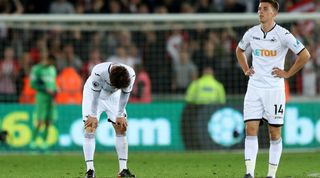 Sometimes looks can be deceiving, but occasionally you can glance at the cover of a book and understand precisely what is contained within. With 14 games of their league season remaining, Swansea are the Championship's mid-table team. They have won 12 matches and lost 12 matches. This is a club looking neither up nor down, but in on itself with an air of scrutiny.
It is no compliment to Swansea that it already feels like years since they played in the Premier League; it is nine months ago this week. On March 3, 2018, Swansea exhaled their final Premier League breath, beating West Ham 4-1 at the Liberty Stadium to move up to 13th. They would take three points from their final nine league games.
So much had this club lost its unique selling point that relegation barely caused a murmur outside south Wales. Premier League supporters might still check in on Stoke City or West Brom in the Championship, but Swansea? They have fallen furthest from the radar.
In search of the Swans' Way
There was once a Swansea Way. Not something vague and ethereal, nor invented by a marketing bod to improve the club's brand, but tangible enough to fully justify that capitalised 'W'. It meant passing and pressing football that drew flattering comparisons with some of Europe's best.
Swansea's managerial appointments and player recruitment followed a path that ran through the club like an aorta. It was, Swansea reasoned, the only way that this provincial club could consistently punch above their weight and enjoy the greatest period of sustained success in their history.
Swansea had been given due warning of their relegation. Unlikely escapes were completed in 2015/16 under Francesco Guidolin and 2016/17 under Paul Clement. But there is only so long you can delay the inevitable slide, and the wheels were greased by a period of disastrous recruitment.
Market mistakes
No Premier League team was less successful at buying players over their final three top-flight seasons than Swansea. If re-signing Andre Ayew and Wilfried Bony on bumper contracts for more than £30m combined wasn't bad enough, Swansea also spent £32m on signing or loaning Sam Clucas, Roque Mesa and Renato Sanches in the one area of the pitch that already had cover. With then-club record signing Borja Baston already loaned out after abject failure, Swansea were defensively flimsy and blunt in attack.
Steve Kaplan and Jason Levien, Swansea's American majority shareholders who purchased their stake in the club in 2016, deserve plenty of flak. The pair prefer to stay Stateside and yet have ultimate control over decision-making. To coin a phrase from US sport, their decision batting average has been pitiful.
If the owners are still in place, chairman Huw Jenkins suffered a more sorry fate when his exit was announced earlier this month. Jenkins presided over the most successful spell Swansea City has ever known, pulling a club up by the bootstraps and into the sun. But he too lost his way. If Kaplan and Levien needed an experienced middle man to impart his experience and knowhow, Jenkins fell far short of minimum expectation. He considers the decision not to bring Brendan Rodgers back to the Liberty Stadium in 2016 as his greatest mistake, but this is death through a thousand self-inflicted cuts.
Mistakes are made. Decisions are hard. There is no handbook to running a football club and outside the financial elite errors are far harder to atone. One or two missteps can alter the journey irrevocably. But what is most disturbing about Swansea City's plight is that lessons have repeatedly been ignored and second chances wasted. Relegation from the Premier League, with broadcasting revenues secured and parachute payments bestowed, can allow for the hard reset that can reinvigorate a smart club to go again. After relegation, Kaplan and Levien insisted that their "full focus" was on immediate promotion.
Firesale
The pair also conceded their mistakes in recruitment, and commitment to change. "Our recruitment strategy hasn't been good enough, we all recognise that and the blame for it ultimately rests with ourselves. But we are taking steps to rectify that and we will be bringing additional resources to that department during the summer in a bid to change and strengthen the way we operate."
Constructive words followed by destructive actions that speak at a deafening volume. Since the end of last season, 16 first-team players have left the Liberty Stadium including Mesa, Clucas, Federico Fernandez, Lukasz Fabianski and Alfie Mawson for transfer fees totalling over £40m. In response, Swansea have signed four players for transfer fees, only two of whom cost more than £1m. Does that sound like the full focus is on promotion, or a firesale?
On the final day of the January transfer window, a month in which Swansea clearly needed reinforcements but failed to recruit a single player, the club's owners ummed and ahhed about selling a young winger to Championship rivals Leeds before pulling out at the (literal) last minute over concerns about supporter mutiny. It doesn't scream long-term planning and foresight.
In a recent interview with the Guardian, Swansea's owners once again admitted that they had made mistakes but were committed to putting them right. But the point is this: if so many errors are being taken over such an extended period of time, you either aren't cut out for the task or you need to delegate to those who are. Supporters appreciate honesty, but it must be matched with palpable improvements. The fear is that Kaplan and Levien are becoming the owners who cried wolf.
The silver lining
Amid such dismay, Graham Potter is the jewel in Swansea's crown of thorns and probably keeping the club together. Despite his new squad being decimated over the summer, Potter has affiliated Under-23 players into the team and kept Swansea punching above their weight again. His forte lies in creating a team far greater than the sum of its parts. Swansea are level on points with Aston Villa. Compare the two squads and raise your eyebrows.
But Potter is being asked to make a silk purse from a sow's ear, and he cannot cope with the spending of those far above him in the table. He may well stick around to see what Swansea's owners afford him this summer, but Potter's stock is high. The frank conclusion from some Swansea supporters is that their club does not deserve him.
There is a karmic element to Swansea's fall from grace. In 2016, Swansea's supporters' trust – that owns 21% of the club – angrily accused Jenkins of selling the club's soul without sufficient consultation when he cashed in his shares and sold to Kaplan and Levien. Ever since, the Trust have felt sidelined by the American owners. When you actively ignore the people that matter, don't be surprised when the house of cards topples and tumbles.
But, and as ever, it is those supporters who lose out most. If Swansea's abandonment of their core principles did not signal the immediate end, the Swans-song began then. While the most successful clubs were all working towards establishing a defined identity, Swansea were actively shaking theirs. Recruitment is never easy, not for a club of their size. But it's far better to stand for something than stand for nothing at all.
SEE ALSO... What happened to Adriano? The dark story behind Brazil's party boy who could have been a great
More features you'd love on FourFourTwo.com
Quizzes, features and footballing fun
Get the best features, fun and footballing frolics straight to your inbox every week.
Thank you for signing up to Four Four Two. You will receive a verification email shortly.
There was a problem. Please refresh the page and try again.