How US football is moving from the white suburbs to the mainstream
Soccer moms in pasty-white suburbs? That's still the Stateside stereotype, says Manny Otiko - but the game is crossing over to other ethnicities and gaining ground on rival sports...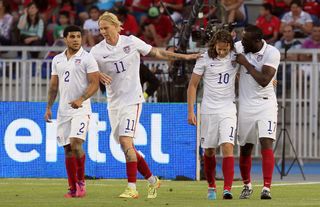 The United States is no longer a soccer desert. Cable TV carries all the English Premier League games, while MLS is attracting global stars like Kaka, Steven Gerrard and David Villa. The American public was enthralled by last year's World Cup, with workers ducking out of the office to watch games in packed bars – just as they did in other football-mad countries.
But what about playing? Across the globe, the beautiful game is played by poor children who sometimes don't even have shoes or a regulation ball. In America, soccer is seen as a sport played by middle-class suburban kids. Even the term "soccer mom" conjures up an image of a white, suburban mother shuttling her pre-teen kids to games in a plush minivan.
Put simply, in America soccer is seen as a sport played by white kids, while the NFL and NBA are predominantly black. There have been some African-American soccer stars: Jozy Altidore, who played for Hull and Sunderland; Eddie Pope, who won 82 US caps; DaMarcus Beasley, who plied his trade for Rangers, Manchester City and PSV Eindhoven; and Oguchi Onyewu, who has turned out for several top European teams and currently stars for Charlton. But because of the prominence of (American) football, baseball and basketball, it seems the best African-American athletic talents are not pursuing soccer as an option.
Basketball 1, Soccer 0
A great example of this is NBA star-turned-coach Jason Kidd, who said his first love was soccer. But when he was given the option to play basketball, he never looked back. Kidd is 6ft 4in – three inches shorter than the average in the NBA, in which players have ranged up to 7ft 7in tall – and obviously had great ball-handling skills; if he had stayed with soccer, he could have become a world-class goalkeeper like Premier league stalwart Brad Friedel, who was also a star high-school basketballer.
Matt Jenkins, a former youth soccer player who worked on branding and marketing the US game before setting up soccer news site the18.com, said there are several reasons why young American black children don't always aspire to play football.
As Jenkins explains, the American soccer development system is quite different from other countries. In other parts of the world, the best young talent start training with academies from the age of around 10; they are developed within the clubs and prepared to turn professional at 18.
In America, by contrast, elite players come up through private clubs – often called "travel teams" because most of their games take place on the road. These clubs require fees, meaning children from low-income families are often shut out.
Pay-to-play: the income gap
This is something that Floridian Sheridan Becker has noticed. Becker is a self-described soccer mom, whose son Will plays for a competitive private team. He even spent a year living in Barcelona because he wanted to experience soccer in Europe.
According to Becker, the fees for playing on a travel team can add up: "If you want to play on a competitive team you are looking at $7,000 (£4,600) per term, not including gear." Also, top players often have to attend camps to improve their skills and these can cost more than $600 (£400).
Becker says many teams are trying to rectify this situation by offering scholarships to promising low-income players: "If you are poor and need help, there is help offered. There is financial aid," she says.
"A player is not turned away in the States if they have no money to play or cover the costs of playing."
However, money continues to be an issue as youngsters reach their late teens. As Jenkins notes, a number of the finest soccer stars are recruited to play for colleges – and the college system, largely ignored by the top European clubs, freezes out those whose low-income backgrounds can't meet the cost of college life. "These factors combine to create the elite perception of soccer," Jenkins says, while Becker insists college scholarships can go a long way to helping low-income players compete at the top level.
Changing culture
According to Jenkins, most of the game's top countries, such as Brazil, have a culture of kids playing street soccer. That doesn't exist in America. Urban American kids don't kick a ball around, they play basketball. Although soccer faces some obstacles in America, it is still immensely popular. It's not unusual to see American kids walking around in replica jerseys of stars including Cristiano Ronaldo and Lionel Messi.
Furthermore, Jenkins points to demographic changes in soccer's favour: Latinos now make up around 15% of the population and their No.1 sport is soccer, while among all Americans under 25 it's now the second-favourite sport. As Jenkins puts it, "People have embraced it as much as the sports that were invented in America."
That process will continue as the US team starts to better reflect the nation's racial mix. The successful side at last year's World Cup featured several black and Latino stars like Altidore, Everton goalkeeper Tim Howard and LA Galaxy star Omar Gonzalez. As Jenkins notes: "These are faces minority kids can look up to."
Soccer is also becoming more popular with traditional American sports stars. The LA Lakers' Kobe Bryant, who lived in Italy as a child, is a big fan. New York Giants star Odell Beckham Jr said he grew up playing soccer and claims he was invited to partake in the US national team programme as a 14-year-old.
Now 22, Beckham grew up in New Orleans, where there is a lack of local soccer teams; he also admitted that as a child, he didn't want to leave for Europe to further his soccer career.
On the other hand, top-ranked teenage American football wide receiver Drake Davis recently aroused much interest when he ignored offers to play college football and concentrated on soccer.
Changing system
American soccer has also begun to adopt elements of the more successful European system. There are academies developed by clubs and some private ones, where players can receive specialised training from experienced coaches. The MLS's Homegrown Player Rule, created in 2008, allows teams to sign as many players as they like directly from their own academies. Previously, each academy product would count against the club's picks in the MLS SuperDraft – a college-graduate allocation process mirroring other US sports but now losing importance compared to the unmediated production of the academies.
There are great hopes for a pipeline of young American talent, says sports marketing guru Dan Lobring, a former director of communications for the Chicago Fire. "Chicago, with guys like Harry Shipp as an example, is a great soccer market," says Lobring. "With the continued success of Major League Soccer's Homegrown Player Rule you'll see more and more talent rise up through the ranks."
The trail has already been blazed. In January 2013, Seattle signed their first homegrown player, DeAndre Yedlin; a little over 18 months later, the speedy full-back agreed to join Tottenham Hotspur. In the meantime, he had become the first MLS homegrown player to compete in a World Cup. Yedlin, who is of African-American, Dominican and Native American descent, represents a fresh wave of talent who will help take American soccer out of the white middle-class suburbs and out to the population as a whole.
Thank you for reading 5 articles this month* Join now for unlimited access
Enjoy your first month for just £1 / $1 / €1
*Read 5 free articles per month without a subscription
Join now for unlimited access
Try first month for just £1 / $1 / €1
Get FourFourTwo Newsletter
The best features, fun and footballing quizzes, straight to your inbox every week.