Interview: Krystian Bielik – "I'm not pressuring myself, my time will come when Arsene says so"
A senior personnel dearth in the United States handed the highly rated Pole his chance to impress in pre-season – one he gratefully snatched. Martin Harasimowicz chats to the versatile teenager thriving with his manager's faith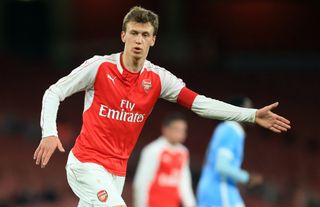 Krystian Bielik has been one of Arsenal's emerging stars in their pre-season tour of America – and he's had to be. With Per Mertesacker sidelined for five months, Gabriel ill and Laurent Koscielny still on holiday, the 18-year-old Pole has been given his chance to fill the void. 
For Arsene Wenger, Bielik is a new passion project – and if historical success is anything to go by, the young utility man should be thrilled. Wenger believes Bielik can become one of the best centre-backs in the world, if not right away then certainly in the future. 
Pole position
Bielik emerged as a young star in 2014 after making his debut for Polish champions Legia Warsaw at the age of 16. What impressed most was then-boss Henning Berg playing him against Korona Kielce as central midfielder – and the crafty teenager holding his own. 
Arsenal have a long history of scouting the Warsaw team – it's where they discovered both Lukasz Fabianski and Wojciech Szczesny – so it was only a matter of time before Bielik was noticed too. The teenager was compared with Patrick Vieira early on, and that recommendation was enough for Wenger to orchestrate the transfer for £2.7m in January 2015. 
Bielik immediately joined the youth team and was impressive from the start. Last October he made his senior debut in League Cup against Sheffield Wednesday, and this summer Wenger took him to the USA with the first team ahead of any other players from his class. It was a clear vote of confidence. 
But what about that 'new Vieira' label? Well, it turns out Wenger had different plans.
Dropping back
About six months ago Bielik started preparing for his new role as a centre-back of the future. "Arsene came to me and said 'I see you as central defender, so I want you to start learning to play there'," Bielik tells FourFourTwo.com, in a rare interview. "So I started working on that right away. 
"I came to Arsenal as a central midfielder, so it took some time to get comfortable in a new position, but now I feel alright. I know what my new responsibilities are, try to learn as much as possible and be ready to compete whenever I'm asked to.
"I just want to play for Arsenal, it doesn't matter where that would be – defensive midfielder, right-back. If Arsene wants me to be the centre-back, I will do everything I can to make him happy." 
So far the Frenchman has given Bielik a place in the starting line-up against the MLS All-Stars, when the Polish youngster held his own and then followed it up with a strong 45 minutes in another friendly against Chivas Guadalajara. 
Said Wenger in Los Angeles: "He has all the qualities and ingredients to be a top-level centre-back. The one thing he is missing is the experience in this position because he came to us as a central midfielder, but I converted him because I felt he can play the type of football we want to play as a centre-back."
But what exactly does he mean by that? "Arsene knows that one of my strongest points is my distribution of the ball," Bielik clarifies. "He saw that I can play direct passes all the way forward, and start moves.
"I've talked to his assistants on numerous occasions and they repeated constantly, 'We know your offensive qualities, now we want you to get all the necessary defensive mechanics'. So I've worked on positioning, reading the game from centre-back, intercepting passes, clearing the danger.
"Arsene told me that the best centre-backs in the world have both defensive and offensive qualities – they can balance both sides. Those are the footballers that every top club values the most."
The deep end
Although he is still work in progress, Bielik is training and playing with the first team alongside the likes of Hector Bellerin, Santi Cazorla and Francis Coquelin (who himself has also been training in defence recently). 
The teenager might be handed his Premier League debut sooner rather then later, though, what with Mertesacker's devastating knee injury that will put him out of action for at least five months. Wenger is reportedly in the market to help cope with the loss of his German captain – someone like Mertesacker's compatriot Shkodran Mustafi from Valencia – but in the short term might have to settle for one of his youngsters. 
"I have three young centre-backs in [Rob] Holding, Bielik and [Calum] Chambers. All of them are very talented, but lack experience," Wenger declared at the weekend. "They all compete for one spot and it could mean even a place in the starting line-up for the season's opener [against Liverpool]. 
"Mertesacker is out, Koscielny and Gabriel didn't come back from vacation yet, so most likely one of them will play against Liverpool."
"Those words are a huge motivation for me," Bielik admits. "I will fight for my place in a team, but at the same time I want to earn my Premier League debut when it's the right time. 
"I want to play when Arsene decides I'm ready. All I can say is that I'm extremely happy to be included in training with the first team. Its amazing, almost surreal. I feel like I'm growing with every practice and every game. I'm becoming a much better player. 
"There is still much room for improvement – like, I felt I wasn't decisive enough in a few moments against Chivas – but I will continue to work hard, listen to my coaches and do whatever they say. Playing for Arsenal on a regular basis would be a dream come true." 
MORE INTERVIEWS
Learning fast
The 18-year-old has been solid so far in pre-season. Against Chivas he kept the line of defence, cooperated nicely with Holding in the middle and cleared danger several times. Once he even took the ball and embarked on a 40-yard run past two opponents, until the third one fouled him on the other half. "Those are the habits from playing as central midfielder for years," he grins. "But I will keep them in my bag of tricks."
New signing Holding seems to be an early frontrunner at this moment. After two strong early matches, including a goal against Chivas, Wenger admitted that he was "very impressed" with the 21-year old, a £2.5m capture from Bolton. Bielik, however, has given the Gunners chief of almost 20 years food for thought with his progress so far.
A look back at Rob Holding's first goal for Arsenal after a lovely pull back from Calum Chambers! #afcpic.twitter.com/WCGUpbX8L4
— UberArsenal™ (@UberAFC) August 1, 2016
"What I have try to do with him this season is work on his positional play and improve him; give him some games," said the 66-year-old. "If in December, he is not ready, we will try to get him to play somewhere." 
He knows what he's talking about. He used the same path with Bielik's countryman Szczesny by sending him on loan to Brentford, where the young goalkeeper was able to get experience and prove his talent. When he returned, he was almost immediately installed in Wenger's starting XI.
Bielik, though, is simply going with the flow for now. 
"I don't feel any pressure that I have to break into the rotation next week or next month," he tells FFT. "There will be a right time for everything. I will eventually get to where I want to be, I'm pretty confident about it. I trust the system and the manager."
Maybe, then, the new Vieira might eventually become the new Tony Adams instead. It seems that's Arsene's plan.
Quizzes, features and footballing fun
Get the best features, fun and footballing frolics straight to your inbox every week.
Thank you for signing up to Four Four Two. You will receive a verification email shortly.
There was a problem. Please refresh the page and try again.