Jimmy Floyd Hasselbaink: One-on-One
By Claire Bloomfield published
FourFourTwo sits down with the former Chelsea and Leeds goal machine back in 2013...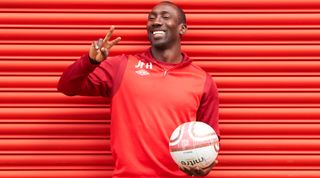 I see your real name is Jerrel, yet everyone calls you Jimmy Floyd? Why is this?
Anton West, via email
Floyd is my real second name and Jimmy is just a nickname from when I moved to Portugal from Holland back in 1995. The chairman at the time just liked to call me Jimmy and it stuck.
Is it fair to suggest your childhood was full of ups and downs?
Joe Buck, Norwich
There were a few ups and downs, yes, but it makes you a stronger person I think. I made lots of mistakes but you have to learn from them. I was born in Suriname and I spent my first five years there before my mum emigrated to Holland where I stayed until I was 23.
Would you go as far as saying football was your saviour and it kept you on the straight and narrow?
Leo Huson, via email
For sure! It definitely gave me something to focus on and it gave me an outlet. I obviously liked football from when I was very young and it gave me an interest in the right things in life. I'm very happy I chose that route.
PAL'S POSER
I remember hearing about you getting caught up in some trouble as a youngster in Holland – and one specific story about you and some Public Enemy tickets! What exactly happened there?Michael Schneider, Tamworth
[Laughs] Oh that was a long time ago. It was more about being in a group, and being young and silly. It was just one of those things. We ended up going to the gig though!
When you dropped into non-league football in your early 20s, did you ever lose faith that you'd make it at the top level?
Jane Collins, Michigan
It was very hard and more of a mistake on my part. I had to make the drop and it wasn't because I didn't have the ability, it was more because I didn't turn up on time and sometimes I didn't turn up at all. I didn't always give 100% in training either. I knew that I still had something to give. I thought, 'If I put these things right I might still be able to make a living in football'. Luckily I got that opportunity and I grabbed it. The rest is history.
Were you close to quitting the game altogether? What do you think you would be doing now?
George Symons, Essex
There are always points when you feel low but when you sleep on it and ask yourself in the mirror again, 'what are you gonna do?', you always come back to football. Everybody has lows but it's what you do when you're at those lows that counts. I have no idea what I would be doing if I had quit back then, [laughs]. It probably wouldn't have been that good because I had the wrong people around me at that time.
Do you use some of your experiences as a youngster to keep the lads you're coaching in line?
Holly Whitman, Gateshead
Yeah, I do. When they do silly things often I can understand why they are doing it and I can talk to them about it.
How did you feel about moving to Portugal? Was it difficult to adjust?
Trev Moore, via Facebook
I went when I was 23 and I was actually still living at home, so it was a big step getting out of the house and living on my own, playing football in a different country with no family or friends around me. I had to make friends and learn the language, but I did that and I coped. I still have lots of friends and contacts in football in Portugal and I still go back to visit. I still like football, the food and the people, and it's the same in Spain.
After your first two prolific seasons in England, you rejected a new contract and handed in a transfer request at Leeds. Was your desire to leave solely about the money? And considering the club made a £10m profit on you, how disappointed were you with the reaction of the fans?
Kim Smith, Harrogate
For me, it was totally different from Portugal but I just liked the challenge and the opportunity. I have to say, the fans were brilliant with me until I left. I left in a little bit of turmoil but that's just one of those things. I have got a lot of fond memories from Leeds, both personal and professional. I think George Graham had a really great group and made us really difficult to beat. We had lots of energy and everybody was running around. We had the likes of Harry Kewell and Alan Smith. It was a great time for me and there are lots of people I still speak to and visit.
In his controversial book that got him in a bit of trouble, David O'Leary accused you of not trying hard enough at Leeds, even though you scored 34 goals in 69 games! What did you make of O'Leary's comments at the time?
Don Lewis, via Facebook
Yeah it was OK, he ended up selling me out but I still see him at times. It's not like we're best mates or we are on the phone or whatever, but I think it's all right. I think he said those things because he needed an excuse for why I was going and I think that looked best in front of the public. I definitely think I gave my all for Leeds otherwise I wouldn't have been able to get the move like I did.
Who would you say were the key players around you at Leeds that made you so successful?
Amy Robson, Manchester
You had Harry Kewell, Rod Wallace, Alan Smith, Lee Bowyer. I think it was not only Jimmy or not only Harry Kewell, because it was so energetic, we were so lively on the pitch and we played at such a high tempo that a lot of teams just couldn't cope with us.
I was amazed to see that you didn't make your international debut until the age of 28. What do you remember from that game?
Henry Colby, via email
Leeds had just played Coventry and Guus Hiddink had been in the stands. I think we won, I'm not sure by how much, but I scored two goals and he made the decision to take me. I was so surprised. I thought I was actually in the first 30 so when I arrived over there I was expecting seven players to be sent home.
Then I realised it was the first 23, and I was over the moon going to the World Cup [laughs]. That was the first time there had ever been any talk of me joining the international squad. It was either Michael Mols or me, and although Michael played for the Dutch national side, he didn't do that well. The manager wanted somebody fresh that no one knew much about and luckily he came up with me.
When Roman Abramovich arrived at Chelsea many expected you to leave, yet you finished the 2003/04 season as the club's top scorer. What was your own experience of the Russian owner? Did he ever share a joke with the squad?
Jack Golden, East Grinstead
He might have a laugh and a joke now but back then he was very quiet and observant. He was very impressive. I don't think he made players feel nervous but he kept them on their toes, it was very good. Obviously he has been great for Chelsea and also English football. He's brought it to a different level.
Your partnership with Eidur Gudjohnsen was one of the best in Premier League history. Why did it work so well, and was he your favourite strike partner?
Rob Stevens, Oxford
He was my favourite strike partner, yes. Eidur and I were really good friends on the pitch and really good friends off the pitch. I think the most important thing was that we wanted to play together and we wanted each other to do well. We complemented each other because certain things Eidur didn't have, I had and vice versa. We just knew where each other was every time. We set each other up, him a little bit more than me! It just clicked. It helped that he spoke Dutch fluently too.
You've spoken openly about your and Gudjohnsen's gambling problems while team-mates as Chelsea. Did you really lose a million pounds compared to his £400,000? What was the most you won and lost in a single night?
Jacob Ford, Singapore
That was not me. [Laughs] It didn't get that out of hand. We used to go out together, yeah, but it was still controlled. There was no craziness. We used to hit the casinos but I was single in those days. And what do you do when you're single? You go out chasing women and all that sort of stuff.
You left Chelsea very soon after Jose Mourinho's arrival. Did he even give you a chance or do you feel his mind was made up from day one?
Charles Edward, Sandbach
I never worked with Jose. I left in 2004, and although I still had one year left I think he wanted to bring in his own people. I also think he had a perception of me that I was a little bit difficult or I would not be happy sitting on the bench. Months after, I spoke to him and he said he should have kept me, even just for another year, but that's just how it goes.
Chelsea seems to be the club you have most affection for. With hindsight, do you regret writing so openly in your autobiography about your time at the club?
David Fierro, Surbiton
I have great memories of my time at Chelsea, I had four wonderful years there and I still go back. I was there just recently to watch them play, and I always get a great reception. They're a club that I really, really love. The problem was that we didn't win enough and that's the regret. Chelsea's results are the first I look for when I turn on the TV.
Having won plenty of cups but never a league title, how disappointing was it to leave Chelsea just as they became England's leading force?
Simon McCarthy, via Facebook
I'm not one of those people who are bitter. I had my time; now it's time for the others and I wish them all the best. Of course, when you see big matches and Champions League finals you think, 'I wish I could play' but looking back at my time I'm happy with what I've done. Could I have done better? Yes, maybe in some areas but it could have also gone a lot worse. I'm happy with what I have achieved, and hopefully a new door will open for me in football.
I was shocked by your move to Middlesbrough. How did that transfer come about?
Michael Flynn, Darlington
Steve McClaren called me and said, 'What do you think?' I said, 'Well, what do you think – how do you see things?' [laughs]. He put the picture together for me and I said 'Yes, I can see myself there'. He told me he wanted to bring Mark Viduka over and I could see us playing together. I signed and had two really good years with the club. We reached the highest Premier League position in the club's history, reached the final of the UEFA Cup in quite some style and went through to the semi-finals of the FA Cup. It was a really successful time and we had a great group.
You reached the UEFA Cup final in 2006 with Middlesbrough in dramatic fashion, only to get absolutely tonked by Sevilla! What went wrong that night, Jimmy – were you outclassed or did you all underperform?
Alex Roberts, Flint
It doesn't feel that long ago. After the quarter-finals we were like, 'Bloody hell this is mad, how did we win 2-0 against Basel?' We were not celebrating but we were like, 'Wow!' Then came Steaua Bucharest and we thought we had a chance.
We lost 1-0 away, and at home we were losing 2-0 and came back 4-3. It was one big rollercoaster, an emotional game. So many things happened. Were we going to give up? No, we were going to go for it and win. It's indescribable actually. In the final, I had just come back from an injury; so had Gareth Southgate, and a few others had niggles. Sevilla were just the better side. We needed everybody to be 100% fit and then we might have had a chance. It was one game too much but what a hell of a run. We did magnificently.
From the stands it looked like you gave some players a hard time and were critical of them on the pitch, particularly Stewart Downing. Is that a fair suggestion?
Andy Peacock, via email
No, I think the players know me and know that when I cross that white line I may be too passionate, I may be over the top but I mean it in the best possible way. I actually had a really good relationship with Stewart. It's just because you want to win. There's nothing wrong with wanting to be a winner. I think players learned to be more patient with me.
The newspapers once reported that you were wearing £15,000 worth of jewellery in your ears. Do you still like to splash the cash on jewellery, and what's the most extravagant piece you've bought?
Paul Grave, via email
They weren't that much! Who doesn't like to buy nice things? It depends what you think is nice. I don't know what the most extravagant thing I've bought is. I have three girls so I spend my money on them now.
You once said Claudio Ranieri's training methods left a lot to be desired. What sort of things did he have you doing? Who is the best and worst manager you played under?
Mikey Barrett, via Facebook
He came from Italy and that's how they trained over there. There's lots of running off the ball and players were really fit. In England they do it a little bit different and that's why certain individuals were complaining. The best manager for me personally was George Graham because he got the best out of me. The best manager I have played for was Guus Hiddink. But the worst... what is the worst? Everybody has their own beliefs and tries to put them across. When it comes to my own coaching methods I pick things that I think are good for me, from several people. I think that moulds you but I think you can learn something from everybody.
You played in Cardiff's biggest game in 80 years in the 2008 FA Cup Final against a Portsmouth side who'd also waited decades for a big day out. How did the atmosphere and occasion that day compare to the other big matches you'd played in?
Geoff Cawthorne, Hexham
That was actually a strange year. I was supposed to play up front with Robbie Fowler but he got little injuries and couldn't play as much. I ended up playing 40-odd games in the season, which was way too much for a 36-year-old! I enjoyed my time. In fact, everywhere I've been I've had a nice time. I never expected from the start of the season to make it to the final.
It was always going to be a tough match against Pompey and it was close, but it just wasn't meant to be. It was a little bit different to the other big games I played in because it turned out be the last game of my professional career. I actually wanted to play another year because I didn't want to lose my last game and in such a big stadium, but it wasn't meant to be and that was it.
You were a prolific striker and you've scored some stunning goals. Do you remember how you scored them or do you have to watch them back on TV?
Jamie Parkinson, Glasgow
If you say the game, the majority of my goals I know how I scored them. I don't have to watch them back, I just know. I can't pick a favourite, not because there are too many, but some of them were tap-ins, some were 30 yarders or headers, but it's the winning goals, the 1-0s and the 2-1s that are the most important.
You've been working towards UEFA 'B' and 'A' licences while coaching at Nottingham Forest. Did you learn much from Steve McClaren before he left?
Miles Hammond, Auckland
I had been working towards my badges and applying for jobs but wasn't getting interviews and I was getting a little bit frustrated. Steve McClaren had left Wolfsburg and was coming to Forest and he asked initially if I would like to become their striker coach and come in a couple of days a week. I think he wanted to see if I was serious about it. After two or three days he asked me if I'd like to be first-team coach, and of course I said yes. He left soon after but I learned a lot from him and the managers who were at the club after. The biggest thing I've learned about myself since becoming a coach is patience. I knew I had it but I didn't know where to find it.
You're great on the TV as a pundit, Jimmy, but tell us about your run-in with Bob Wilson. Is it true you didn't know who he was when you turned up at ITV's studio as a pundit for the 2002 World Cup?
Mark Starkey, Bristol
It's actually worse than that! [Laughs] We had been talking about football and he was talking like he had played so I said to him, 'What level did you play to?' He took it really well, though. I felt so embarrassed, so embarrassed. Every time I see him I say, I'm really sorry. He was a real gentleman and we just laughed.
Football talent clearly runs in the family. Who's next in line for the Hasselbaink clan?
Steve Adams, London
Yes, it does. My brother was a professional footballer and he's three years older than I am. There's never really been competition between us – in fact we played together in the same team at AZ Alkmaar. I have a distant cousin who plays professionally too.
Would you like to be a manager one day?
Elise Tyrie, Stoke-on-Trent
I've got my A License and am working towards my Pro License, and hopefully one day I can become a manager. I've learned a lot in life through my own experiences, and I think one of the most important things is that I can understand a lot of people from different backgrounds and cultures. I think that will help me later on in my career.
This interview originally featured in the July 2013 issue of FourFourTwo.
Thank you for reading 5 articles this month* Join now for unlimited access
Enjoy your first month for just £1 / $1 / €1
*Read 5 free articles per month without a subscription
Join now for unlimited access
Try first month for just £1 / $1 / €1
Quizzes, features and footballing fun
Get the best features, fun and footballing frolics straight to your inbox every week.
Thank you for signing up to Four Four Two. You will receive a verification email shortly.
There was a problem. Please refresh the page and try again.