John Carver planning to pick 11 Jack Colbacks for West Brom showdown
Newcastle's manager has taken an extreme measure to try to recharge his side's fight against relegation, Back of the Net can reveal...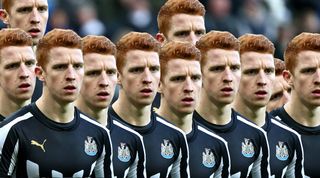 John Carver is planning to follow through on his threat to field 11 Jack Colbacks for Newcastle's crucial clash with West Brom, despite the glaring impracticalities the plan presents.
Smarting from a seventh consecutive defeat, a 3-0 humbling at Leicester, Carver stated his wish that Newcastle had "11 Jack Colbacks" after the midfielder willingly attempted to play football for 90 minutes.
While Colback gamely chased after the ball, Mike Williamson instead opted to get himself sent off, Moussa Sissoko attempted to hand dye his shirt into the red and black of AC Milan, and Emmanuel Riviere tried in vain to hack his own leg off with a penknife.
With relegation looking a distinct possibility, Carver has sprung into action and boldly called upon 10 previously untried Jack Colbacks for the West Brom encounter.
"I was delighted to get the call," Jack Colback, 43, a plumber in Littlehampton, told FourFourTwo.
"Obviously there comes a point where you doubt you'll ever be involved in a Premier League relegation dogfight, but when the manager [gaffer] asked me to turn his bombast cliched rhetoric into reality, I didn't have to think twice."
Carver cancelled training in order to spend much of Monday trawling social media sites in a bid to find Jack Colbacks.
"We came in expecting to do some video analysis of the game and listen to a few inspirational statements that have clearly been directly lifted from Gladiator, but the gaffer's hunched over a laptop sending Facebook friend requests, looking up at sporadic intervals and mumbling 'I'll get me Colbacks, you'll see'" said goalkeeper Tim Krul.
"Sure enough, a few hours later he's triumphantly introduced me to a pensioner from Clyde who's going to be taking the gloves from here on.
"It's bad for all of us, but it's worse for Jack Colback - that is, the original Jack Colback. The gaffer keeps grinning at him, ruffling his distinctive ginger hair and asking if he's ever frozen any of his sperm."
While Carver's strategy is unorthodox, it isn't unprecedented. In the 1990s, Manchester United regularly fielded 11 Cantonas - a period the club's fans still fondly recall in song - while Norwich melted down seven youth team prospects to create a single entity known as Grant Holt.
Quizzes, features and footballing fun
Get the best features, fun and footballing frolics straight to your inbox every week.
Thank you for signing up to Four Four Two. You will receive a verification email shortly.
There was a problem. Please refresh the page and try again.