Kostas Manolas: The Roma rock being eyed up by Chelsea
The Giallorossi's Greek stopper has the quality to help the capital club take another step towards sealing a first Scudetto since 2000/01, says Adam Digby...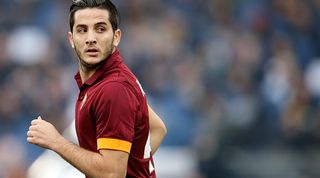 The 60-second story
FACT FILE
Name: Kostas Manolas
Date of birth: June 14, 1991 (24)
Place of birth: Naxos, Greece
Position: Central defender
Club: AS Roma
Former clubs: Thrasyvoulos, AEK Athens, Olympiakos
International: Greece U21s (5 caps, 0 goals), Greece (21 caps, 0 goals)
Honours: Greek Cup (2010/11, 2012/13), Greek Superleague (2012/13, 2013/14)
Before last season, AS Roma lacked that blend of aggression and quality that has rapidly become the hallmark of a winning team in almost any sport. They had rattled off 10 consecutive wins at the start of 2013/14 yet failed to last the distance, their lack of mental fortitude arguably their one fatal flaw. Enter Kostas Manolas. As the Giallorossi squared off against Juventus – who had coasted to the Serie A title in each of the three previous campaigns – in October 2014, it was clear that things would be different this time. In a tense battle in Turin, the capital club went toe-to-toe with the champions, with Manolas demonstrating his readiness for battle when he clashed with Alvaro Morata after being on the receiving end of the Spaniard's poor challenge. Despite losing 3-2 in controversial circumstances, Roma's new-found intensity - embodied by Manolas - prompted boss Rudi Garcia to declare that his side could win the Serie A title. While they ultimately fell short of that aim, it was through no fault of the Greece international. Manolas had already proven that he could thrive in difficult situations. After beginning his career at Thrasyvoulos, he joined AEK Athens at the age of 18, scoring his first professional goal against Olympiakos while playing with a broken cheekbone.
Manolas would go on to forge an excellent partnership with club legend Traianos Dellas at the heart of the AEK defence. "It's an honour to play alongside such a great player," he remarked, adding that one of the heroes of Greece's extraordinary Euro 2004 triumph "is basically like a teacher I look up to." He would learn plenty of lessons from Dellas before crossing the divide and joining Olympiakos, where he won league titles in 2013 and 2014 before representing his country at the World Cup in Brazil last summer.
Inevitably, one of the first questions at his Roma unveiling was about filling the void left by Bayern Munich-bound Medhi Benatia, who had excelled in the Giallorossi defence the previous year. Manolas, unperturbed, was clearly ready for the question. "He's the past and I'm the present!" he quipped, with his performances last term ensuring that his Moroccan predecessor was not missed at Stadio Olimpico.
Why you need to know him
Already a prominent figure on the continent, Arsenal made strong overtures for Manolas at the end of last season, with Chelsea currently thought to be working hard to bring him to the Premier League. Following the Blues' failed attempts to land Everton's John Stones, various Italian outlets reported that a deadline day bid from the London club was rejected by the Giallorossi, prompting Papy Djilobodji's arrival at Stamford Bridge. As their defensive woes continue – and Jose Mourinho does not seem to see the former Nantes man as a solution – Rome-based newspaper Il Sussidiario believe there will be another bid for Manolas when the transfer window reopens in January.
Strengths
Simply put, Manolas is an excellent all-round defender with every attribute necessary to thrive at any top club. He has the speed to keep track of smaller, quicker attackers while also possessing the strength needed to battle with more physical opponents. Without the ball he is both assertive and attentive, never neglecting his defensive duties and always keen for a challenge, as he demonstrated against Barcelona in Roma's recent Champions League outing. Faced with the Catalans' incredible array of attacking talent, Manolas made two tackles, three blocks and two interceptions, while committing just one foul over the course of 90 minutes at the Stadio Olimpico. Few players better combine the virtues of an old-fashioned centre-half with the modern need to build play from the back. Indeed, it must be noted that Manolas completed 90.9% of his passes last term, a ratio bettered by only two players in Serie A.
Weaknesses
Manolas occasionally suffers from lapses in concentration, although that is an issue which blighted Roma's defence long before he arrived. His personal flaws were on show against Hellas Verona on the opening day of 2015/16, when Manolas made a poor headed clearance – usually a strong part of his game – which led to Bosko Jankovic's goal. It was a rare error, and one likely compounded by his awareness of Luca Toni lurking behind him, but it ultimately caused his side to drop points in a match they could have won.
They said...
"Manolas? He is a guy that has all the characteristics to do well, but that's not enough," his old team-mate Dellas told Roma Radio last year. "To win he has to work a lot and grow with the team."
Retired striker and Roma legend Roberto Pruzzo, meanwhile, believes the Greek star "is one of the best defenders in Europe."
Did you know?
Joining AEK saw Manolas continue a family tradition, with his uncle Stelios widely regarded as the Greek club's greatest ever player. Also a central defender, the latter won 10 major honours in a 13-year career with the Athens-based giants, retiring after his 700th appearance back in 1995. "It is an honour to wear the AEK shirt of my childhood club. My dream now is to become the team's captain and win the league just like my uncle," Kostas said four years ago, only to leave 12 months later with the club in financial disarray.
What happens next?
TALENTSPOTTER RATINGS
Shooting 3
Heading 8
Passing 8
Tackling 7
Pace 7
Dribbling 6
Creativity 5
Work-rate 8
With Roma focused on finally overcoming their mental hurdles and mounting a sustained title challenge, the last thing they need is a distracting transfer saga surrounding one of their key men. As they have shown in recent campaigns, however, the club are not averse to cashing in on a player should they receive the right offer, with sporting director Walter Sabatini a master at discovering up-and-coming central defenders.
Asked about the continued links to Chelsea after last weekend's draw with Sassuolo, Manolas reaffirmed his commitment to the Giallorossi. "All I can say is that I have a five-year contract here and want to win everything with this club," he told reporters. Despite having made a huge profit on Benatia and Marquinhos, Roma fans will be hoping that Manolas remains for the duration of that deal.
Thank you for reading 5 articles this month* Join now for unlimited access
Enjoy your first month for just £1 / $1 / €1
*Read 5 free articles per month without a subscription
Join now for unlimited access
Try first month for just £1 / $1 / €1