"There's no question about which of Manchester United's two rivals fans are hoping lose out this season..."
United fans have got used to their noisy neighbours hoisting trophies aloft – but their traditional rivals from down the M62 could change things forever this term. Republik of Mancunia's Scott Patterson on the internal agony of 2018/19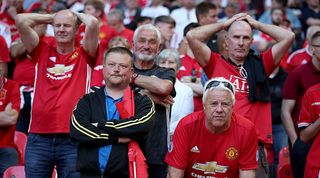 Despite Liverpool going six years without winning anything, last lifting a trophy when they beat Championship side Cardiff on penalties to claim the League Cup in 2012, there's plenty to begrudgingly admire about the club these days.
They play good football, they've brought through a few players from the academy, and they're performing well in the league and on the continent.
In Jurgen Klopp they have a manager who has shown he can win a title with the underdog, back in his days with Borussia Dortmund when Bayern Munich were the Bundesliga's big-spending team.
There's a sense that he may not be far off bringing the title back to Merseyside either. Liverpool supporters have been claiming this is their year for decades but this season they might actually be right, much to the horror of reds and blues in Manchester.
Excuses, excuses
Still, while Klopp is popular with plenty of supporters, including those who aren't even fans of Liverpool, there's surely got to be some reservations about him.
Despite previously claiming he would rather quit football than spend a fortune in the transfer market as other teams do, he's now shelled out close to £400 million in three years. That's more than Manchester United over the same period of time.
And while that difference in spending might be telling, when looking at the comparative point tallies for this season at least, it's worth noting that the dismissed Jose Mourinho delivered two trophies at Old Trafford. Klopp is yet to win a thing.
The German has lost the League Cup final, the Europa League final, and was beaten in last season's Champions League final. It's hardly a glowing record, even considering the tough opposition. Getting beaten 3-1 by Sevilla, the seventh-best team in Spain that season, left question marks over his ability to motivate a team when it counts.
Winners are rarely good losers, but Klopp takes it to the next level with the excuses he comes up with. If it's not the wind, it's the dry pitch. Klopp blamed the snow for Liverpool's draw with Leicester, forgetting to mention that ground staff at Anfield only cleared the half of the pitch that his team was attacking in the second half.
Against West Ham, Liverpool managed a 1-1 draw after scoring an offside goal. Klopp blamed this incorrect decision for why his team didn't win, claiming the referee was trying to even things up in the second half.
The most bizarre excuse of them all, though, was when Liverpool drew at Old Trafford. United suffered four injuries in the first half, making all three substitutions before the break. Not taking into consideration what a negative impact this would obviously have had on United and their game plan, Klopp instead claimed that the opposition's injuries disrupted his side's rhythm. You can only imagine what excuse he'll fall back on the next time his team isn't good enough.
PSEUDONEWS Jurgen Klopp blames gravity for Liverpool's disappointing draw with Everton
And yet Liverpool have had more than their fair share of good fortune this season – between dodgy penalties and offside goals – leading Mancunians to fear the worst about what this season may have in store. Champions tend to get the rub of the green – or that's how it often feels, anyway – and Liverpool have certainly had lots of good luck when it comes to refereeing decisions.
Not for the first time
We've been here before, though, back in 2014 when Liverpool had one hand on the Premier League trophy. They blew it in the final weeks of the season, culminating in a situation that was the lesser of two evils for United: Manchester City winning the title.
Liverpool fans may now bemoan the fact that United fans still sing about that glorious day when Steven Gerrard miscontrolled the ball and fell over when trying to regain possession, but who are they trying to kid?
Had United gone the best part of three decades without a title, and were then three games away from winning it only for Gary Neville to slip and throw it all away, are they seriously suggesting that their fans wouldn't sing about it with glee at every opportunity? Be serious. The problem is that United have been crowned champions 13 times since they last won the league, leaving them with little to sing about.
Sir Alex Ferguson bragged about knocking Liverpool off their perch with good reason. At the start of the first Premier League season, the tally stood at 18-7 in the Merseysiders' favour. Now, it's 20-18 to United, with Ferguson achieving what no scouser thought could be possible back in the early '90s. The Kop goaded United's travelling support with a banner which read: 'Come back when you've won 18'. United did, and the trophies kept coming.
Becoming the only English team to win the Treble was incredible, particularly after Liverpool had come close on a couple of occasions in their heyday. But becoming the most successful club in English football history was something else, and United fans won't want to see that taken away from them. If Liverpool win the league this year they're one step closer to doing that, and have a greater chance of attracting even more top players to help fight for more success in the seasons to come.
Just about bearable
In contrast, Manchester City have just five titles to their name and United fans will have to hope that FFP will prevent them from continuing their financial splurge sooner rather than later, to ensure they get nowhere near United's record.
It was painful when City won their first Premier League trophy. They had been a club that United supporters had laughed at for so long, so to see them enjoying the success that the red half of Manchester had become so accustomed to over the years hurt. But it was bearable.
Looking out for City's results over the past few months, hoping that they've won, is so unnatural. To be disappointed hearing they'd lost to the likes of Newcastle, Crystal Palace and Leicester felt very weird. This is not a predicament any United fan is enjoying.
But Liverpool have been – and always will be – the real enemy. Even if it does mean back-to-back titles for the first time in City's history, there's no question about which of United's two rivals fans are hoping lose out this season.
While it continues, Liverpool supporters will continue to talk about next season being their year – and United fans will continue to laugh at Gerrard for costing them their best chance at bragging rights.
THEN READ...
TO-DO 6 big things Ole Gunnar Solskjaer must do before the start of next season
NOSTALGIA Celtic and Rangers in the '90s: When the Old Firm felt (even) bigger
QUIZ! Can you name every team to be relegated from the Premier League?
Thank you for reading 5 articles this month* Join now for unlimited access
Enjoy your first month for just £1 / $1 / €1
*Read 5 free articles per month without a subscription
Join now for unlimited access
Try first month for just £1 / $1 / €1
Get FourFourTwo Newsletter
The best features, fun and footballing quizzes, straight to your inbox every week.