Liverpool, you're not alone: 8 of football's other long-lost title hopefuls
The Anfield outfit aren't the only side looking to break a lengthy barren spell this season. Olly Ricketts looks at 10 European teams desperate to recreate past glories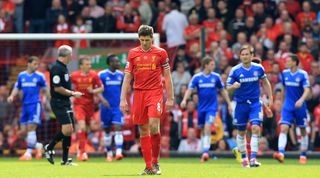 1. Grasshopper Club Zürich (Switzerland)
Grasshopper Club remain the most successful side in Swiss history, with 19 titles during the professional era. However, in the 13 years since they last won the championship (2002/03), FC Basel have won 10, so if this proud club wishes to maintain its status they need to end the drought soon.
Zürich did win a trophy (the Swiss Cup) for the first time in 10 years and finished as runners-up to Basel in 2013/14, but they haven't come close since. They've suffered longer gaps between titles in the past – not winning the league between 1956 and 1971 the most notable – but they're on track to beat that.
2. Sporting (Portugal)
The recent parallels between Sporting and Liverpool are uncanny. After finishing an extremely disappointing seventh in 2013, the Portuguese club improved dramatically in 2014/15 under a youthful manager (Leonardo Jardim) to finish runners-up behind Benfica, just missing out on what would have been their 19th Primeira Liga title – and a first since 2002.
Although Sporting are firmly part of the Portuguese 'Big Three' along with Benfica and Porto (who have somewhat incredibly won 80 of 82 league titles between them), their success has actually been sporadic for some time, with only two titles since 1982. They're getting closer, though – last season they finished second, two points behind Benfica, despite leading for most of the campaign.
3. Örgryte IS (Sweden)
Örgryte have won 12 league titles, and as such are the fourth-most successful side in Sweden, but they last tasted championship success way back in 1985.
ÖIS are based in Gothenburg, and are the oldest football club in Sweden. They now reside in the second tier of Swedish football (but only after promotion last term), and average crowds of around 2,000. In truth, their 1985 title was something of a miracle – 11 of their 12 successes came between 1896 and 1913, so their first title in 72 years was utterly unexpected.
4. Trabzonspor (Turkey)
Trabzonspor have won six Super Lig titles, making them the fourth-most successful side in the Turkish league, but it's been 32 years since they lifted the trophy.
Since 1984 they've finished as runners-up on five occasions, most frustratingly in 2011 when Fenerbahce won the league on goal difference. Fenerbahce's achievement was tainted by allegations of match-fixing during crucial league matches, which led to the Turkish FA withdrawing the club from the following season's Champions League. Club officials were prosecuted, yet somewhat mystifyingly they weren't stripped of the title, and so Trabzonspor's drought continued.
Next: Eighty-two years and counting
5. Athletic Bilbao (Spain)
Athletic Bilbao have several claims to fame. They are one of only three clubs (take a wild stab in the dark at the other two) never to have been relegated from La Liga. Then there's their Basque-only cantera policy, which though divisive, has seen the club produce more Spain internationals than any club other than Real Madrid.
It's easy to forget, as those facts are trotted out ad nauseum, that Athletic Bilbao are also the fourth-most successful club in Spain with eight titles. They are, however, without a championship since Javier Clemente's 1984 side won the Double. Until 2013/14 you could be forgiven for thinking the Barça-Madrid hegemony was more entrenched than ever, but Atletico Madrid's stunning league win has surely given clubs like Bilbao – who haven't finished outside the top seven since that year – hope that they can challenge once more.
6. Saint-Etienne (France)
Saint-Etienne won the last of their 10 Ligue 1 titles in 1981. Such a drought seemed implausible during the glorious period between 1964 and 1976 in which they won the championship eight times.
In 1982 they finished as runners-up, but since then haven't come close to repeating their successes. They have been relegated several times, but have picked up in Ligue 1 with four consecutive finishes between fourth and sixth. So what are their chances of a return to glory in 2017? Er, not good – after almost half the season they're languishing in ninth, 18 points off the top.
7. Royale Union Saint-Gilloise (Belgium)
Royale Union Saint-Gilloise dominated pre-Second World War Belgian football (high praise indeed), winning 11 titles before 1935. And since? Not much. This season marks the 82nd anniversary of their last triumph, and given that they currently reside in the second tier of Belgian football with a stadium capacity of 6,000, it seems unlikely that the glory days are going to return any time soon.
Still, their record of 60 unbeaten matches during their 1930s heyday has never been beaten; small comfort given that they've never been back in the top flight since suffering relegation in 1963.
READ THESE
Confessions of Carlos Kaiser: Football's biggest conman
The 1966 World Cup was fixed… and 27 other crazy football conspiracy theories
8. Genoa (Italy)
Eighty-two years without a title? Those ungrateful Royale Union Saint-Gilloise fans don't know what suffering is. Genoa last won an Italian championship in 1924. So dominant were they up until that point that, 90 years on, they remain the fourth-most successful side in Italian league history with nine titles (after the big three of Juventus, Milan and Inter).
In the intervening years they have twice fallen as low as Serie C, and were only spared a return there as recently as 2003 by the Italian FA's decision to enlarge Serie B. Their last trophy came in 1996 when they beat Port Vale in the last-ever Anglo-Italian Cup. Not the most glorious of their achievements, perhaps, but it did come with the added bonus of ruining Robbie Williams's day.
They have now re-established themselves as a relatively stable mid-table Serie A side, which given the turmoil of recent years will feel like a victory to their supporters.
Thank you for reading 5 articles this month* Join now for unlimited access
Enjoy your first month for just £1 / $1 / €1
*Read 5 free articles per month without a subscription
Join now for unlimited access
Try first month for just £1 / $1 / €1
Get FourFourTwo Newsletter
The best features, fun and footballing quizzes, straight to your inbox every week.