Dead trophies: Football's defunct competitions remembered
Everyone recalls the strength-sapping pointlessness of the Intertoto Cup, but pre-season football is littered with tournaments that never quite took off...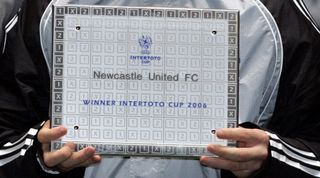 Tennent's Sixes
1984-1993
Holders: Partick Thistle
Qualifiers: Scottish Premier League sides plus occasional lower league teams
Format: Indoor six-a-side; two round-robin groups then knockout
Cause of death: Tennent's got bored
This mid-season kickabout offered a golden vision of what the game would be like after a nuclear apocalypse – indoors, in front of rabid hordes and presented by a pre-pubescent Jim White. The Sixes saw the giants of the Scottish game perform on an indoor plastic pitch complete with thrilling American ice hockey-style touches including unlimited substitutions, a sin bin for Graeme Souness and, most exciting of all, a half-time hooter. Less football as you knew it, more like Subbuteo made flesh.
The Intertoto Cup
1961-2008
Holders: Braga
Qualifiers: Teams who had failed to reach for Europe who could be bothered
Format: The winners of 11 groups qualified for the UEFA Cup; the team who progressed the furthest won the Intertoto prize
Cause of death: Simplification of the Europa League
Originally intended as a "cup for the cupless" to keep the football pools alive during the summer, the Intertoto Cup became a cupless cup and alternative back-alley route into the UEFA Cup for teams who had finished eighth and could be arsed to skip their holidays. Its lack of appeal was demonstrated in 1998 by the fact that, with every other team forfeiting their place, bottom-of-the-league Crystal Palace took part. And promptly lost.
The Kirin Cup
1984-2011
Holders: Japan
Qualifiers: Hosts Japan plus invited cocktail of national and club sides
Format: Leagues then semi-finals and final
Cause of death: Unknown, but its final year could claim the prize for most boring competition ever – every game ended 0-0
Like strange zoological hybrid the zonkey (half zebra, half donkey), the first 13 years of this early-summer tournament mixed national sides with club teams, leading to such exotic and just plain wrong fixtures as Coventry City vs Thailand and West Ham United v Uruguay. Most of the results went in favour of the club sides, with hosts Japan only triumphing once – tonking a weakened Tottenham side 4-0 in 1991. Sense prevailed and the contest became national sides only.
The Cup Winners' Cup
1960-1999
Holders: Lazio
Qualifiers: The winners of each nation's cup competition
Format: Two-legged knockout
Cause of death: Fixture congestion
Undone slightly by the fact that five winners hadn't actually won a cup to qualify, the Cup Winners' Cup had a maverick air lost in the modern age and included such ludicrous scorelines as Chelsea's 21-0 aggregate victory over Jeunesse Hautcharage of Luxembourg. Sorely missed by lovers of David vs Goliath cup contests, it also gave us such infamous moments as Real Zaragoza's Nayim lobbing David Seaman from 45 yards in the 1995 final – a feat rarely mentioned by Tottenham fans.
Anglo-Italian Cup
1970-1996
Holders: Genoa
Qualifiers: Second-tier English and Italian sides
Format: A complex recipe of preliminary rounds, groups and knockout
Cause of death: Low attendances, fan mischief
The very first final in 1970 between Swindon and Napoli was abandoned because of seats being thrown on the pitch, a trend that led to this continental exchange trip for lower-league clubs being binned. After a lengthy spell as an amateur contest (Sutton United being the only English winners) it briefly returned as an opportunity for Serie B's most ardent hooligans to fight their English counterparts, and produced unlikely Wembley finalists like Notts County and Ascoli.
Inter-Cities Fairs Trophy
1955-1971
Holders: Leeds United
Qualifiers: Originally started as tournament between cities holding trade fairs – the early years featured a London XI made up of all the capital's teams – but by the 1960s, three teams from each European nation entered the fray
Format: Knockout
Cause of death: Replaced by UEFA Cup
These titles – and their controversial European Cup defeat to Bayern Munich in 1975 – are why Leeds fans still feel justified in singing about being the "champions of Europe". Reluctant to join in at first, English club sides dominated in the latter years of the contest with Newcastle and Arsenal sandwiched between the Yorkshire team's two titles.
Southern Professional Floodlit Cup
1955-1960
Holders: Coventry City
Qualifiers: Teams with floodlights from the south and Midlands
Format: Straight knockout
Cause of death: Replaced by Football League Cup
In the mid-50s, the novelty of playing under floodlights added a frisson of glamour to this midweek scrap between top-tier clubs from the south. Unlike similar cup competitions, this one was taken reasonably seriously with sizeable crowds helping pave the way for today's least-loved cup tournament.
Find more lost trophies from history in the September 2014 issue of FourFourTwo (opens in new tab), out now. If you don't want to know more about the ScreenSport Super Cup, you're lying to yourself.
Thank you for reading 5 articles this month* Join now for unlimited access
Enjoy your first month for just £1 / $1 / €1
*Read 5 free articles per month without a subscription
Join now for unlimited access
Try first month for just £1 / $1 / €1