The making of N'Golo Kante, by those who witnessed his incredible rise
Watching the almost-freakish Frenchman now, it's scarcely believable that he didn't play his first top-flight match until 2014. Just three seasons later the pint-sized force of nature is edging closer towards winning back-to-back Premier League titles – but how on earth did the quiet lad from a Parisian suburb get here?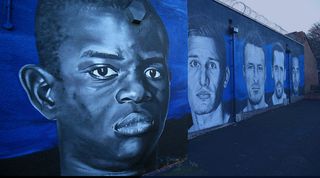 Almost a year has passed since N'Golo Kante lifted the Premier League trophy with Leicester City. The midfielder's smile – all teeth showing – lit up the King Power Stadium as he got his hands on the silverware and enjoyed a brief moment in the limelight. But he was almost too embarrassed to do it.
That moment perhaps encapsulates Kante best. The Frenchman is a quiet and humble person – awkward and shy, but always kind. On the pitch, he's a monster; a combative midfielder who intercepts loose balls, cuts off passing lanes and presses opponents into submission. When he plays, his team is more likely to win, and the trophy he hoised into the air on May 7 last year was a tangible reward for his efforts.
Kante does the work of a superstar without wanting to be one. There's no added baggage with the 25-year-old, and every one of his youth coaches and team-mates – both current and former – rave about his humility and work ethic.
It wasn't always this way – Kante faced more than his fair share of rejections as a child; from Rennes, Sochaux, Amiens, Lorient and even Clairefontaine.
Shy guy
Eric Vandenabeele, a former team-mate at Boulogne, once told Kante while they were watching the Europa League together: "That's going to be you one day, playing in that competition on the TV." The response? A laugh. "No chance!" N'Golo grinned.
There was sincerity in his surprise – it's the same expression of disbelief seen on Kante's face when he won Leicester players' Player of the Year award in 2016. He's elite at what he does, but that's blossomed from his work ethic. He doesn't feel entitled to attention, nor does he ask for it; rather he receives it because there are very few players on the planet who can do what he does.
"N'Golo has never wanted to be a superstar and even today I know he isn't bothered by fame," said Vandenabeele. "He just wants to be the best he can be."
As well as being humble, Kante is calm and quiet. His former team-mate at Boulogne, Cedric Fabien, confirms as much during a chat with FourFourTwo. "I spoke to him every day," Fabien says. "I'd ask him: 'How are you?' His response was always subdued: 'I'm fine,' he'd say. He's very, very calm, a great guy, and doesn't speak a lot – it's a good mentality."
You could say, then, that Chelsea's midfield whippet is no party animal.
"Ha!" Fabien replies at the thought. "But it's normal. I think it's in his family culture. It's normal [for him] not to go to the disco."
Scooter or sportscar
Kante instead spent his spare time chasing academic and professional goals, seeing little reward in the noise that nightlife brings. At Boulogne, he attained a diploma in accountancy while also playing through his amateur contract. "He didn't socialise much," Vandanebeele recalled. "He liked to keep himself to himself and never went to parties."
Tomasz Bzymek, Kante's former youth coach at FC Suresnes, told Sport.pl: "After training, Kante just goes back home and rests. No clubbing, no party lifestyle or sightseeing."
Kante came from the humblest of beginnings – one of nine children, he lost his father aged 11 and grew up in the grey Parisian district of Géraniums in Rueil-Malmaison. The attitude his upbringing engendered hasn't left him. You might say he's the Warren Buffett of footballers – playing for the joy of the game, with little attachment to the materialism that comes with it.
At Caen, the club he spent two seasons at before joining Leicester, Kante arrived at training on a scooter while his colleagues drove Ferraris. According to a former youth coach, Piotr Wojtyna, the midfielder only bought a car – a second-hand Renault, of course – when his mother gave him an earful.
Continued improvement
While Kante's positive attitude and down-to-earth nature remain a constant, his contributions on the pitch are evolving. "He's gotten stronger," Fabien says of his ex-team-mate, thoroughly impressed with how much he's improved since leaving Boulogne.
At the age of 10, though, Kante had weaknesses in his game. He had no left foot to speak of, but when this was pointed out to him by Wojtyna, he set about improving the flaw immediately. Within two months, he could juggle the ball 100 times on his weak side.
There was more to work on. Kante was short – two heads shorter than many of the boys he was playing with – and not overly strong. But even now, still only 5ft 6in, he's rarely outdone physically.
"He's so intelligent – like Iniesta," says Fabien. "He's so young, yet calm and intelligent. N'Golo is very important to the team because he's very good at pressing and making the simple pass. He brings so much intelligence to the field."
Tremendous picture of with his French youth team; yep, that's him on the far left! December 18, 2016
More than Makelele?
His ability to bring the ball forward is what separates him from Claude Makelele, the midfield anchor Kante is so often compared to. It must be flattering for the 25-year-old to be likened to one of the greatest defensive midfielders to ever play the game, but Makelele once said his so-called protégé still has work to do if he wants to become an "exceptional" player.
Said the former Real Madrid man to SFR in February: "[He needs] to have an aura within the team that when they look at him and think, 'We're going to win', or when he speaks to them and they go: 'You're right.' When he has that aura, he'll be an exceptional player. That's when he'll become a regular for France."
Not everyone is so convinced by Makelele's words, though. Fabien disagrees, for starters. "For me, N'Golo is a new kind of player," he tells FFT. "Maybe Makelele is jealous. [They are] not the same player; completely different. Makelele was very defensive, and N'Golo can join the attack."
A better comparison would be with Lassana Diarra, who was Kante's idol growing up. Diarra was dynamic, a fireball who ran tirelessly as a box-to-box midfielder – the other former Chelsea man is arguably much more like him than Makelele.
Allez N'Golo
Fabien also believes that Kante is ready to assume a more important role for France. When asked if Deschamps should have made better use of him during the Euros, Fabien says: "France have a lot of very good players. N'Golo was maybe too young for the national team, but with him, maybe France win the tournament. Playing in Deschamps' system is difficult, but I am sure he is the future of that team."
All in due time. Kante is still only 25, about to enter the peak of his career. Until now, he's been ahead of schedule, leap-frogging his way over older players due to sheer talent. Before the age of 16, Kante outshone over 100 kids at local club JS Suresnes and almost instantly joined the under-18 squad... when he was an under-15.
"Where I really realised things were crazy was when I was in the U19s," former youth team-mate Francois Lemoine told So Foot. "One day, N'Golo had come up with a game. He was very small, and the players around him were five years older. We were playing against Gennevilliers, a local team. He came on 10 minutes from the end and heaped misery on everyone. From that game onwards he started to play with us all the time."
The trajectory continued.
"When N'Golo was 16, Piotr [Wojtyna] asked me to take him into the first team," former youth coach Tomasz Bzymek explained. "Our policy was not to make transfers, but usually we only introduced players who were 18 to the seniors. At the beginning I had to take care of him so he didn't get demolished physically in midfield, so I decided to put him on the bench.
"After a few games, he was a regular first-team player. During the training [sessions] that were supposed to improve your football IQ and feeling of the game, N'Golo was able to understand and learn new things in two-three weeks. I know there are some players not capable of learning these things in their whole lifetime."
Constant progress
At Suresnes, sometimes an extra 50 people – not including the families of the kids already playing – from Rueil-Malmaison would show up just to see Kante play, such was his ability. He was signed without hesitation after a trial at Boulogne, where his first-team performances caught attentions in Caen. In his first season he helped them win promotion to Ligue 1; after his second, he joined Leicester for €8 million.
Each of those moves were stepping stones; there hasn't been a single relapse in Kante's career to date. The progress was always forward, and fast: from the third division of French football in 2012/13 to becoming a Premier League champion in 2016.
Kante also looks set to win the title this year, with Chelsea 10 points clear at the top of the table. Again, he has been the engine in Antonio Conte's well-oiled machine, earning rave reviews on a weekly basis to the point where it's difficult to say much new about his present-day displays.
"I'm very happy for him and his career," Fabien says, "and I hope he continues like this."
He probably doesn't have much to worry about there.
Thank you for reading 5 articles this month* Join now for unlimited access
Enjoy your first month for just £1 / $1 / €1
*Read 5 free articles per month without a subscription
Join now for unlimited access
Try first month for just £1 / $1 / €1
Get FourFourTwo Newsletter
The best features, fun and footballing quizzes, straight to your inbox every week.